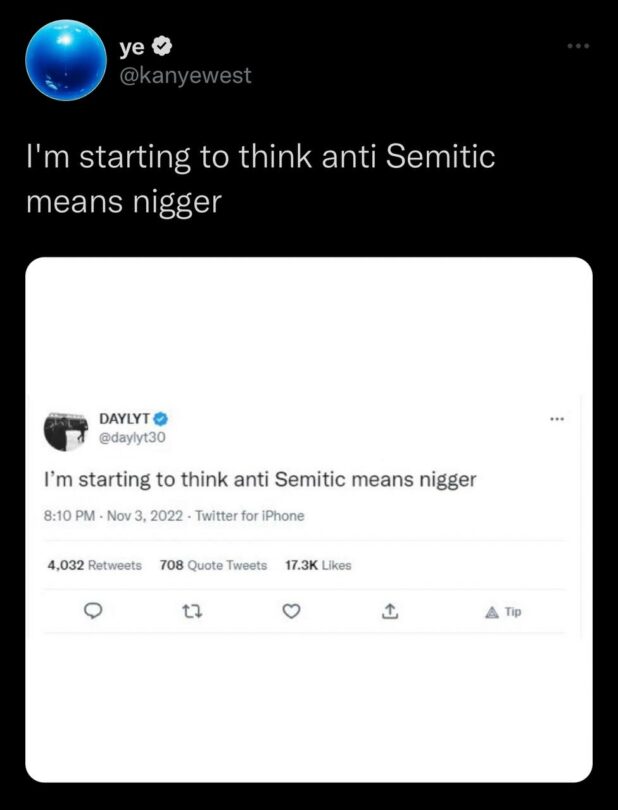 Twitter this week censored the accurate fact that "anti-Semitic means nigger."
However, according to Elon Musk, who is now the total owner of Twitter, he will not censor any "accurate information about anything."
Twitter will not censor accurate information about anything

— Elon Musk (@elonmusk) November 4, 2022
It's clearly a bit tongue-in-cheek, as the previous regime at Twitter would have made the same claim as they were doing mass censorship. They were saying that everything they were censoring was inaccurate, while also claiming that they decide what is "accurate." So that tweet from Musk is a joke about censorship. However, I do not think this is funny.
Musk is whining about how he is losing money because these anti-speech groups are bullying advertisers into boycotting Twitter.
Twitter has had a massive drop in revenue, due to activist groups pressuring advertisers, even though nothing has changed with content moderation and we did everything we could to appease the activists.

Extremely messed up! They're trying to destroy free speech in America.

— Elon Musk (@elonmusk) November 4, 2022
We all know how this works, we've been seeing it since 2017: the Anti-Defamation League, an Israeli lobbying group, as well as other Jew groups, go to advertisers and threaten that they will use their influence in the Jewish-owned media to smear companies as supporting Nazism and Hitler if they don't cut ad dollars.
Remember the "Adpocalypse" on YouTube? That started because PewDiePie made a joke about Jews. It ended with basically everyone losing their ads.
Point being: we already know how this works. Elon Musk doing a cursory search would show how these things work. I do not understand how he did not come in with a plan.
After Musk called out the activists, the activists just started lying and saying the advertisers were making their own decisions. Look at this guy – supposedly a journalist:
Of course not! It's just…it's too simple to attribute this to "activists" when advertisers (who have lots of incentives to be cautious) are given reasons to be cautious. You wield a lot of power, and (IMO) it would be very good for Twitter for you to do it more thoughtfully.

— Hank Green 🧦 (@hankgreen) November 4, 2022
Musk told him to do a Google search. I don't know why he'd need to do a search; the headlines have been everywhere.
Everyone knows that if you don't pull the ads when Jonathan Greenblatt says to pull the ads, Jonathan Greenblatt will smear your company as a Hitler-loving company. We all know that. Denying that is just obviously ridiculous and nonsensical. Again, we run into this thing where you're not even allowed to talk about Jewish behavior.
But whatever these journalists are going to do and say, Musk should have predicted it, and he should have had a solution. Instead, he's trying to beg the Jews!
According to him, censorship hasn't changed at all on the site, and is actually getting even worse.
Excellent summary of Twitter's Trust & Safety from the head of the team https://t.co/sJ1MBf9Mub

— Elon Musk (@elonmusk) November 4, 2022
Again, to be crystal clear, Twitter's strong commitment to content moderation remains absolutely unchanged.

In fact, we have actually seen hateful speech at times this week decline *below* our prior norms, contrary to what you may read in the press.

— Elon Musk (@elonmusk) November 4, 2022
He says this trying to beg the Jews! Go ask Kyrie how that works, buddy!
Begging the Jews is not a profitable activity!
They don't care if that Jew Yolo works for you! Because he doesn't work for you – he works for the Jews! Because he's Jewish! This is the system! C'mon, man!
Musk says he's going to name the advertisers that are boycotting so we can boycott them.
Thank you.

A thermonuclear name & shame is exactly what will happen if this continues.

— Elon Musk (@elonmusk) November 4, 2022
That's fine, but he should name the people responsible. It's the ADL that is responsible. Once again – one more time here – if the ADL tells a company to do something and they do not do it the ADL will use the entire media to accuse them of being Nazis. As long as companies care if the ADL calls them Nazis, there is no solution to this problem. All of this was obvious whenever Musk first considered buying Twitter, and the solution can't be "beg the Jews."
Begging the Jews actually will work – as long as Musk goes back to previous levels of censorship. The ADL's current call against advertisers is to "take a month-long pause." That's to give Musk time to do everything the ADL says, at which point the Jews will give him permission to do business again. If Musk doesn't want to go back to previous levels of censorship, then he needs a new plan.
He says the company is now losing $4 million per day.
Regarding Twitter's reduction in force, unfortunately there is no choice when the company is losing over $4M/day.

Everyone exited was offered 3 months of severance, which is 50% more than legally required.

— Elon Musk (@elonmusk) November 4, 2022
That doesn't really seem like a lot, but it would be a lot of $8 subscriptions. Let's see… $4 million divided by 8 is $500,000… times 30 days in a month… he would need 15 million subscribers.
Is that plausible?
I think so.
I don't even understand where this $4 million a day is going. I would think you could cut basically the entire staff, as most of the staff was devoted to censorship.
The most logical thing would have been if last Friday – 8 days ago – he would have fired everyone and shut the site down for a week, then came back with a completely new system of total free speech where anyone who wanted their blue check back – along with anyone else who wants a blue check – had to pay the $8.
The subscription model is fine. If there is free speech, Republicans will run ads on the platform. You could cut the price of ads and bring in more scummy ads, then you could constantly shill that you will remove the ads for $8.
There are options here, but Musk doesn't seem interested in these options, and instead is interested in begging the Jews.
Elon Musk needs to put down the bong and get in the game.