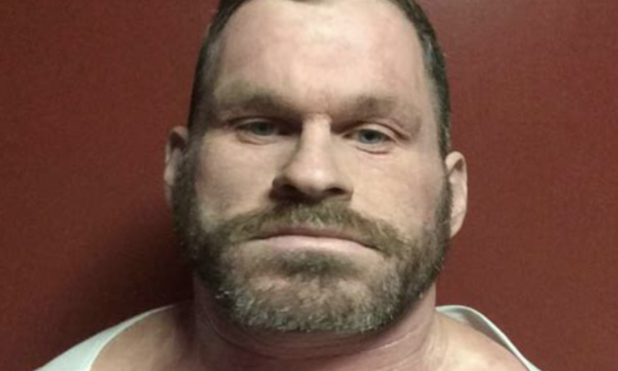 Look: I don't think Donald Trump can win in 2024, because the votes are rigged. But I back him 100%, primarily because he's funny, but also because he does things that are unexpected, and breaks rules.
In an election that you know, with 100% certainty, is going to be rigged, Trump is a better candidate than he was in 2016. He is the best candidate. He was not a great president, but that is completely irrelevant now. It means absolutely nothing, because there is no chance he's going to win. Because fraud.
There is an army of shills emerging to support Ron DeSantis over Trump in 2024. They are citing the ostensible abysmal failure by the Republicans in Tuesday's elections as proof of a need for a rebrand.
Even if elections were real, this would make no sense, objectively. Candidates in these midterms were not running on Trump issues, on the whole. The official position of the GOP is that they want low taxes and war with Russia. None of them were talking about the child trannies, the vax lunacy, or the black crime, which are the biggest issues outside of inflation (which they didn't talk about enough).
But that argument is totally moot, because no matter how bad they were, Republicans won all their races, and they were stolen through obvious fraud. At least 70% of the people voted Republican, simply because this situation is so bad, and the government and media lied about it.
Mike Cernovich, who is greasy and weird, is leading the shill charge, claiming it's time for Ron.
Remember: while on steroids while doing a PUA hustle, Cernovich had sex with a tranny in Thailand. I won't even blame him for the act itself – steroids create an insatiable urge to have sex with trannies, which no one can resist. That's none of my business. But why would he blog about it?
Answer: for the very same reason he is now shilling Ron DeSantis.
Trump as kingmaker or a viable 2024 general election candidate is over as of tonight.

— Cernovich (@Cernovich) November 9, 2022
Some clear takeaways:

– New Yorkers want crime. It's who they are. Stay out of cities.

– Arizona today shows 2024 is unsafe. Indictments must happen. Highest priority.

– Trump can't carry a general.

– DeSantis can pull independent voters. Flipped Miami Dade. It's his time.

— Cernovich (@Cernovich) November 9, 2022
Trump has 0 shot at 2024 general. After tonight, this isn't up for debate. I was around in 2015 when he had "no chance," and accurately said he'd win. Threw biggest inauguration event in 2017.

Times change or he changed or whatever.

DeSantis in 2024 or accept total defeat.

— Cernovich (@Cernovich) November 9, 2022
Yeah – something "whatever." I can tell you that much.
He continued:
Many of you newcomers can come over with an opinion. I don't value it. I remember 2015 well. I was there for it all. Stuff you can't imagine. https://t.co/I6uL3QvAEf pic.twitter.com/kEwqbXi7rA

— Cernovich (@Cernovich) November 9, 2022
Trump dumped all over Kemp. Kemp still won huge. Explain that to me.

— Cernovich (@Cernovich) November 9, 2022
The explanation is that Republicans won everything, you gay retard. Kemp experienced less fraud, presumably because he is less of a threat (and because Georgia actually took some action against voter fraud after 2020).
He implied there wasn't mass fraud.
Regime outlets were seeding election denial before the polls closed due to confidence of big Republican gains. Interesting day.

— Cernovich (@Cernovich) November 9, 2022
Right. This was earlier today. It was widely understood that the GOP would make massive gains. Democrats already began election denial.

Now, hours later … it changed. https://t.co/sgR3UloTZa

— Cernovich (@Cernovich) November 9, 2022
All past week has been Dems saying don't trust the election, it's been unified message. They even ran with the "machines can be hacked" narrative again. Especially loud today as turnout showed GOP advantage. Elections are wild, surprising everyone today.

— Cernovich (@Cernovich) November 9, 2022
He even suggested 2020 was a real election, while cursing the name of our Lord and Savior Jesus Christ (he is married to a Paki Moslem).
Reliving 2020 was always going to be a costly mistake. But this bad? Geezus.

— Cernovich (@Cernovich) November 9, 2022
He said that this fake election is proof that 2020 was not fake!
Trumps chosen candidates were on ballot. Tonight was a complete repudiation of him and his obsession with the "stolen election" talking point, which DeSantis and Kemp didn't push. 2020 was close, so there was an argument for Trump 2024. Tonight wasn't. There's no debate now.

— Cernovich (@Cernovich) November 9, 2022
Wha???
He announced that he is officially putting his evil plan into action now.
Losing always sucks but at least no one has to suck up to Trump anymore. He's going to feel the vibe shift real quick.

— Cernovich (@Cernovich) November 9, 2022
His solution is to believe in elections even harder and do democracy better.
Not accepting tonight as an ass kicking is pure cope. There is no silver lining. "Show me a good loser and I'll show you a loser." Even if GOP eeks out a majority in the House, it was a devastating loss, and everyone should taste what that feels like and never want to re-live it.

— Cernovich (@Cernovich) November 9, 2022
He then psychoanalyzed people against his shill agenda.
It's hard for people to let go. You can and should love 2015-2016. Greatest time ever. The world changes and you either evolve or get left for compost. The country doesn't care about the 2020 election. That's proven beyond doubt with Kemp's win. Trump can't move on, oh well. Bye.

— Cernovich (@Cernovich) November 9, 2022
He then retweeted people making up his burgeoning army of shills – all of whom believe this fake election was very real and totally serious.
Bottom line is this: Trump's mission was to drain the swamp. What did we end up with? Biden – the swamp poster child.

Trump failed in his mission and tonight emphasized that failure by these ridiculous race outcomes.

Desantis purged swamp corruption out of Florida. https://t.co/NE9HxQkLMi

— Tru_Returns (@TruReturns) November 9, 2022
For two years people have been trying to bully me for saying:

– Trump quarterbacked lockdowns 4 too long
– Operation Warp Speed was always evil
– Trump takes no accountability
– He hires snakes & pharmacy lobbyists
– His post 2020 agenda & narrative don't resonate with me at all https://t.co/KEpCTE0YcM

— An0maly (@LegendaryEnergy) November 9, 2022
A deeply disappointing night for the GOP

Other than the massive Florida miracle, it was the partisan status quo in every contested race

Biden will clearly run for re-election. The blue wall held.

The big question is, who will be the Republican nominee for 2024?

— Buck Sexton (@BuckSexton) November 9, 2022
Cernovich's position is backed up by the entire rogues' gallery.
So dems have a Florida problem, but Republicans have a trump problem That seems harder to solve

— Jen Psaki (@jrpsaki) November 9, 2022
All these wishful Republican power brokers and Republican thinkers & talkers don't get it: Trump won't allow the Republican Party to move on from him.

— Joe Walsh (@WalshFreedom) November 9, 2022
Events seem to be conspiring once again to offer the Republican Party a reasonable excuse to abandon Donald Trump, if they want to.

— Olivia Nuzzi (@Olivianuzzi) November 9, 2022
Wow. Everyone on every channel is talking about how big of a loser Trump is.

— MeidasTouch (@MeidasTouch) November 9, 2022
Former Trump official on Trump: "This man is a loser." pic.twitter.com/syJ49ODoFI

— Mike Sington (@MikeSington) November 9, 2022
Looks like the biggest loser tonight may be Donald Trump.

— Fred Guttenberg (@fred_guttenberg) November 9, 2022
Do you see what's going on here?
Ron DeSantis is not just a shill candidate to remove Trump – he is the candidate of election believers! "Vote for DeSantis because elections are real, goy!"
Mike Cernovich is a literal gay retard. This is known. We all knew about this guy long before 2015, when he was a nutso in Thailand giving people strategies for picking up hookers (???). He wrote a fake self-help book, and gave "alpha male" (codeword for "no self-esteem faggot") lectures. He just fell into politics after buying a bunch of Twitter followers and getting a popular pro-Trump account in 2016. I was a very popular pro-Trump figure in 2016 – much more popular than Mike Cernovich, in actual fact – but I wouldn't stop talking about Jews like Mike Cernovich did. After the election, he literally sent messages to Baked Alaska telling him he had to delete all his stuff about the Jews now that the election was over. Jack Posobiec did the same thing – deleted everything about Jews. Those two and others from the old "Alt-Right" were allowed to stay on Twitter and not be censored anywhere else, so by default they became big names.
Cernovich is a hollow opportunist, so he's the perfect shill to push this DeSantis agenda. You might be thinking "why does it matter what this gay retard is saying?" It matters because someone told him to say this. He's been deep in with the Jews, he's proved himself a deep-throating kikesucker, and he is always pushing the agenda of the man behind the curtain.
What these people are going to do is try to blame Donald Trump for the vax. That is the one thing everyone hates that he did, so they are going to hit him on that, relentlessly. Maybe that would be fair enough, if DeSantis was not a bought-and-paid-for company man. But he is boring, he is a shill, he is no better than Ted Cruz or Marco Rubio. He also lies about not promoting the vax. Florida gave the vax to kids. He said they wouldn't allow it, then they allowed it, and the media covered up for him.
Ron Desantis – THE VACCINES PROTECT YOU pic.twitter.com/LbJvPJEdtz

— titter (@MawRabbie) October 31, 2022
His position on the vax was the exact same as Trump's. Both of them shilled it, neither of them mandated it. I am the most anti-vax person on earth, but if the decision is between two people who said "the vax is good but you shouldn't have to take it," then what is the discussion about?
Elections are a hoax. All of this is a big, stupid, annoying hoax.
Trump is the one person who might have some impact in 2024. He's not going to win, but he'll say stuff. That is much better than nothing, which is all we're going to get from that fat neocon Yale homo DeSantis.
His entire image is completely fake. Yes, he did some good things in Florida. Sure. But they were all obvious things, and things that many other GOP governors did. Compare his record to that of South Dakota's Kristi Noem. If anything, Noem has a better record, but it's basically exactly the same.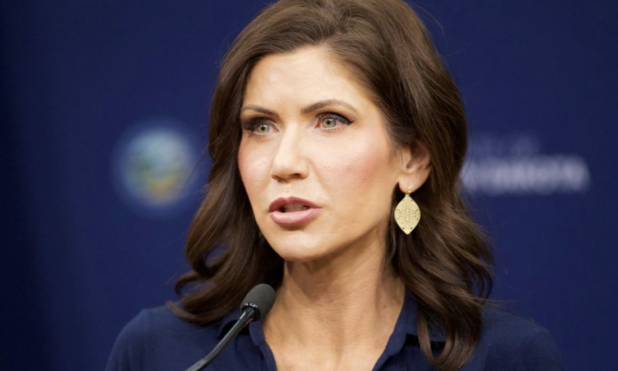 Do you want her to be president "because of her record"? (president of blowjobs maybe – if you catch my drift.)
DeSantis is at best a mediocrity – a boring guy who did nothing special and is not special.
At worst, he's a total plant of the Republican establishment that desperately wants to push Trump out of the picture and get everything back to business as usual.
Either way: he's a very normal politician, unlike Donald Trump, who is a revolutionary non-politician and a completely destructive and atavistic force of nature.
Finally, just remember: Ye went Death Con 3 on JEWISH PEOPLE, and Donald Trump refused to disavow.

Do you think Ron DeSantis would refuse to disavow a ride or die nigga who went Death Con 3 on JEWISH PEOPLE?
DeSantis was the disreputable, rascally, unprincipled, sonovabitching Dick Tracy villain pushing for Trump to move the Jew embassy to Jerusalem.
He is a hardcore Jew shill.
Just look at him: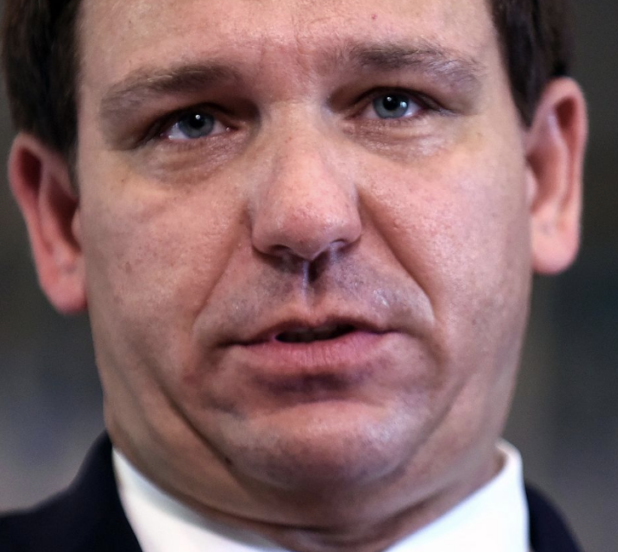 Do you trust him?
What interesting thing would he do in the election?
This is the shilling of the century, and we are probably going to lose – but I'm going to fight anyway. I just checked my schedule, and I've got nothing better to do.