Andrew Anglin
Daily Stormer
October 10, 2019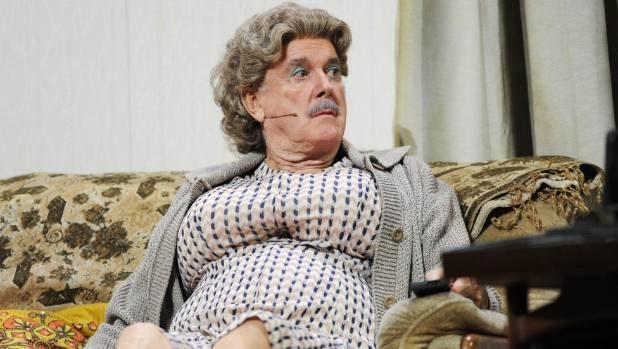 Would you grow tits for $8 billion?
That might be an uncomfortable thing to think about, but in this day and age, it's a question you must ask yourself.
Another question: don't you think it's kind of transphobic that this man wasn't happy with his new breasts, and actually sued over them?
Yet another: I wonder how many other drugs are having unforeseen effects on people's hormonal systems?
A man who said he grew breasts after taking a drug manufactured by pharmaceutical giant Johnson & Johnson will receive $8 billion in punitive damages from the company, a Philadelphia jury ruled this week.

Nicholas Murray, now 26, claimed in his suit that he developed breasts after doctors prescribed him Risperdal off-label in 2003 once a psychologist diagnosed him with autism spectrum disorder.

Murray's award is the largest to date among more than 13,000 lawsuits against the company — claiming that Risperdal caused a condition called gynecomastia in boys, involving enlargement of breast tissue, MarketWatch reported.

The mountain of suits generally allege that the company was aware of that specific risk, but understated it to doctors, according to the report.

Back in 2015, Murray won a $680,000 compensatory award over those same claims. A jury had awarded him $1.75 million, which a state appeals court later reduced.

"This jury, as have other juries in other litigations, once again imposed punitive damages on a corporation that valued profits over safety and profits over patients," Murray's lawyers, Tom Kline and Jason Itkin, said in a joint statement. "Johnson & Johnson and [subsidiary] Janssen chose billions over children."

But Johnson & Johnson called the award "grossly disproportionate with the initial compensatory award in this case, and the company is confident it will be overturned."

The jury, the company added, had not been allowed to hear evidence of the drug's benefits.

Professor Carl Tobias of the University of Richmond School of Law said that the punitive damages will likely be lowered on appeal, referencing a Supreme Court decision that found that "few awards exceeding a single-digit ratio between punitive and compensatory damages, to a significant degree, will satisfy due process."

The purpose of the $8 billion figure, Tobias suggested, was merely to send a message.
So you're saying this weird post-modern event that took place involving a lot of money wasn't about the money, it was about sending a message?