Lee Rogers
Daily Stormer
September 17, 2019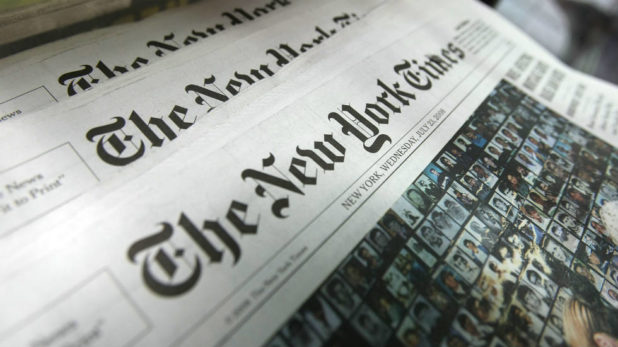 The New York Times has proven once again that they are the paper of Jewish lies and smears.
The New York Times was just forced to issue a correction on the most recent #MeToo smear piece they did against Supreme Court Justice Brett Kavanaugh.
The New York Times on Monday added a correction to a report accusing Supreme Court Justice Brett Kavanaugh of sexual misconduct.

The correction notes that friends of the woman allegedly involved in the incident with Kavanaugh during college say she does not recall it.

The Times in the story published Saturday reported a former classmate of Kavanaugh's named Max Stier said he witnessed the now-justice expose himself and force a female classmate to touch his penis at a dorm party. The Times said it corroborated the story with two other officials who had heard the same report from Stier.

However, the woman involved in the alleged incident did not speak to the Times and, according to the correction, her friends say she does not recall that it happened.
That's quite a pathetic excuse for a lack of journalistic ethics and standards. They deliberately omitted information revealing that the alleged victim had no memory of the event that they were reporting on. And on top of that, it doesn't even sound like they reached out to the alleged victim to get her side of the story.
Clearly, this article was meant to be a deliberate and orchestrated smear against Kavanaugh. There was no attempt to report the truth of what happened. They only issued the correction after they got caught lying by omission.
The New York Times was also forced to delete a bizarre tweet they posted about Kavanaugh's penis.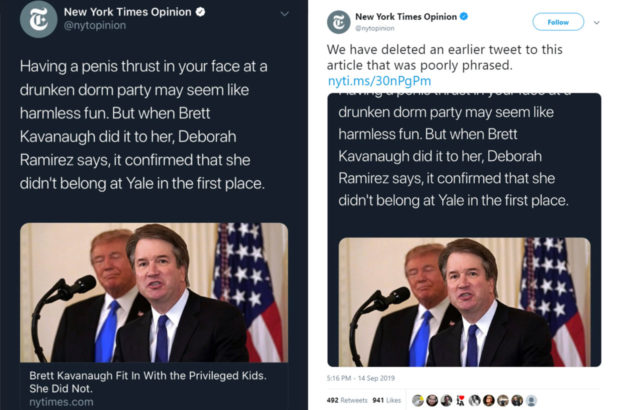 In a bizarre series of tweets and retractions on @nytopinion on Saturday, The New York Times cringingly opined on its latest Brett Kavanaugh story, then retracted the tweet, then retracted the retraction, then posted an apology.

The missteps began at 5:13 p.m., when a reckless tweet posted to @nytopinion opined, "Having a penis thrust in your face at a drunken dorm party may seem like harmless fun…"

The misfire was apparent commentary on the paper's latest story on the new Supreme Court justice, which revisits accusations by fellow Yalie Deborah Ramirez, who has said a pantsless Kavanaugh assaulted her at a party during freshman year.

Two minutes after that first tweet posted, at 5:16 p.m., a retraction posted reading, "We have deleted an earlier tweet to this article that was poorly phrased."

Soon after, that retraction also vanished.

Finally, at 11 p.m., the paper apologized and left it at that.

"We deleted a previous tweet regarding this article," the final tweet read. "It was offensive, and we apologize."

Still, the internet is forever, and screengrabs of the first offending tweet and its retraction drew fire well into Sunday morning.
How much more of a joke can this Jewish newspaper become? They can't even find a competent person to run their Twitter accounts.
At this point, anybody who views The New York Times as a legitimate source of news and information is not a serious person. Such people are either stupid, full of shit or both. Take your pick.