UK will provide new military aid to Ukraine, – Rishi Sunak.

"The £50 million package includes 125 anti-aircraft guns and technology to counter Iranian drones," Sunak said.#StandWithUkraine️ pic.twitter.com/yWqrd4esM0

— UkraineWorld (@ukraine_world) November 19, 2022
It was bad enough that a Paki took over the government of Britain. How shameful, to be conquered by Pakis?
Very pathetic.
But it was much worse than that: the Paki is an extremist neocon, who is using the British nation for his anti-China (and therefore anti-Russia) agenda.
RT:
UK Prime Minister Rishi Sunak has pledged a new £50 million ($60 million) aid package to Ukraine, which includes modern air-defense technology. He promised to provide extra military assistance for Kiev during his unannounced trip to the country's capital on Saturday.

The package includes 125 anti-aircraft guns of unspecified type, as well as radars and some other military equipment.

Ukrainian President Vladimir Zelensky, who met Sunak in Kiev, called the UK the country's "strongest ally."

"Both of our nations know what it means to stand up for freedom," Zelensky said on Twitter after meeting Sunak.

A week ago, in a statement for The Telegraph, the British PM praised Ukraine and its president, and outlined a five-part action plan intended to offer more support to Kiev.
Did he think he was meeting with the Prime Minister of India?
There is no freedom in the UK. It's almost as bad as the Ukraine.
India is a much better country than its colony of Britain.
Is this Jew Zelensky getting even rattier?
He looks like a straight-up hobo.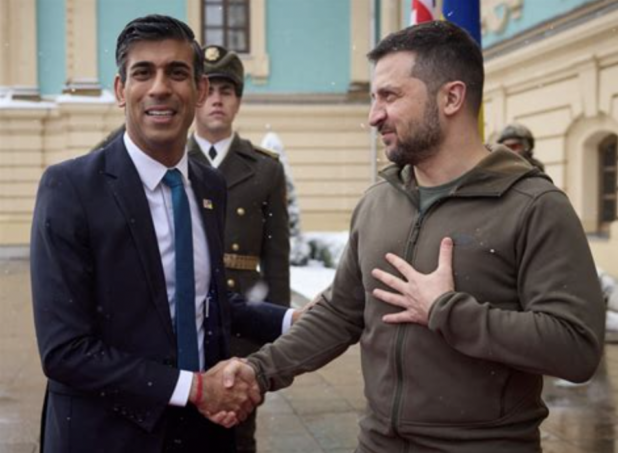 Why does this man not wear normal clothing???
I get that it's something that marketing people put together to say "he's serious about fighting war! He doesn't even shower!" But it's just disgusting. I can't imagine the focus group victims are telling the truth about what this image evokes.