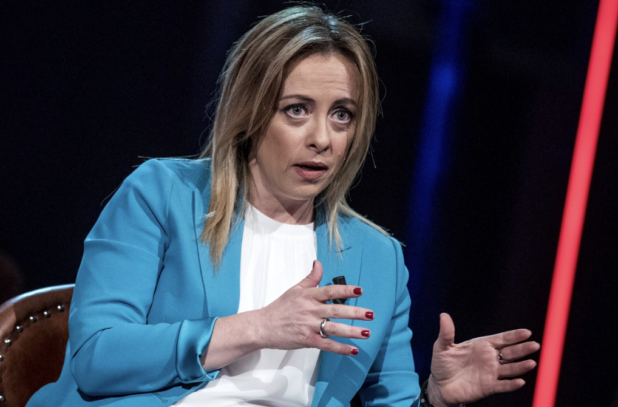 Every stupid cuckservative in America was celebrating this dumb whore taking over Italy. These worthless faggots and kikesuckers like Matt Walsh were saying this was a triumph for the global movement of post-Trump populism.
They were ignoring the fact that this greaseball hound doggy was standing with the Ukraine like any stupid slut you'd meet gorging herself on 1,200 calorie sandwiches at Starbucks (thinking they're healthy because of the packaging).
Conversely, I was like "the only thing you can trust a slut to do is give blowjobs to strangers and have sex with the blacks – if you think she's going to save your country, you're a gay retard."
Since she was elected, we haven't heard much about her following her initial "honeymoon" era statements about cleaning up the streets.
It turns out, migrant arrivals have TRIPLED under this bitch's regime.
Great job, retards.
RT:
Italian authorities brought 1,650 predominantly African and Middle Eastern migrants ashore before dawn on Saturday, depositing them in already overcrowded shelters. One day earlier, Prime Minister Giorgia Meloni announced stiffer penalties for traffickers, in a bid to reduce arrival numbers that have soared under her administration.
The penalty is: when she sucks them off, she's going to spit instead of swallow.
A coast guard ship took 584 people aboard from two stranded migrant vessels, while two smaller coast guard motor boats took on 379, the Associated Press reported, citing government figures. Another migrant vessel holding 487 people was escorted to shore by coast guard and border police boats.

The groups of 584 and 487 were brought to shore in Calabria, while the 379 were taken to the Sicilian port of Augusta, due to overcrowding in shelters in Calabria.

"The rescues were complex due to the boats being overloaded with migrants and the unfavourable sea conditions," the coast guard said in a statement.
No one was even arrested.
More than 1,000 migrants brought ashore in Italy after multiple rescues https://t.co/wgSfxfDqCb pic.twitter.com/mNC95DSqml

— Reuters (@Reuters) March 11, 2023

If Meloni is doing "stiff penalties" instead of stroking stiffies, she could really start by arresting people.
Local officials told Reuters that an additional 200 people were picked up off the coast of Sicily, while the air force was flying migrants out of an overcrowded shelter on the island of Lampedusa, which lies closer to North Africa than the Italian coast.

More than 17,000 migrants have arrived in Italy so far this year, compared to 6,000 in the same period last year.

Meloni came to power last year promising to increase deportations and stop NGO vessels from ferrying migrants to Italian ports. While she has succeeded in reducing the number of these vessels operating through fines and impoundings, the number of migrants making the journey has increased, prompting her to announce tougher jail sentences for human smugglers and their accomplices on Thursday.
Yeah, she won't put the smugglers in jail. She definitely won't sink the boats. She won't even arrest and deport the migrants, who are continuing an endless wave of killings.
Italy: Muslim migrant stabs six random people with a box cutter https://t.co/zfe9aXQMdN pic.twitter.com/gvWBEnBIgi

— Robert Spencer روبرت سبنسر रॉबर्ट स्पेंसर 🇺🇸 (@jihadwatchRS) March 9, 2023
But maybe she can keep trannies out of women's sports?
Maybe we should focus on that, and just forget about this whole "white genocide" thing?
After all, what's really important in this life is women's sports.
Women – OUT!
We cannot have these women.
They are utterly worthless.
It is pure moronism, to claim to be "conservative" and then push feminism. Firstly, feminism is not "conservative." Secondly, this simply does not work. Even if your sights are as low as stopping millions of Africans from pouring into your country, they cannot get this done.
Look at Marjorie Taylor Greene. I supported that big bitch, because she was indeed saying the right things. Then she totally reversed everything and started supporting the Jews and Kevin McCarthy.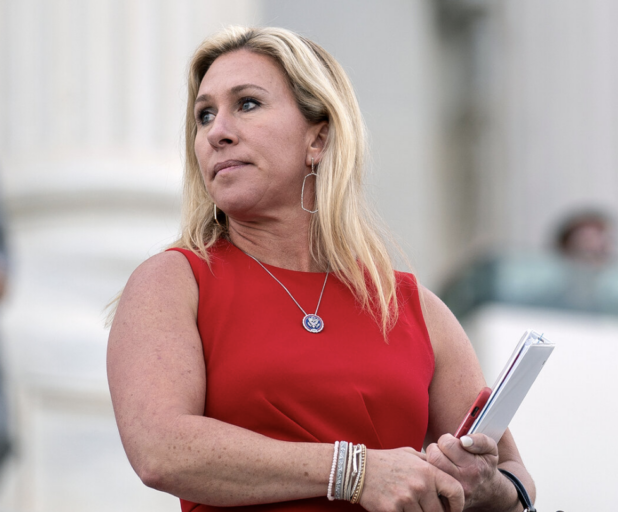 It's just such a waste, to pour all this energy into these women who just never do anything. Show me a woman who has done something. The most accomplished woman in politics is objectively Marine Le Pen, and the reason she is successful is that she's always been thwarted from gaining power. If she ever got into power, there is reason to believe she could actually be even worse than Macron.
We have to go back to Christianity. That is the only solution.
Christianity is a system. You can follow the rules of Christianity and decide whether something is right or wrong. Obviously, that can't fix every problem, but in this age, it would fix virtually every problem.
For example, if we were following Christianity, we would:
Remove women from politics and public society in general
Remove all Jews from positions of power
Seal the borders, more or less completely
Change our relationship with the truth – in Christianity, truth is the highest value and an end in itself
End censorship
End "equity" and "socialism" gibberish and promote normal concepts of justice
Remove divorce and the celebration of whores
etc. (you can fill in the blank, Christianity fixes this)
Furthermore – and most importantly – we should follow Christianity because it is true and it is the only way to save our souls.