If a teacher is asking your 12 year old child to pose as a hooker, that's a serious red flag.

That's exactly what happened at the @KIPP in San Antonio, Texas.

Parents talk to your children. This can never happen again.

— Mayra Flores (@MayraFlores2022) March 18, 2023
This is great.
All women are hookers, and they should be learning that as soon as puberty hits.
Really, they should be learning some of it earlier, but it makes sense to wait until they are 12 to teach them how to turn tricks.
Texas mom Laura Maria Gruber always considered herself a "woke" liberal in favor of progressive causes, even sending her young daughter to a charter school that celebrates "diversity, equity and inclusion," according to the school's web site.

But she never thought her 13-year-old would be asked to play a "seducing hooker" in a bizarre classroom game.

"I picked my daughter and her best friend up from school and my daughter said 'We played this game at school, Mom, and you're going to be upset,'" Gruber told The Post Saturday from her home in San Antonio.

"When she told me about kids getting up in class and posing as hookers, I almost crashed the car."

The September incident was so disturbing, Gruber said, she pulled her daughter from the school and demanded an apology from administrators.

Gruber, 45, a Latina from Puerto Rico, found out the game was called "Bear-Hooker-Hunter" and went online, discovering it is an adult drinking game version of rock-paper-scissors.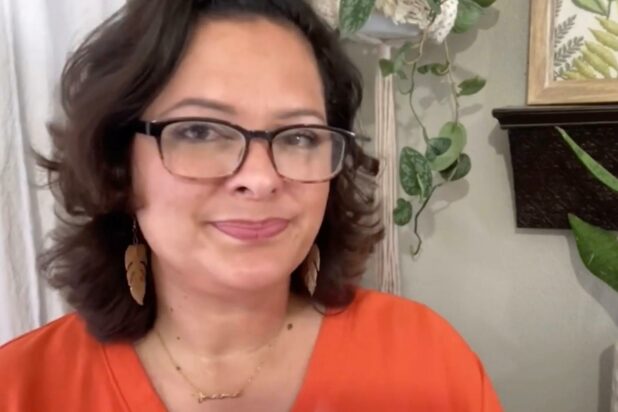 Laura Maria Gruber
As part of the game, Gruber said her daughter and the other seventh graders in the Social Emotional Learning class at KIPP Poder Academy had to pair up and stand in the front of the room.

The kids were then told to strike poses — either as a hunter, pointing an imaginary gun at each other; as a scary bear with its paws up, or as a "seducing hooker," with a hand on one hip and another behind their ear, the distraught mom said.

The goal of the game was unclear other than being some sort of "team building" exercise, said Gruber, who felt the game sexualized the children.

…

After almost six months of meeting with KIPP administrators in San Antonio and Austin, Gruber said she got an apology, of sorts, from the board.

School parents did not learn about Gruber's complaint about the game until the board issued the apology.

The response was too little, too late, Gruber said.

KIPP admitted the game occurred as described, according to paperwork from the school seen by The Post.

Despite having kids pose as "seducing hookers," four levels of KIPP administration — School Principal Stephanie Lee, Deputy Superintendent Jeremy Gray, Regional Superintendent Allen Smith and KIPP Texas CEO Sehba Ali — denied the game sexualized children.

"While we always chase excellence as a core value, sometimes we stumble," Lee wrote in a Feb. 16 letter to school families.
Of course, the stupid and disgusting sleazebags like Glenn Youngkin will be outraged, claiming that women are more than just cocksucking whores.
What he won't do, however, is give examples of things that women are good for other than sucking cock.