Lee Rogers
Daily Stormer
August 30, 2019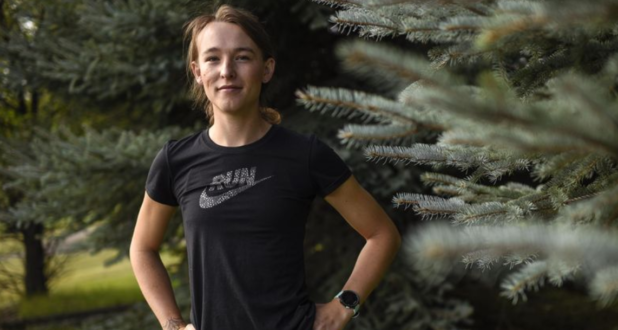 Juniper Eastwood is an empowered transgender woman set to make history.
For the first time ever, a transgender woman will be competing in NCAA Division I cross-country athletics.
AP:
If Juniper Eastwood is feeling particularly motivated on a training day, she's up at 6 a.m.

She eats a banana and plugs in a podcast before taking off on an 11- to 12-mile run. She should stretch, but is often short on time. After a shower and getting dressed, she heads to work as a camp counselor for a youth empowerment program.

Eastwood's routine is similar to that of other college athletes practicing in the offseason. She has to prepare for grueling cross-country practices while balancing work or school.

The difference between Eastwood and her teammates on the University of Montana's cross-country team is the testosterone-suppression and estrogen pills she takes as part of her training regimen.

Eastwood was assigned male at birth, but identifies as female. She's transgender.

On Aug. 31, the 22-year-old will compete in a cross-country meet in the women's division for the very first time. She'll be the first Division I trans athlete to compete in her sport.
Jews have gone on a rampage attempting to normalize the idea that the gender you are born as can be reassigned through drugs and surgeries. It's obviously an insane idea but the fact that it is so insane is exactly why it is worth embracing.
We should want as many male-to-female trannies competing in women's sports as possible. The presence of men pretending to be women competing in women's sports will make these athletic competitions an even bigger joke than they already are. It will get to the point where you'll have feminists and female athletes openly fighting with these trannies.
Anything we can do to get our political enemies fighting with one another is something we should encourage no matter how crazy the premise is.
There was also this story up in Canada about some alleged tranny activists who vandalized a rape relief center for women.
A follow up to the dead rat that was nailed to our door recently… this morning we found this writing scrawled across the windows of our storefront space that we use for support and training groups #Misogyny pic.twitter.com/vm6Gv8jWcj

— VancouverRapeRelief (@VanRapeRelief) August 27, 2019
Even though this could have been the work of some trolls posing as tranny activists, the result is the same. It's an event that creates friction between two enemy groups. And we should exploit this pre-existing friction to the maximum.
That is why Juniper's NCAA cross-country career is something we should fully support.
All we have to say is that it represents true progress and ultimate freedom. And if anybody disagrees, shame them and call them out as hateful transphobic bigots.