So retarded…
Kidnapping and murder make us stronger. It's who we are. (FILLER JOKE TIME – TODAY IS ALL FILLER JOKES – I'M GOING TO START INTO "OUR VALUES" NEXT. IT'S FILLER JOKE TIME, I AM PREPARING FOR THE LAUNCH OF AI WEEK TOMORROW.)
A Malaysian bodyguard sentenced over the politically charged murder of a pregnant woman is among dozens of people released from immigration detention after Wednesday's high court ruling.

Sirul Azhar Umar, a bodyguard to former Malaysian prime minister Najib Razak, has languished in immigration detention in Australia since having his claim for asylum in Australia rejected in 2019.

The Australian government has declined to deport him back to Malaysia, because he faces the death penalty and would be hanged if he returned.
How is that Australia's problem?
And how is it even a problem?
The death penalty is basic justice, and has been since the dawn of human existence.
His lawyer, William Levingston, confirmed to Guardian Australia that Sirul had been released after the high court decision but could not be deported back to Malaysia.

"My client is facing death by hanging in Malaysia for a murder conviction and until the death penalty is abolished by the Malaysian government, the Australian government is unable to deport Sirul Umar due to non-refoulement obligations," he said.

The solicitor general, Stephen Donaghue, has identified 92 people who are potentially affected by the decision, though has conceded his estimate may not be exhaustive.

Guardian Australia revealed on Friday that more than half of the 92 people identified by Donaghue had their visas cancelled by ministers due to serious concerns about criminality.

Documents tendered as part of the case show 78 are owed protection and half a dozen had been in detention for over a decade.
Some actress bitch was really concerned about these people
The Albanese government has begun releasing individuals from indefinite detention after receiving multiple demands from long-term detainees.

Advocates estimate about 50 people have already been released, including all 27 who were held at Yongah Hill immigration detention and about eight so far from Villawood.

…

The director of Human Rights for All, Alison Battisson, has had about 13 clients released already.

While some will be "fine", Battisson said others will require significant support because they are "so institutionalised, they don't know what they're allowed to do".
She looks like a parody of what you would imagine her looking like: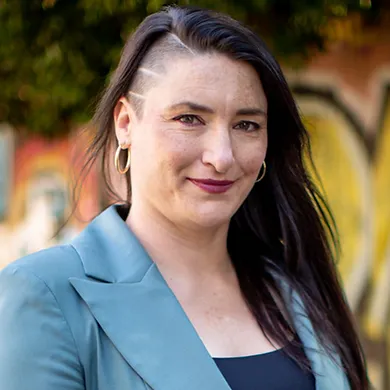 In a democracy, we make damn sure our immigrants, including ones who murder women, are not subjected to normal law, but instead must face only Vagina Law.
Vagina Law states that as long as you're not white, you can do anything to anyone and instead of being punished, you actually get rewards.
Australia has taken another step towards utopia