Oh wow.
Catholic schools don't tolerate people not supporting the anal agenda?
Oh wow, I didn't know that, friend.
A Canadian Catholic school trustee opposed to extreme gender ideology and who compared the LGBT agenda targeting kids to that of "brainwashing" Nazi propaganda has been "disqualified" from her position after her fellow board members voted her out because she spoke to alternative media.

On Tuesday, the Red Deer Catholic Regional Schools (RDCRS) board of directors voted 3-1 to disqualify Trustee Monique LaGrange. As a result of being voted out, LaGrange later resigned from her position.

LaGrange's lawyer, Alberta-based attorney James Kitchen of Liberty Coalition Canada, told LifeSiteNews that the RDCRS voted to kick her out "pursuant to section 87 of the Education Act (disqualification)."

Kitchen said that one of LaGrange's fellow trustees "submitted a second complaint that Monique had violated the Trustee Code of Conduct by speaking to the media (specially Laura-Lynn and Talk Truth) about what the Board did and about gender ideology."

On September 26, the RDCS passed a motion to mandate that LaGrange undergo "LGBTQ+" and holocaust "sensitivity" training for her social media post.
See how it all fits together?
One of her fellow trustees had complained that because she spoke to the media against gender ideology, after she was ordered to undergo the training, she should be "disqualified."

LaGrange said that her being disqualified shows that "Alberta has an abuse of power happening, beginning at the lowest level of politics," in comments made to alternative non-legacy media.

She added that she hopes her removal "motivates Albertans to step up and replace these woke boards in our province."

LaGrange said she will continue to "move forward and defend our families, our children and our freedom."

LifeSiteNews contacted LaGrange for additional comment and will later provide more information on her ousting.

In a media statement yesterday, the RDCRS said that LaGrange had violated "sanctions issued on September 26, 2023, and further violations of Board Policy and the Education Act."

"As a result of the disqualification, as per Section 90 of the Education Act, LaGrange resigned from her position this morning. Effective today, Mrs. LaGrange is no longer a member of the Red Deer Catholic Regional Schools Board of Trustees," the RDCRS noted.

The RDCS did not specify which sanctions LaGrange had violated.

LaGrange initially came under fire when she posted to social media in September an image showing kids in Nazi Germany waving swastika flags during a parade, with the bottom of the post showing an image of kids waving LGBT "pride" flags along with the text, "Brainwashing is brainwashing."
This isn't really even news at all.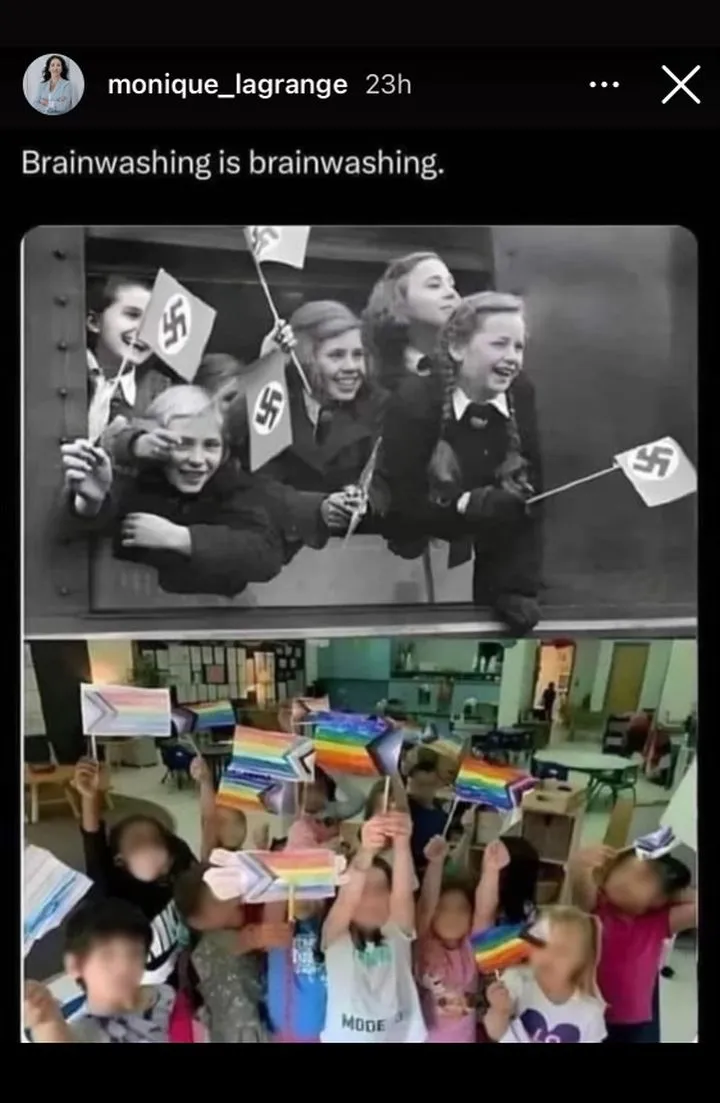 This is what she was fired for
I don't know why we're doing these constant updates on shit everyone knows is happening.
You can and should homeschool in Canada