Andrew Anglin
Daily Stormer
September 2, 2019
The Midland, Texas shooting appears to have been done by a white man who has the exact same haircut and smile as the new Joker.
In fact, the similarity between Seth Ator's published mugshot and Joaquin Phoenix's Joker promo photo is uncanny.
He appears to have been living a life out of that Neil Young song, before he went on his GTA-style rampage over the weekend.
The gunman who killed seven people and injured roughly 20 others during a 20-mile trail of carnage across West Texas was identified by law enforcement on Sunday as 36-year-old Seth Aaron Ator.

Ator, who was killed in a shootout with police, has an arrest record that includes a 2001 bust on misdemeanor charges of trespassing and resisting arrest and a 2014 charge of public intoxication. The disposition of those cases was not immediately clear.

The FBI said during the press conference that they were executing a federal search warrant at a home linked to the gunman. Agents were later seen searching Ator's house, located about 20 minutes west of Odessa. The home, set half a mile back from the main road, more closely resembles a shack, with what appears to be a makeshift tower placed on top. The area is surrounded by oil wells that easily outnumber the nearby trailers.

A neighbor of the property told the television station NewsWest9 the man who lived there would shoot off guns at night and one time came to her door with a rifle.

More than 24 hours after the shootings, few other details had emerged about Ator's life. Relatives could not be reached for comment and it appeared the suspect had virtually no online footprint. Public records indicated he was originally from the small town of Lorena, where he graduated from high school in 2001. He also took classes at McLennan Community College in Waco the fall of 2000, a school spokesperson told The Daily Beast.

Odessa Police refused to publicly name Ator during a press conference on Sunday, stating that they were not going to give the gunman any notoriety for "what he did."

The department instead chose to simply release his name and age, and confirm that he was an Odessa resident, in an update on the police department's Facebook page later in the afternoon.
When the police department refused to name him, a bunch of people on Twitter said that it was a white supremacist conspiracy.
They wont identify the white male shooter yesterday but let that been a black man..yall fucking kill me

— Mr Blake (@ACsmooth24) September 1, 2019
Texans are NOT a stupid @GovAbbott we need you to identify the shooter in Odessa. If the guns are not the problem, who's at fault? Are white man w guns the issue??! Then, DO SOMETHING. Take these guns off the street and off the hands of killers.

— Francie (@franciechats) September 1, 2019
We knew the #midlandshooting shooter was a white guy from the first second they didn't identify him by race

— Judge Texas (@judge_texas) August 31, 2019
Of course, the media had already reported he was white in every single headline and/or lede, long before his name was given.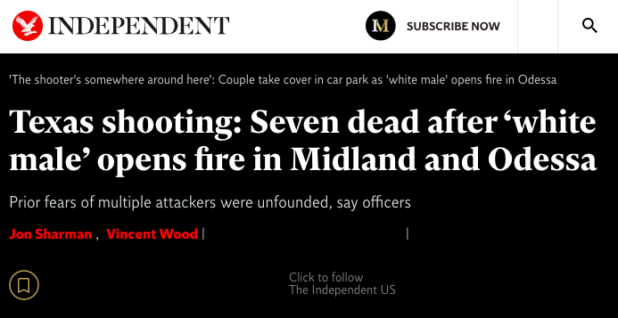 The police refusing to give his name was part of a controversial belief that not giving fame to the shooter will prevent shootings in the future. Although that is obviously stupid, as everyone is going to see the guy's name and face no matter what.
Unless, of course, the shooter is a black guy.
When it's a black guy, most of the media outright refuses to show the picture. And refuses to classify it as a "mass shooting."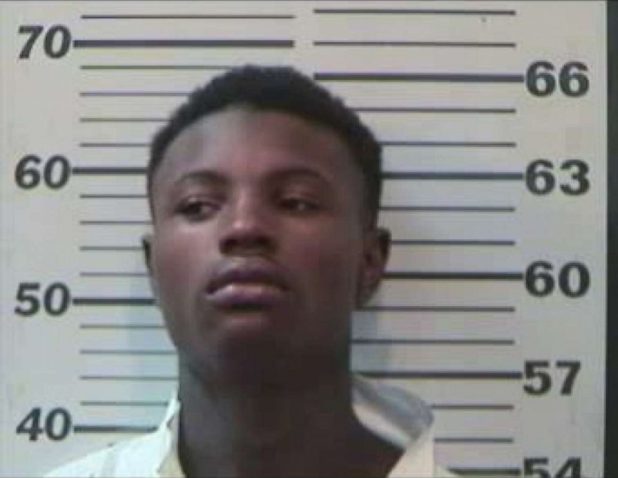 Deangelo Parnell, 17
Which is something that also happened over the weekend.
A 17-year-old was arrested after 10 people were shot following a high school football game in Alabama, according to police.

The victims in the shooting, which happened in Mobile, ranged in age from 15 to 18. They were rushed to area hospitals, officials said.

No one died, according to authorities.

Deangelo Parnell, 17, has been arrested and charged with nine counts of attempted murder, Mobile Police Department spokesman Laderrick Dubose told ABC News Saturday morning.

Mobile Police Chief Lawrence Battiste didn't confirm to reporters the shooting stemmed from an altercation, but he did admonish young people for "bringing their beefs that they have with each other in their neighborhoods" into public settings and "putting people in harm's way."

The incident "may have been a directed threat at one or two individuals and other people just happened to fall prey to their carelessness," Battiste added.
ABC did show the picture.
CNN did not.
Last night a black young man carried out a mass shooting. CNN didn't mention his race ONCE in articles, tweets or alerts. They barely covered the shooting. Today's shooting? They prominently feature the shooter being white in story, tweet & alert.

Why? CNN wants racial division. pic.twitter.com/Oe4Cvu9tFV

— Robby Starbuck (@robbystarbuck) September 1, 2019
And most media didn't even cover it at all.
It was overtaken by coverage of the white shooter in Texas.
10 teens, aged 15-18, shot at a high school football game in Mobile, AL two days ago.

You heard nothing about this mass school shooting because the perp was not a white guy with an AR-15https://t.co/0t6ZTa0WWH pic.twitter.com/xitXyIPdNo

— John Cardillo (@johncardillo) September 1, 2019
All of this hysteria over "white male mass shooters" is an utter hoax, designed to demonize white men and push gun control.
Black people are nearly 20 times more likely to be involved in shootings than white people.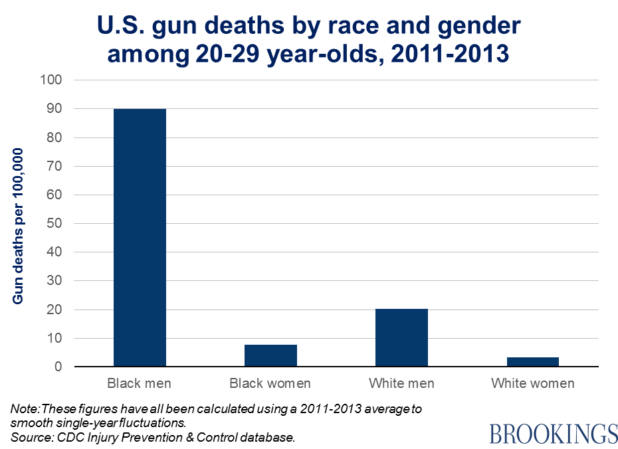 Further, only 3.4% of gun deaths are from rifles. The rest are mostly handguns.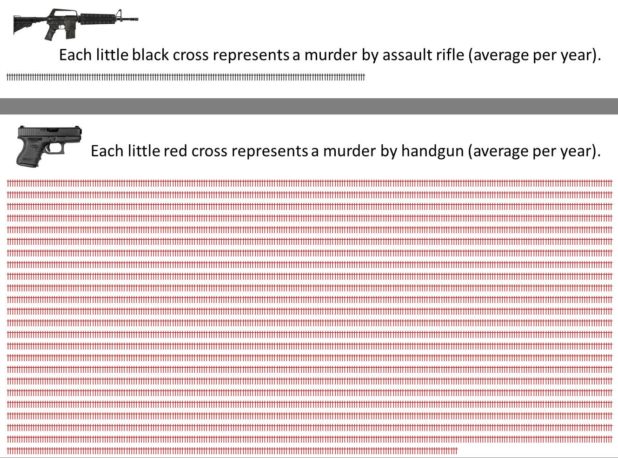 Literally, more people are murdered with hammers than with rifles.
It's a stupid meme, but it's accurate.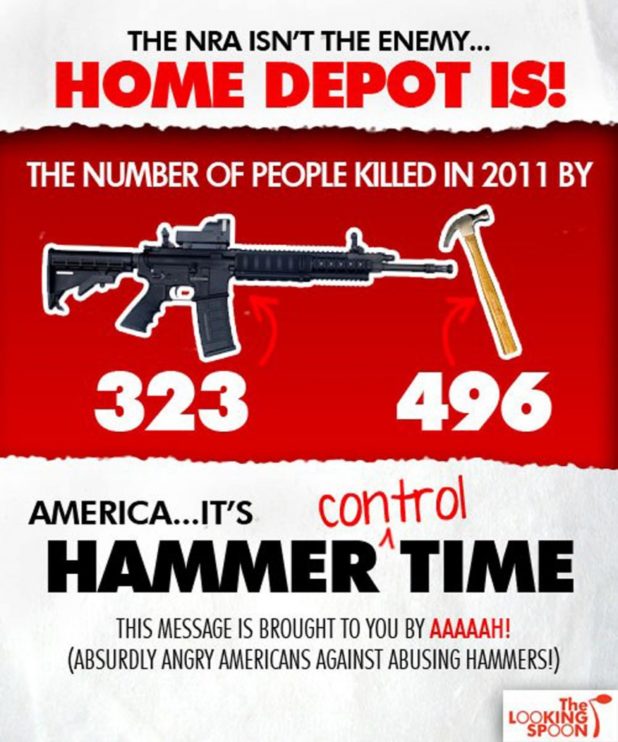 Presumably, the reason that rifles are demonized is that rifles are what you would use if you were going to rise up and overthrow the government in the manner that Thomas Jefferson instructed the American people to do when he founded the country.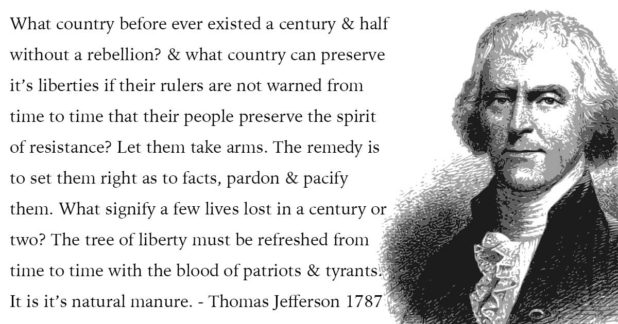 Weapons of war are the primary thing protected by the Second Amendment.
Because the Second Amendment is not about home protection or hunting. It is about arming the population so it is capable of overthrowing the government.
It all works out perfectly for the Jewish media and the Democrats: they want to demonize whites and take rifles, they want to promote blacks and don't care about handguns. As such, you hear nonstop about these rare mass shooting events, and never hear a single word about the black gun crime epidemic.
The media has an utterly insane amount of control over what people think. If instead of hyping up these mass shootings, they reported on the black murders that happen by the dozens every day in this country, they could have people demanding that blacks be sent back to Africa.
They can literally make people demand whatever they want them to demand.