In an exclusive interview with @ClayTravis and @BuckSexton, @Nicole_Zedek of i24NEWS responds to those denying her accurate reporting about Israeli babies beheaded by Hamas: "It's sickening."

Interview: https://t.co/5VQ9swblgH pic.twitter.com/mHCoKorPbI

— The Clay Travis & Buck Sexton Show (@clayandbuck) October 11, 2023
This tweet is ultra-hilarious. Imagine this level of shilling – "her accurate reporting." 
Asking for proof is a known anti-Semitic trope, fueled by centuries of canards regarding Jews making outrageous false claims.
The international war correspondent who first revealed Hamas' beheading of Israeli children stood by her reporting Wednesday while recalling some of the atrocities she saw with her "own eyes" as doubts arose on social media.

i24News reporter Nicole Zedeck slammed people who questioned her reporting that 40 babies and young children were slaughtered — with some decapitated — at a kibbutz near the Gaza border on Tuesday.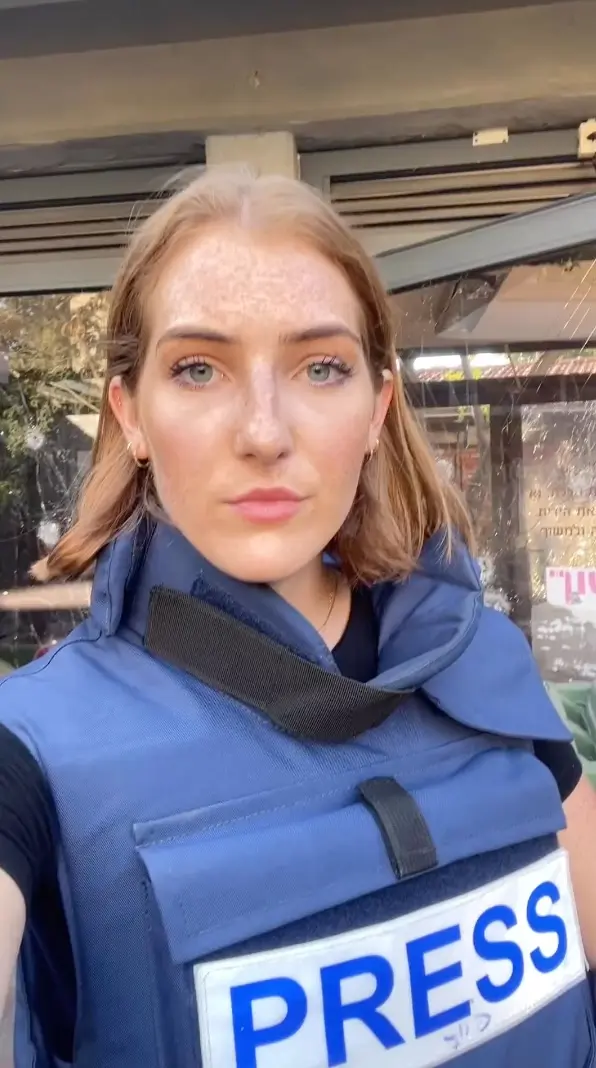 Nicole Zedeck
"I witnessed some of those scenes with my own eyes as we were walking through this community that may be a quarter of a mile from the Gaza border, the atrocities that were still left behind, children, cribs, baby cribs overturned on their side, splattered with blood," she said on "The Clay Travis & Buck Sexton Show."

"Horrible, horrible images."
YEAH BUT WHY DIDN'T YOU TAKE ANY PICTURES THO???
I MEAN, PRESUMABLY YOU WERE ALREADY FILMING EVERYTHING, SO THAT MEANS YOU LITERALLY HAD TO MAKE A CONSCIOUS DECISION TO TURN THE CAMERAS OFF WHEN YOU WERE WITNESSING THE MOST OUTRAGEOUS THINGS, WHICH YOU MUST HAVE KNOWN WOULD BE QUESTIONED.
She called the bloodshed witnessed by Israeli soldiers an "apocalyptic scene."

"There are no words to describe what they've seen," Zedeck said. "Babies' heads cut off. That's what they encountered when they came there.

"So as horrible as it is and I wish that it wasn't true. And I see how those images and those words are hard to comprehend because it's hard to comprehend how anyone could commit such heinous, heinous crimes. But that's exactly what happened in just one of the kibbutz communities."

When Travis and Sexton played a sound bite from a commentator calling the reporting false, Zedeck pushed back.

"You know, it's sickening, really, that people are asking, 'Where are the babies? Why aren't you showing the babies?'" she shot back. "Is that something that anyone would want to see the first thing with their own eyes? Because after the graphic images that I saw of just children's beds covered in blood, I don't think I would be able to stomach those atrocities as well."

She credited Israeli soldiers who had to carry the children's bodies into ambulances and conveyed the brutality of the killings.
Oh, okay – I see.
The scenes were so outrageous that no one would ever want to see them, so you didn't take any pictures, and therefore "just trust me" is the only proof the world needs for what has become the single most important phrase of this entire event – "BABIES WITH THEIR HEADS CHOPPED OFF."
And if we don't believe it, we are no better than the baby-choppers.
Alright, well.
That clears everything up.
This logic is totally bulletproof.
I won't ever ask for proof when I hear a wartime atrocity story ever again.
i24NEWS' Laura Cellier (@Laura_i24), denounces the controversy on the information regarding Kfar Haza massacre where babies were killed by Hamas terrorists pic.twitter.com/8hHNem87YV

— i24NEWS English (@i24NEWS_EN) October 12, 2023