Andrew Anglin
Daily Stormer
September 15, 2019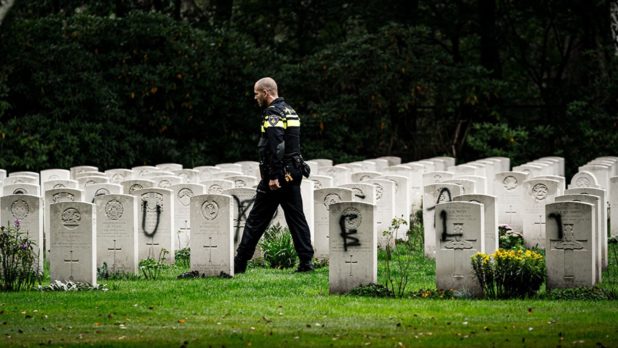 Look, kikes.
Young people are really goddamn fed up with all of this infinity nigger invasion, all of this tranny shit, all of this anal sex everywhere, all of this stuff with these stupid whores running amok.
And basically, everyone has figured out that if Adolf Hitler had won the war, none of this would be happening.
So that is the situation you find yourselves in.
A World War II cemetery that is the resting place for hundreds of British and Commonwealth soldiers in the Netherlands was the target of vandals who spray-painted a big swastika and random letters on many headstones.

The Commonwealth War Graves Commission (CWGC) the vandals targeted the Mierlo War Cemetery in the southern region of Noord-Brabant, which is the final resting place for 658 soldiers who fought in the Second World War.

 "My heart is crying," a woman told the BBC, whose parents helped to look after the cemetery for years. "Here are 17- and 18-year-old boys buried, who liberated us."

The CWGC said it was "appalled" by the vandalism, which it said occurred just days other vandals had damaged to the cemetery.

"It is distressing to see the damage on the headstones themselves, behind every one of those war graves is a human story of someone who gave their life while in service," it said in a statement.

Dutch news broadcaster Omroep Brabant expressed outrage over the vandalism with a reporter calling the acts "unbelieveable"

…

One example of graffiti sprayed on the site was "MH17 lie," referencing the Malaysia Airlines flight MH17, which was shot down over eastern Ukraine in 2014. Of the 298 people killed on the flight, 193 were Dutch.
Sorry, bitch, but no one gives a single speckle of insect shit about your crying heart or your unbelievable outrage or whatever the shit else.
We've got child trannies running around cutting their dicks off and dilating open wounds so that homosexual men can ram their penises in these wounds.
We have the ultimate slutfest.
We have fat people on scooters.
We have even worse – much worse.
AND HITLER WOULD NOT HAVE ALLOWED THIS SHIT TO HAPPEN.
EVERYONE GETS THAT NOW.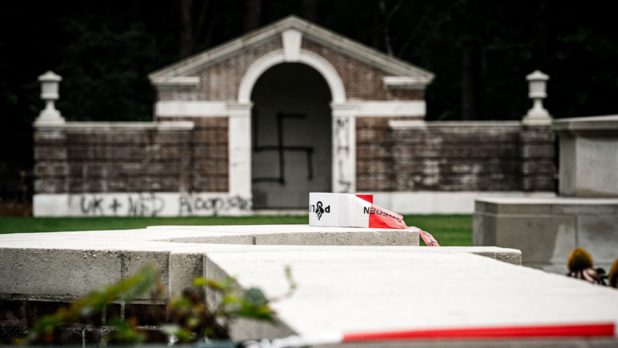 Whatever kind of evil things you claim he did, turning people into lampshades and soap or whatever other drooling Scooby-Doo gibberish that Vincent Price would have said was too stupid to put in his most ridiculous film – no one cares about any of that.
And this is just the new reality you people are going to have to deal with, and basically, your only option is to kill us all.
So I guess good luck with that.