Andrew Anglin
Daily Stormer
September 2, 2019
The winds of revolution are blowing through the Bahamas, and a revolution will soon blow down our doors.
As Hurricane Dorian churned its way over the northern Bahamas early Monday, scenes of devastation emerging from the Abaco Islands revealed the destructive fury of one of the most powerful Atlantic storms on record.

Packing 185 mile-per-hour winds, Dorian first hit the Bahamas' Abaco Islands on Sunday and then took aim at Grand Bahama Island as it crept slowly westward. Residents of the Abaco Islands, who endured hours of the raging storm on Sunday, struggled to take stock of the damage on Monday.

Images and video from the Abaco Islands showed floodwaters swirling just below battered rooftops, submerged cars and floating debris from damaged houses.

One resident on the Great Abaco island posted a harrowing video on Monday showing water gushing through a roadway and extensive damage inside apartments. She said the roof came off her building.

"Please pray for us. We're stuck right here. My baby's only four months old," the woman said.
I'll pray for you, alright – pray you rise up and throw off the shackles of your capitalist overlords.
This storm is set to hit America very soon.
It's just miles off the coast. And it is going to absolutely wreck Florida.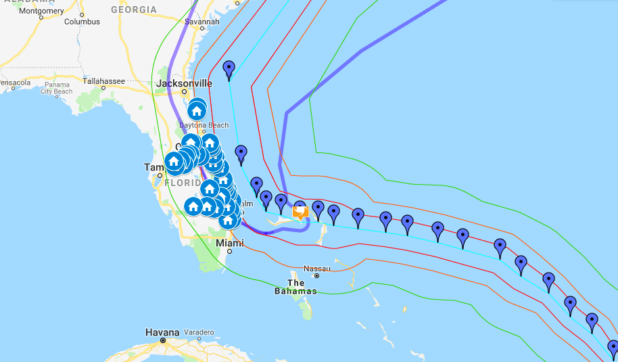 I don't know about you, but I've been following the latest updates from the brilliantly scathing intellectual movement known as the Alt-Right, and I am well aware that the time is now to bring down capitalism once and for all and create a socialist utopia.
If not now, then when? If not us, then who?
Hurricane Dorian will provide the cover needed for the oppressed colored people of this country to finally rise up and bring down the system by looting the storefronts of capitalist oppression.
The Alt-Right's dream of the future begins today.
Actually, it will probably begin in a few days, when the blacks are able to get out on the streets after the storm and reclaim what was stolen from them.
It's going to be just like what the black lesbian communist Tracy Chapman sang when the blacks are unleashed to bring down capitalism.
Finally, the tables are starting to turn.
Talking about a revolution.