Lee Rogers
Daily Stormer
September 7, 2019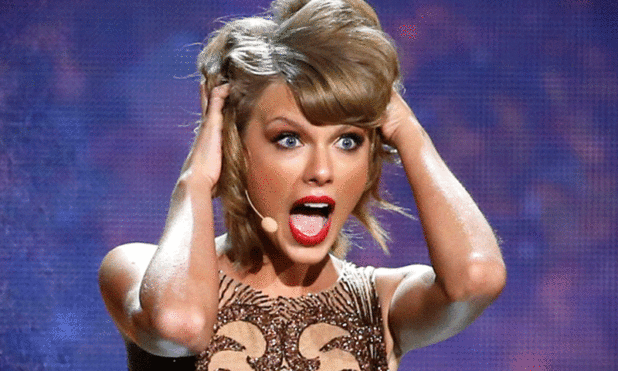 Taylor Swift should have thought twice before promoting widespread Jewish degeneracy in her music videos to sell albums. It was not a very smart career move by the obese childless whore.
Taylor Swift, the fat childless slut and psychotic feminist, is truly seeing a decline in her music career. Even though her new album debuted at the top position of the Billboard album chart a few weeks ago, this was largely because of her name recognition and a number of merchandising gimmicks employed by her record company.
But the sales of her new album were nowhere near as strong as her previous effort. This was no doubt due to the highly offensive and disturbing content placed in her music videos. The overtly obscene material caused a great deal of outrage among Americans.
Take in point the music video for her song "Lover." In this disgusting display of degeneracy, she promotes the idea that it is perfectly proper for young White women to have sex with monkeys. The vast majority of Americans do not support bestiality and for her to promote bestiality was of great offense to many.
And in another recently released music video for her song "You Need to Calm Down," she openly promotes the virtues of man-on-man anal sex . Like the music video for "Lover," this caused outrage among the American people. That's because Americans do not believe that a man invading another man's asshole for the purposes of sexual gratification is a healthy thing. Hence why anti-sodomy laws were put into place many years ago.
Hilariously, Swift was even criticized by actual faggots for jumping on the pro-faggot bandwagon too late. So ultimately, she made everybody angry with her chicanery.
The good news is that the sales for Swift's album have been short lived. She is poised to lose the top position on Billboard's album chart to Tool, a rock band who just put out their first album in 13 years. And unlike Swift, Tool employed no stupid gimmicks to get people to buy their music.
Watch out, Taylor Swift fans — Tool are coming for the top of the chart. Their brand new album Fear Inoculum just came out last Friday (Aug. 30) and is likely to debut at No. 1 on the Billboard 200, according to Hits Daily Double.

The album is projected to reach between 240,000 and 260,000 albums in the U.S. alone for its first week sales, with 220,000 to 240,000 being actual sales. That's also without the help of any sort of tour bundle or any direct-to-consumer marketing strategies.

Not to toot the Tool horn or anything, but that's pretty impressive for a seven track, 85-minute long album.

Swift's Lover came out Aug. 23, and debuted at No. 1 with just over 885,000 sales in its first week. Swift, however, employed a plethora of bundle options for the albums, pairing it with merchandise and concert tickets, and even a deluxe edition that comes with four discs. The pop artist's second week sales are on pace to reach between 185,000 and 200,000, which would place Tool at the top of the chart.
It is good to see that a more wholesome and family friendly act like Tool is set to outsell the depraved and evil skank Swift.
Unlike Swift, Tool is not promoting bestiality and homosexual activity in music videos to shill their new album. They are not attempting to corrupt our youth like Swift so obviously is.
And speaking of Tool's new album, it has received extremely positive reviews. I personally found their new album to be excellent and well worth the 13 year wait.
I am however somewhat biased as I've been a fan of their music since their releases of Opiate and Undertow in the 1990s.
But I'll let you be the judge.
Here's a few tracks from their new album.