This is actually the correct decision.
No one should be nice to white women. White women are whores who deserve to be beaten up, choked out, and raped – at best. (I used to include "and have their throats slit and be dumped in a ditch like a bag of McDonald's wrappers," but I'm moderating in middle age.)
I'm sick of gooks coming to my country and white knighting for these busted-ass sluts.
CNN:
Uber's diversity chief is on leave from the company after criticism from some employees related to an internal panel called "Don't Call Me Karen."

Bo Young Lee, Uber's chief diversity and inclusion officer, is on a leave of absence, Noah Edwardsen, an Uber spokesperson, confirmed to CNN on Monday.

Lee oversaw a series of sessions called "Moving Forward" at Uber that focused on issues around race, gender identity and class. One of the more recent sessions was titled, "Don't Call Me Karen," and focused on the experiences of a handful of women leaders, a person familiar with the matter told CNN. "Karen" is a slang term that usually refers to a middle-aged white woman with a strong sense of entitlement, often at the expense of people of color.

Lee was put on leave after a follow-up listening session in response to concerns about the "Don't Call Me Karen" panel resulted in additional concerns, the person said.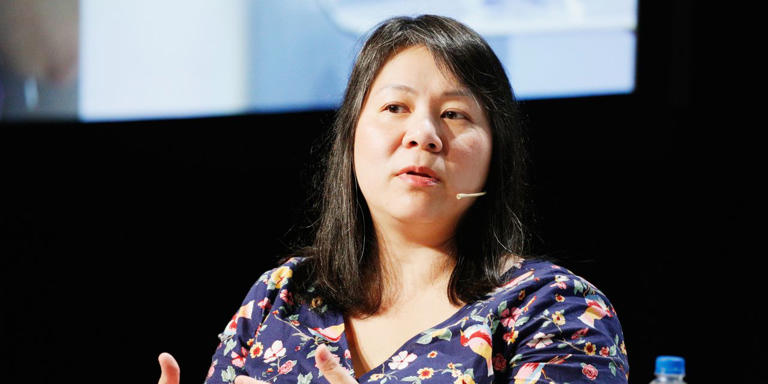 This is considered morbidly obese in South Korea
According to the New York Times, which was first to report the news, Black and Hispanic workers at Uber first felt that organizers of the event were focusing more on the harms caused by using the moniker "Karen" than the harms white people can inflict on people of color.

In a follow-up listening session, the Times reported, some employees felt their concerns weren't being heard and that instead of a chance to provide feedback or have a dialogue, they were lectured by Lee about their response to the initial "Don't Call Me Karen" event.

The Times cited an internal email from Uber's head of human resources as well as messages on the workplace tool Slack from groups for Black and Hispanic employees at Uber.

…

Lee is Uber's first chief diversity and inclusion officer. Lee joined the ride-hailing company in 2018, shortly after Dara Khosrowshahi took over as Uber's CEO.

Khosrowshahi was tasked with straightening out the company after Uber's co-founder and CEO Travis Kalanick stepped down in 2017 following a seemingly endless string of PR crises for the company, including a former employee's report of sexism and harassment in the workplace. It agreed in 2019 to a $4.4 million settlement with the Equal Employment Opportunity Commission over sexual discrimination charges.
In actual reality, all of these companies are dumping their diversity officers. More than likely, this was just an excuse.
I guess we should hope white women take notice of the fact that it is against the rules to be nice to them – right???
I'm sure they'll notice that and stop supporting every single Jewish agenda – right???
RIGHT???
No. In actual fact, they will not notice that, and they will continue to support every Jewish agenda, even if it is an agenda that is directly purposed to harm them.
White women are stupider than cockroaches. At least cockroaches know to run when someone is hovering over them and trying to smash them.
Meanwhile, in non-diverse South Korea