Andrew Anglin
Daily Stormer
October 21, 2019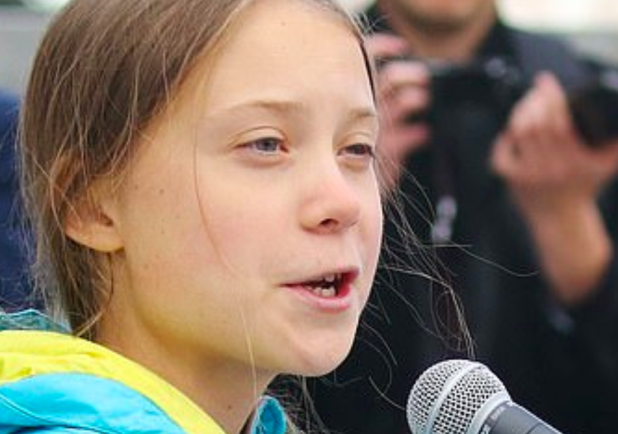 Rude to a little retard?
This gives new meaning to the phrase "how dare you?"
Greta Thunberg joined thousands of protesters marching in Canada's energy heartland Alberta yesterday as a smaller counter-rally led by a truck convoy of oil and gas workers also converged on the provincial capital Edmonton.

A crowd of several thousand led by indigenous drummers with students, young people and families marched slowly from a downtown intersection towards the Alberta legislature building.

Many held banners and signs with slogans including 'be a better ancestor'. Police rode on bicycles at the front and back of the throng.

'We cannot allow this crisis to continue to be a partisan, political question,' Thunberg said in a speech before thousands of people on the steps of the provincial legislature.

'The climate and ecological crisis is far beyond party politics and the main enemy right now should not be any political opponents, because our main enemy is physics.'

'We are doing this because our future is at stake,' Thunberg told the crowd.
'We will not be bystanders. We are doing this because we want the people in power to unite behind science.

But a counter-protester said: 'We care for the environment, of course we do. What they need to understand is that we're hurting and we also need to care about Alberta jobs.'

The honking horns of big rig trucks blared from a nearby thoroughfare, where vehicles emblazoned with 'We love Canada energy' signs were driving up and down.

'When they charged their iPhones last night, that power came from this plant,' he said, pointing to the former coal-fired Keephills power plant near Edmonton that was being converted to natural gas.

'Albertans and Canadians are practical people,' he said. 'They like real world solutions. Calling for the end of the modern industrial economy, advocating to put millions of people out of work… is not a real world solution.'

But climate protester Bridget Gutteridge-Hingston, 13, who marched with her father, said: 'I came out to show support for Greta and everyone fighting against the climate crisis.

'It's something I'm definitely scared of,' she said.
Yes.
Don't the adults understand?
The children are DEFINITELY SCARED of this impending apocalypse that they learned about in school.
And it is the duty of adults to alleviate the fears of these children by shutting off all electricity. Even in Canada, where they're going to freeze to death.
Or actually, I don't even know if this is about shutting off electricity. I don't even know what it is about, actually. I think it is about eating maggots, primarily.
I guess.
I mean, whatever – everyone simply needs to do whatever it is the retarded girl says to do, and by doing so, we will avoid the apocalypse for sure.