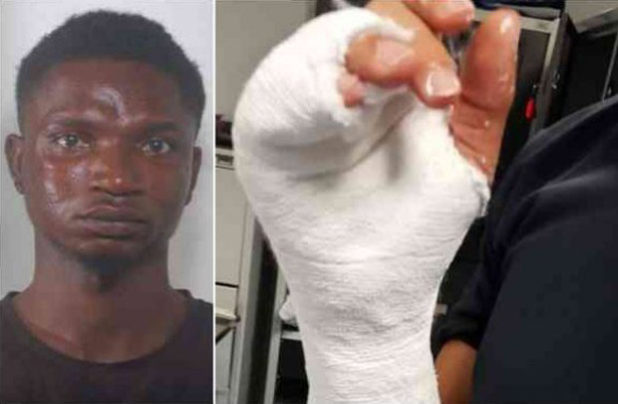 How dumb do you have to be to handle a negro with your bare hands?
Even children know that monkeys bite.
A Nigerian 'asylum seeker' has been arrested in Vicenza for dealing heroin and cocaine, resisting arrest, and causing injuries to a public official, Il Giornale Di Vicenza reports.

Last Friday when the police attempted to stop Clement Irabor, a 26-year-old migrant from Nigeria, for suspicious activity, he attempted to ride away on his bike. After police caught up to him and attempted to arrest him, Irabor became aggressive and violently kicked and bit at the police officers' hands.

One officer suffered a metacarpal fracture while others had less serious injuries from being bitten.

It turned out that Irabor was hiding packets of heroin and cocaine on his person. While resisting arrest, Irabor spit out packets of drugs and tried to reach for the police officer's pistol in an attempt to take the gun.

Once the Nigerian drug dealer was finally arrested, police found 11 balls of drugs packets were found on the ground. Apparently, Irabor had spit them out while wrestling with police officers. In total, 4.22 grams of heroin and 3.64 grams of cocaine were found.

The injured officer was transported to the emergency room where physicians instructed him to refrain from working for at least 30 days. Other policemen who were at the scene also suffered bruises from being bitten by Irabor.