Andrew Anglin
Daily Stormer
September 19, 2019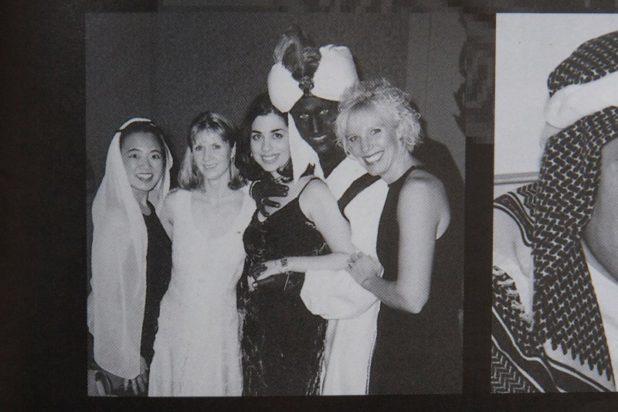 The world was shocked to realize that the world's number one nigger lover did a thing that would maybe hurt the feelings of niggers – blackface.
So the media response has been to say that blackface was actually brownface. You could analyze that response. But honestly, I'm not sure I have the energy.
Canadian Prime Minister Justin Trudeau apologized Wednesday after a 2001 brownface photo from a school yearbook surfaced taken when he was a 29-year-old teacher, adding turbulence for Trudeau to an already choppy re-election campaign.

He told reporters while traveling on an airplane that the photo is from 2001 when he was a teacher at the West Point Grey Academy. He was attending an end-of-year gala "where the theme was Arabian Nights."

"I dressed up in an Aladdin costume, and put makeup on," he continued. "I shouldn't have done it. I should have known better, but I didn't," he said. "And I'm really sorry."
HAPPENING NOW: Canadian PM Justin Trudeau addresses media on 'brownface' photo. https://t.co/7G3BYIkjO4 https://t.co/1qU0NkRH9G

— ABC News (@ABC) September 19, 2019
The existence of the photograph was first reported by Time Magazine and was confirmed to Time by spokeswoman Zita Astravas of his re-election campaign.

"He attended with friends and colleagues dressed as a character from Aladdin," she told the magazine.

Canada's New Democratic Party Leader Jagmeet Singh, who was participating in a town hall meeting when the news of the photo broke, said according to the Toronto Sun: "I think he needs to answer for it. I think he's got to answer the question why he did that and what does that say about what he thinks about people who, because of who they are, because of the color of their skin, face challenges and barriers and obstacles in their life."

In the same remarks to reporters Wednesday, Trudeau also admitted that he had once dressed up in a similar way during a high school talent show, saying he wore "makeup" to perform "Day-O",  a traditional Jamaican folk tune sung by legendary African American performer and civil rights activist Harry Belafonte.
Clearly, it is time for Trudeau to resign.
In fact, he should really just go to prison for this.
You can't just have people running around dressing up in costumes and potentially hurting people's feelings.
Time's up, Trudeau!
Blackface, brownface – no face for you!
You're off the team!