Andrew Anglin
Daily Stormer
September 15, 2019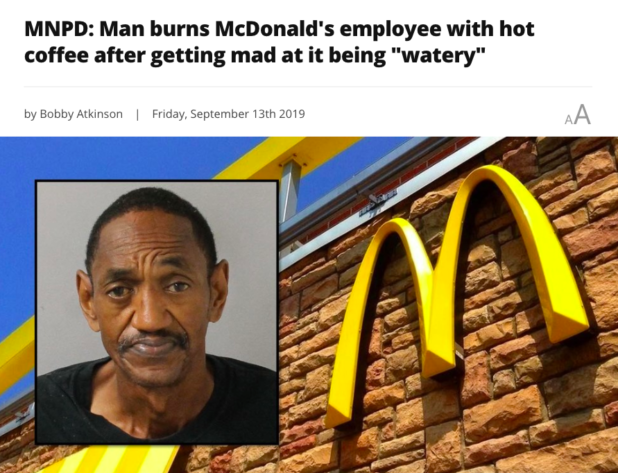 I don't really know what to say other than that we've all been there.
Metro Police arrested a man they say intentionally spilled hot coffee on a McDonald's employee after getting angry over the coffee being "too watery."

Charles Prince, 59, allegedly ordered coffee at the McDonald's in the Gulch on Thrusday and got angry that the coffee tasted watered down. Prince asked if they any stronger coffee, and the employee told him the restaurant brews their coffee daily.

That's when the man became angry and knocked over a large cup of coffee on the counter without a lid. The hot liquid poured on another employee and left visible burn marks on her arm.
Just this morning, I got some watery coffee from McDonald's and I threw it right in the motherfucker's face. He had third degree burns. They had to bring three ambulances.
The cops came and talked to me but said "we're not going to arrest you for this because you're white, but we'd prefer if you don't do it again. But if you do it again, it's really not that big of a deal. Have a good day, sir."
Then the female cop invited me to the paddywagon and gave me a blowjob. Blew my load straight all over her face and her cop hat and her badge and everything, then I slapped her around with my dick like it was some kind of hotdog slapping contest.
Then she whipped out a baggie of cocaine and I started snorting it off her tits while we were listening to AC/DC.
That's white privilege for you, I guess.