Union Square~
NYC is a complete shit show🫣#kaicenat pic.twitter.com/2Di51ugZa0

— CBKNEWS (@CBKNEWS121) August 4, 2023
Chaos breaks out near Union Square Park in Manhattan as large groups of teenagers wreak havoc.

There are reports that one teen accidentally shot himself in the arm.

The incident began after Twitch streamer Kai Cenat promised a "Huge Giveaway" at Union Square.

Teens began… pic.twitter.com/MMPSVOu59a

— Collin Rugg (@CollinRugg) August 4, 2023
If you win a Prize at this Kai Cenat meetup you not leaving with it 😭😭 pic.twitter.com/eATuMaeZuB

— W𖤐NTED (@wantedbythehoes) August 4, 2023
they stealing trucks now at the kai cenat meetup💀
pic.twitter.com/AcQvZnpjzL

— Jeffery Perkins (@JefferyxBball) August 4, 2023
Kai Cenat and Fanum caused a riot in NYC's Union Square after promising to distribute free PS5s, PCs, gift cards, etc.

Hundreds of youngsters gathered, leading to fights.

The NYPD was on scene to disperse the crowd and warned of mass transit disruptions and traffic delays. pic.twitter.com/qZhbM2MpOE

— BoreCure (@CureBore) August 4, 2023

Niggas be wilin.
You know how they do.
BBC:
A YouTube blogger's announcement of a video games console giveaway sparked chaotic scenes and a major police response in New York City on Friday.

A crowd of roughly 2,000 converged at Union Square in anticipation of free PlayStation 5 devices from celebrity Twitch streamer Kai Cenat.

Police told local media the influencer and others had been detained.

People were seen hurling objects, tearing down barricades, and climbing atop the train station entrance's roof.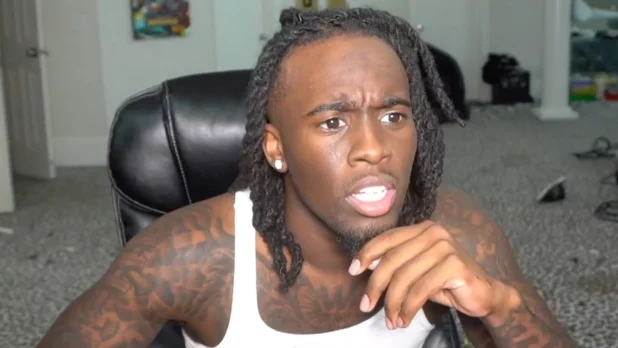 Kai Cenat
They climbed cars and threw objects at responding police officers. One person was said to have unleashed a fire extinguisher amid the chaos.

Police attempted to control the crowd.

New York Police Department officials called for a "Level 4" mobilisation, meaning roughly 1,000 officers were eventually deployed to the scene.

…

Mr Cenat made headlines in March after he broke the record for attracting the most Twitch subscribers by reaching 300,000.

…

Mr Cenat also boasts four million subscribers on YouTube.
I don't think it was about the PlayStations.
Blacks are just looking for an excuse to riot at this point.
People jumped on Kai Cenat's car and some of them fell 😭😭 pic.twitter.com/1JHisRPvCP

— W𖤐NTED (@wantedbythehoes) August 4, 2023
Kai Cenat really started a warzone 😭😭 pic.twitter.com/zMtku8kGry

— 𝘍 𝘐 𝘊 𝘚 (@OwnedByBooker) August 4, 2023
They really lifted Kai Cenat like he was a toddler 😭😭😭 pic.twitter.com/UTfsRqyl7T

— W𖤐NTED (@wantedbythehoes) August 4, 2023