Andrew Anglin
Daily Stormer
September 6, 2019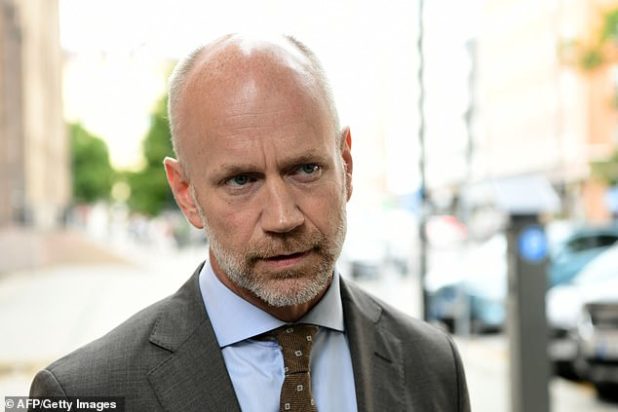 Who knows if this is revenge for A$AP or revenge for something else, but it was a targeted assassination of a criminal attorney.
Things are hot out there in Sweden. Almost as if they don't really have much room to be grandstanding about human rights and democracy, what with their country sinking into a type of 1920s gangster state.
A prominent Swedish lawyer who represented A$AP Rocky in his Stockholm assault case has been shot in the head and chest in an 'ambush attack'.

Henrik Olsson Lilja was leaving his apartment building in downtown Stockholm shortly before nine this morning when a gunman approached and shot him.

Neighbors saw a person wrestle the lawyer in a stairwell, before the shooting and gave Olsson Lilja a phone to call the police, who have since arrested several suspects.

A woman, also a senior lawyer, who was previously banned from contacting Olsson Lilja is among those arrested, but the shooter has been identified as a man.

'One person has been arrested as a suspect for the attempted murder attempt' a spokesperson for the prosecutor's office said.

The gunman swiftly jumped into a waiting SUV and sped off and the lawyer's condition is unknown. He is still at large.

Olsson Lilja first represented Rocky when he was first taken into custody after assaulting a man who was harassing him and his team on the street, but he was replaced before the trial began.

It is not known if the shooting had any relation to the US rapper's case.
Seriously: try to think of any other country where you're going to have criminal attorneys getting assassinated on the streets. You're only going to be able to think of third world countries. Because other than Sweden, this only happens in third world countries.
The reason this is happening in Sweden first among the first world is that Sweden is first among the first world to sink into third worldism after having flooded itself with the third world.
Swedists claim that their country is "stronger" because it is filled with "diversity." But what they mean by "strength" is that they have gang-rapes on the streets, rocket-powered grenade attacks in the suburbs, and now targeted assassinations of criminal lawyers.
I think these women who run that country should be kindly asked to stop lecturing the rest of the world.