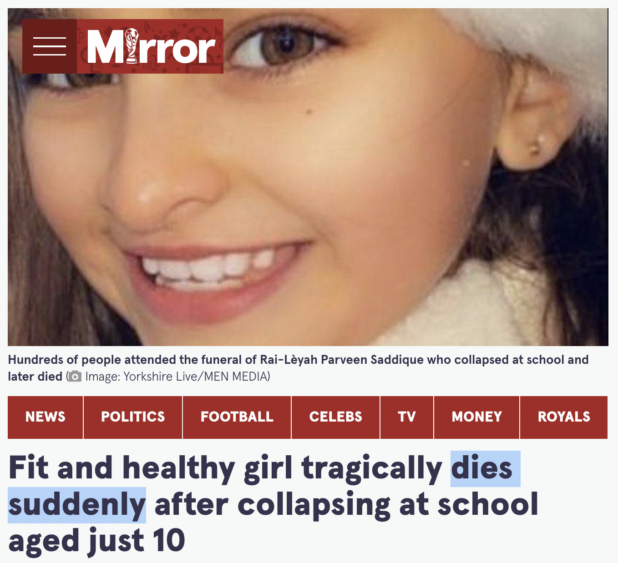 I don't mean to laugh at dead 10-year-olds.
But come on – this is so ridiculous. Little kids are just suddenly dying for no reason, and everyone is just looking around saying "what possibly could have caused this??? What changed between now and two years ago???"
A fit and healthy girl aged just 10 years old suddenly died after she collapsed at school.

Rai-Lèyah Parveen Saddique had been enjoying a normal day at school last Wednesday before she suddenly collapsed during the afternoon.

She was rushed to hospital, and later transferred, but tragically died on Monday morning.

The fit and healthy 10-year-old from Wakefield was described as popular and well-known and was the eldest of three siblings. Her death left her family and friends shell-shocked at its suddenness.

Hundreds of people attended her funeral at the Jamia Masjid Swafia mosque which was followed by a burial service at Wakefield Cemetery on Sugar Lane.
For the record, I found this story today by accident when I decided to see the latest by typing "died suddenly." This is not a big news story.
At any time in history before 2021, a 10-year-old girl in a Western country just collapsing and dying for no reason would be a serious cause for alarm. That is to say: the fact that this is not talked about is proof that the people not talking about it know it is the vaccine. If they didn't know it was the vaccine, they would talk about it, because all of these healthy people just dropping dead left and right is definitely newsworthy.
If it's brought up directly to these people, they will try to blame the coronavirus. But if they really thought it was the coronavirus, or thought they could get people to believe that, there would be constant headlines across the entire media about how people are dying suddenly as a result of the coronavirus.
In Argentina this week, a 4-year-old boy who was on posters for the vaccination drive died suddenly.
🇦🇷 The poster boy for Argentina's 💉campaign has #diedsuddenly of "bilateral pneumonia"

Santino Godoy Blanco (3) was rushed to hospital due to fever and vomiting.

Before passing his mom says he took off his mask and gave her little kisses because he couldn't talk anymore 😥 pic.twitter.com/90HSBhsnvI

— DiedSuddenly (@DiedSuddenly_) November 13, 2022
Everyone knows it's the vax. Everyone knows it's happening all the time and everyone knows that the total number of people who have died is totally unknown. We can only assume it is in the millions now from what we know of the news stories and of our personal lives, but they've successfully made sure that there is no real data to back that up.
Kids dying is a tragedy, even if it is Moslem invader kids. The kids were not responsible for figuring out the health effects of this magic science injection. But every adult who went around promoting this vax and demanding everyone take it deserves to die, and I hope they do.