This is France in 2023.

A Syrian "refugee", illegal in France, stabs children in a park in Annecy.

Immigrationists have his children's blood on their hands.

I'm not a French resident, I won't delete this video.#france #annecy #terrorism pic.twitter.com/0GUH9NlhDn

— Dexsky (@Dexsky_) June 8, 2023
luckily I downloaded pic.twitter.com/nGPnD80FRp

— 𝗦𝘁𝘂 🇬🇧🇺🇲 (@doesitreally23) June 8, 2023
When this video first came across my feed last night, I thought it was some kind of BBC comedy video.
It really looks surreal, like there should be vaudeville music playing.
But hey, remember that the first thing you need to remember when you see something like this is always the same: we need to protect immigrants from criticism, because when people see an immigrant stabbing babies, they could start thinking that immigrants stab babies.
Four children and an adult have been injured in a knife attack in the picturesque town of Annecy in the French Alps.

At least three of the victims are in a critical condition in hospital. A British national was among the children injured, the UK foreign minister James Cleverly said.

At about 9.45am, a man armed with a knife entered a children's playground near the town's famous lake and attacked a group of children aged about three years old – including one in a pushchair – as they played, a security source and a local official told AFP.

The French president, Emmanuel Macron, tweeted that it was an act of "absolute cowardice" and that the nation was in shock.

Witnesses described the suspected knifeman running around in a frenzy, apparently attacking people at random, before he was stopped by police near the banks of Lake Annecy.

Cleverly, who was speaking at an OECD ministerial council press conference in France, cleverly called the attacks a "terrible act of violence" and said the British government was ready to support the French authorities in whatever way they could.

"We are also aware that one of the people, one of the children injured, was a British national," he said. "We have already deployed British consular officials who are travelling to the area to make themselves available to support the family. And of course we stand in strong solidarity with the people of France at this terrible time."

…

One witness, named as Nelly, told France Info radio: "People were running, crying, panicking … it was horrible."

…

The suspect was a Syrian man in his early 30s who was granted refugee status in Sweden in April, a police source told AFP. Checks on the man, who was arrested at the scene, were ongoing, but he was unknown to French security services, the police source said.
It looks like the video is getting deleted from everywhere online, at the request of the French government.
You see, if people see this video, they might start to get the false impression that all of these immigrants that the government brought into France are violent, and that is simply a racist lie.
But we've gone ahead and uploaded it ourselves.
The French government can come find me if they want it taken down.
The really shocking part about this is that the child-stabber looked so peaceful and gentle.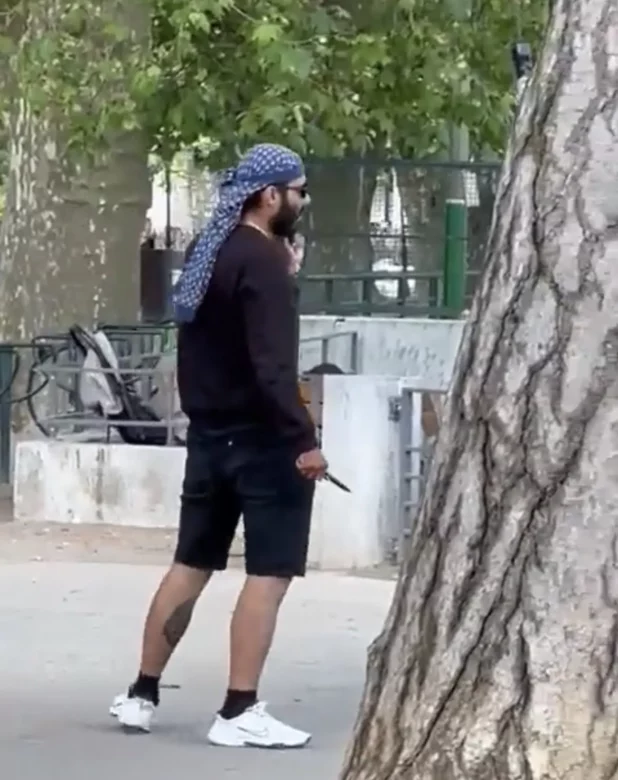 He looked exactly like every other military-aged male who has marched into Europe over the last decade, and we know that they are all very peaceful and kind and do not ever commit crimes.
The media is reporting that the man is actually a Christian.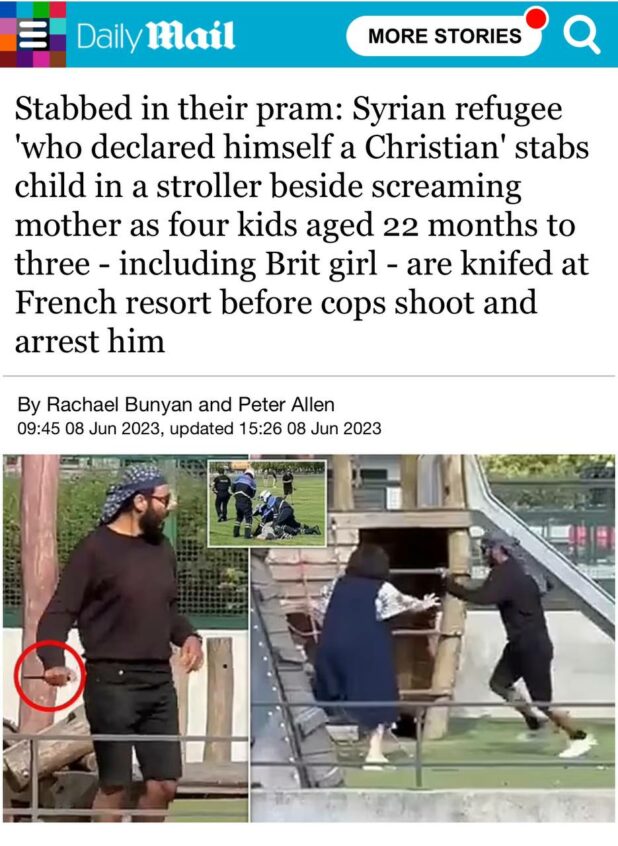 That seems… unlikely.