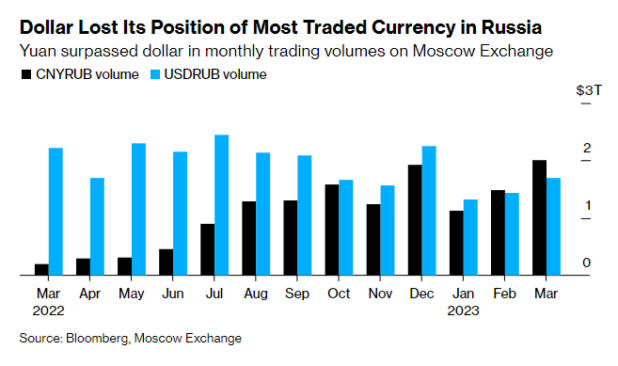 Everything is fine in the American economy.
There are no problems, because America is the king of the whole world, and they will be forever, because this is the end of history and so on.
RT:
The share of the Chinese yuan on the Moscow Exchange (MOEX) hit an all-time high in March, the Bank of Russia (CBR) reported in a monthly financial market overview published on Monday.

The yuan accounted for 39% of the total volume of trading in major currencies, up from 37% in February, according to the CBR. Meanwhile, the dollar's share dropped to 34%, from 36% in the prior month. To compare, the greenback's share a year ago was 87.6%, while the yuan's was just 0.32%.

"Market participants continued to reduce the volume of transactions in 'toxic' currencies in exchange trading," the regulator concluded. The dollar, along with the euro, was deemed 'toxic' because Ukraine-related Western sanctions against Russia jeopardized the use of these currencies in Russia's transactions with foreign partners.

Prior to February, the yuan had never outpaced the dollar on MOEX in terms of monthly trading volume. By the end of February, the volume of trading in the ruble-yuan pair amounted to 1.49 trillion rubles ($18.1 billion) against 1.43 trillion ($17.4 billion) in the dollar-ruble pair. In March, turnover in the yuan grew further to 2 trillion rubles ($24.3 billion), against 1.7 trillion rubles ($20.7 billion) worth of transactions with the dollar.

It was also noted that, in contrast to the previous months, Russian citizens significantly increased the volume of yuan purchases, from 11.6 billion rubles in February to 41.9 billion in March. Russian banks offer foreign currency accounts, while foreign currency can also be purchased through banks and money exchanges. Some Russians buy other currencies to hedge against volatility in the ruble.
Just don't even ever worry about this at all.
We are really winning hard in the Ukraine war, and all of the countries in the world are flocking to America, because they understand that the most important thing in the world for prosperity is gay sex.
If anything, the clusterfuck in the Ukraine has proven even stronger that really, America is the future, and that anyone with common sense is going to want to be the best friend of America, because of our devotion to a rules-based anal licking.
Pay no attention to the joyful panda who is preaching sovereignty and joyful family happiness. That panda knows nothing about anal licking, let alone anal fisting.