This is happening and it's not stopping. It's only going to keep getting worse.
If you have kids, or are planning to have kids, all of your resources need to be put into figuring out how to leave America (or at the very least figure out how to get to a rural area where you'll be able to avoid this for longer).
A faculty labor union put pressure on the University of Arizona this month to teach nursing students to ask 3-year-old patients about their "gender identity" after the Tucson-based school backtracked on the issue.

The university is facing criticism from both sides of the transgender debate after images of a UA College of Nursing presentation instructing students to ask "gender" questions to pediatric patients sparked outrage on X.
Please stop calling it that…
The university issued a statement Sept. 8 distancing itself from the debate, saying its nursing school "does not recommend or advocate for young children to be asked gender-related questions in wellness checks."

"The slides in question were from a 40-minute session on complex issues nurse practitioners face in clinical practice for the purpose of encouraging discussion, analysis and evaluation," the university stated.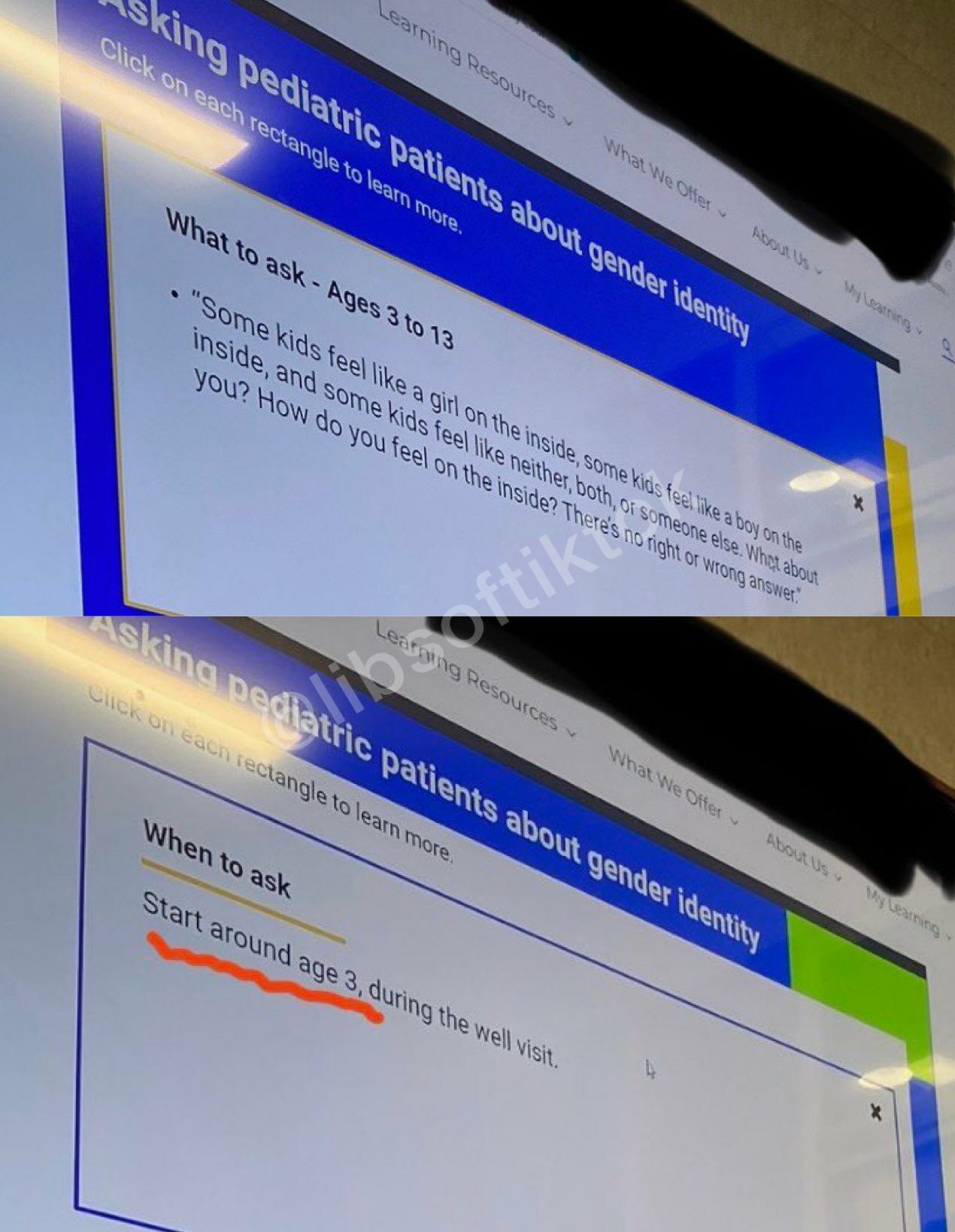 "The College of Nursing faculty members share evidence-based information, but do not recommend any specific practice guidelines related to gender-related issues. Students are taught that providers need to choose their own approach to such issues," it continued.

Last week, the United Campus Workers of Arizona criticized the university's statement, saying it abandoned "science based recommendations" in response to threats, "hate calls" and "bullying tactics" from conservatives.

The union, which represents higher education faculty, staff and student workers, said the university's statement also is "harmful" to transgender children.

"It contradicts medically accurate and evidence-based practices regarding gender-affirming care for young people, which support screening for gender dysphoria in children and adolescents," the union wrote in a petition posted Sept. 15 on X.

The union also described Libs of TikTok, the social media account that exposed the presentation, as an "anti-trans hate group."

Libs of TikTok published two slides from the presentation on X in early September. The slides instruct UA nursing students to start asking "gender" questions to pediatric patients "around age 3 during the well visit."

One slide explains how to phrase the questions, saying nurses should ask their 3- to 13-year-old patients: "Some kids feel like a girl on the inside, some kids feel like a boy on the inside, and some kids feel like neither, both, or someone else. What about you? How do you feel on the inside? There's no right or wrong answer."
These people are never going to explain what a tranny is.
And conservatives are too stupid and effete to push the issue.
If souls are being trapped in the wrong bodies, we need to understand why and how that is happening, and figure out if there is a way to prevent it from happening. Obviously, everyone would prefer to be born with the genitals that align with their souls, but if we don't understand how souls are being trapped in the wrong bodies, we can't fix the problem.
Injections and genital mutilations are not a fix for this problem.
Liberals are making the argument that souls are getting trapped in the wrong bodies, and if this is real, they need to explain it, and then we can all work together to stop this from happening.
How about never?