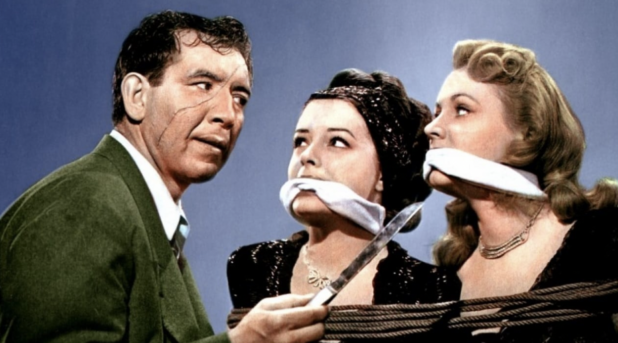 I told you: this is the one attack on Trump that would actually work.
It is apparently working.
RT:
Fresh off a landslide victory for re-election as Florida's governor, Ron DeSantis has emerged as the early favorite to win the Republican Party's nomination for president in 2024, overtaking Donald Trump, a new poll has revealed.

Republican and Republican-leaning voters prefer DeSantis over former President Trump by a margin of 42-35, according to a YouGov poll released on Friday evening. The remaining 23% of respondents were either unsure or said they preferred neither top candidate.

The YouGov survey was done from Wednesday through Friday, following a disappointing showing by Republicans in Tuesday's midterm congressional elections. One bright spot for the GOP was Florida, where DeSantis trounced Democrat rival Charlie Crist by nearly 20 percentage points in the gubernatorial race, and Republicans won 20 of the 28 US House seats that were up for grabs. Senator Marco Rubio also won re-election by a wide margin, and like DeSantis, he prevailed in some areas that were previously thought to be Democrat strongholds, such as Miami-Dade County.

In contrast, several of the most high-profile candidates endorsed by Trump, including Senate hopefuls Dr. Mehmet Oz in Pennsylvania and Blake Masters in Arizona, lost their races.
Yes, that is just one poll, and it could be completely fake (I guess). But it's the only poll that has been done so far since the midterms and this barrage of media about how Trump sunk the GOP and everyone now has to rally around DeSantis.
A Breaking911 Twitter poll, which at time of writing has 70,000 votes, had even more extreme results.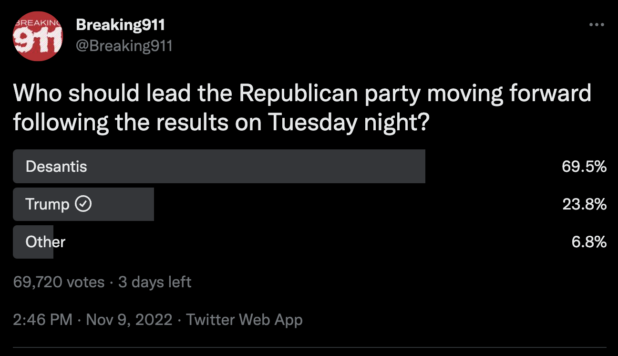 That would be much easier to skew, of course, but it's not nothing.
Whatever the real numbers are, DeSantis is up 10% from a couple weeks ago. The plan was to hoax the election and then blame Trump. The plan worked.
I do believe that Trump can still fight and beat DeSantis. He's ultimately just going to lose the general election in 2024, because elections are a hoax. But it would be a lot more funny if Trump was the candidate.
It's going to be very tough and he's going to have to fight very hard.
Rodent in Ass has all the money in the world behind him, he has the entire media behind him; Trump has basically nothing but his wits.
This is the power of the Jews.