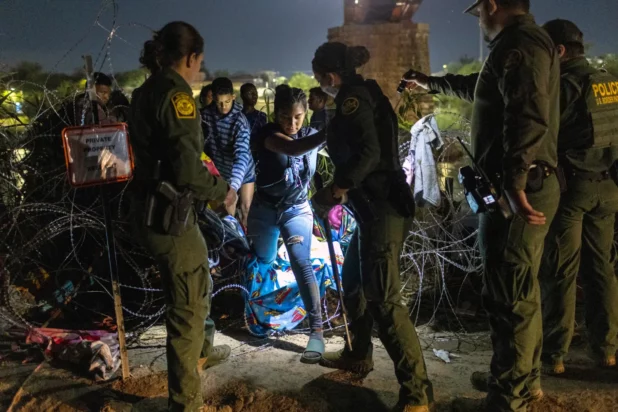 The Border Patrol's job is to make sure invaders cross safely
Well.
There would be several ways to stop them.
A space laser would stop them – I can tell you that much.
The immigration debacle is taking its toll on the 60,000-plus members of the US Border Patrol, agents and former top officials told The Post.

According to Rodney Scott, the former chief of the Border Patrol, many border agents sit aghast as they process hundreds of adult males, mostly from Venezuela, with tattoos and tough manners.

"You know they are gang members, but there's no database to pass them off and they won't admit it so we can't document them as gang members," Scott told The Post. "They're just getting released into the United States."
Any bets on how many felonies he's committed since getting a fist bump by Biden's soldier CBP at the Southern border last week?

"Venezzzzzzzzzzzuealaaaaaaaaa" pic.twitter.com/6HTfI4nGli

— 🌹 Dänë 🌹 (@JesuisDanois) October 5, 2023
Scott said that one officer told him: "I feel like I'm part of the smuggling organization."

Scott and others told The Post that the simpler days when Border Patrol agents used to catch and deport migrants, and stop smugglers, mostly from Mexico are long gone — replaced by far more shrewd asylum seekers from other parts of the world. They added that cartels largely run the border now.
The situation is a stark contrast to just three years ago.

According to US Customs and Border Protection, in 2020, there were 646,822 encounters with undocumented border crossers nationwide. In 2022 it ballooned to 2,766,582; up till August, there have already been 2,860,127 in 2023.

But the numbers are just part of the story. Most of the undocumented border crossers are what Border Patrol agents call "give ups"— asylum seekers from all over the world who want to be detained so they can be processed and released, and likely receive aid from non-governmental agencies.
Border news is boring.
EXCLUSIVE: #Illegal Migrants Fist Bump Border Patrol After They Cut Through Abbott?s Border Wire#TwitterVideo by @JennieSTaer posted on 28 Sep 2023
Thanks to @SpaceCowboyzl #MAGA qt-maga-5682 #BorderObserverpic.twitter.com/3926Mo779s

— The Border Observer (@borderObserver) October 3, 2023