PLAAF fighter jets and Y-20 military transport aircraft with equipment and personnel have departed for Vladivostok to participate in the upcoming joint "Northern Union – 2023" military exercises with Russia in the Sea of Japan. #Russia #China pic.twitter.com/WLOfuJ0IhY

— Venik (@venik44) July 16, 2023
I remember when people were saying "Anglin, you're wrong – China will never defend Russia!"
No one ever apologizes to me after saying I'm wrong about something when I'm proved right.
I'm right about everything. If something was wrong, why would I say it? That would not be in my own interests as a prominent truth-teller. You've gotta realize: I don't just make wild statements. Everything I say is backed up by the facts. That's how I'm always right.
China and Russia have to stick with each other, no matter what. That has been obvious for anyone to see since Brandon took over, though it was obvious to me much earlier – even before the leaders of these countries realized it.
China's economy is obviously much more serious than Russia's, but Russia is very good at designing military hardware, and presumably better at deploying it.
If things ever got real serious in the Ukraine, China would commit troops. Just so, if the US ever triggered Taiwan to start a war with China, Russia would be backing them up in the sea.
Neither has any choice in the matter.
A Chinese naval flotilla set off on Sunday to join Russian naval and air forces in the Sea of Japan in an exercise aimed at "safeguarding the security of strategic waterways", according to China's defence ministry.

Codenamed "Northern/Interaction-2023", the drill marks enhanced military cooperation between China and Russia since Moscow's invasion of Ukraine and is taking place as Beijing continues to rebuff U.S. calls to resume military communication.
There is no point in engaging the Americans. All they do is lie and make threats, and then call you names in public.
The Americans only understand one thing.
The Chinese flotilla comprised of five warships and four ship-borne helicopters, left the eastern port of Qingdao and will rendezvous with Russian forces in a "predetermined area", the ministry said on its official WeChat account on Sunday.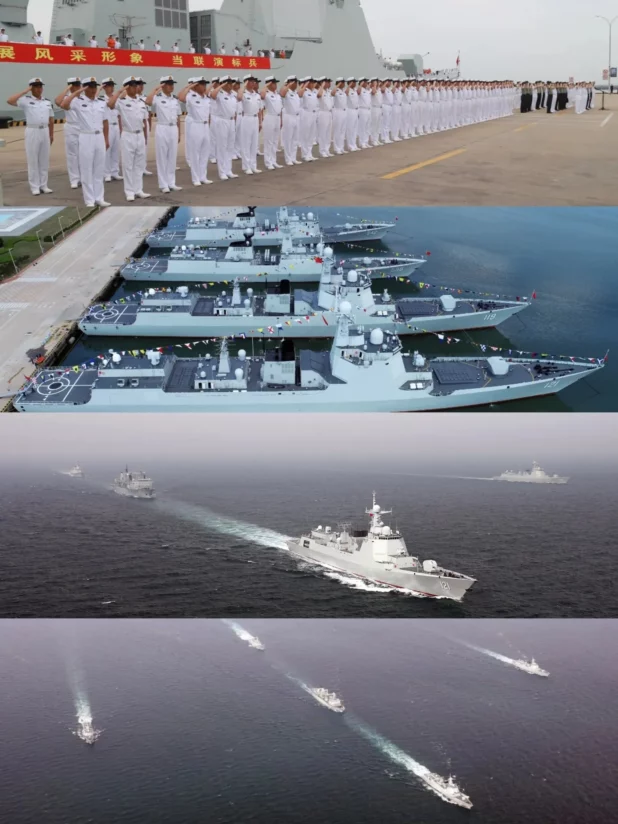 On Saturday, the ministry said Russian naval and air forces would participate in the drill taking place in the Sea of Japan.

This would be the first time both Russian forces take part in the drill, state newspaper Global Times cited military observers as saying.

Gromkiy and Sovershenniy, two Russian warships taking part in the Sea of Japan drill, had earlier this month conducted separate training with the Chinese navy in Shanghai on formation movements, communication and sea rescues.

Before making port at the financial hub of Shanghai, the same ships had sailed passed Taiwan and Japan, prompting both Taipei and Tokyo to monitor the Russian warships.
Yikes.
I would not want to be "monitored" from Taipei or Tokyo.
By the way, this guy is know as "The Minitorer":