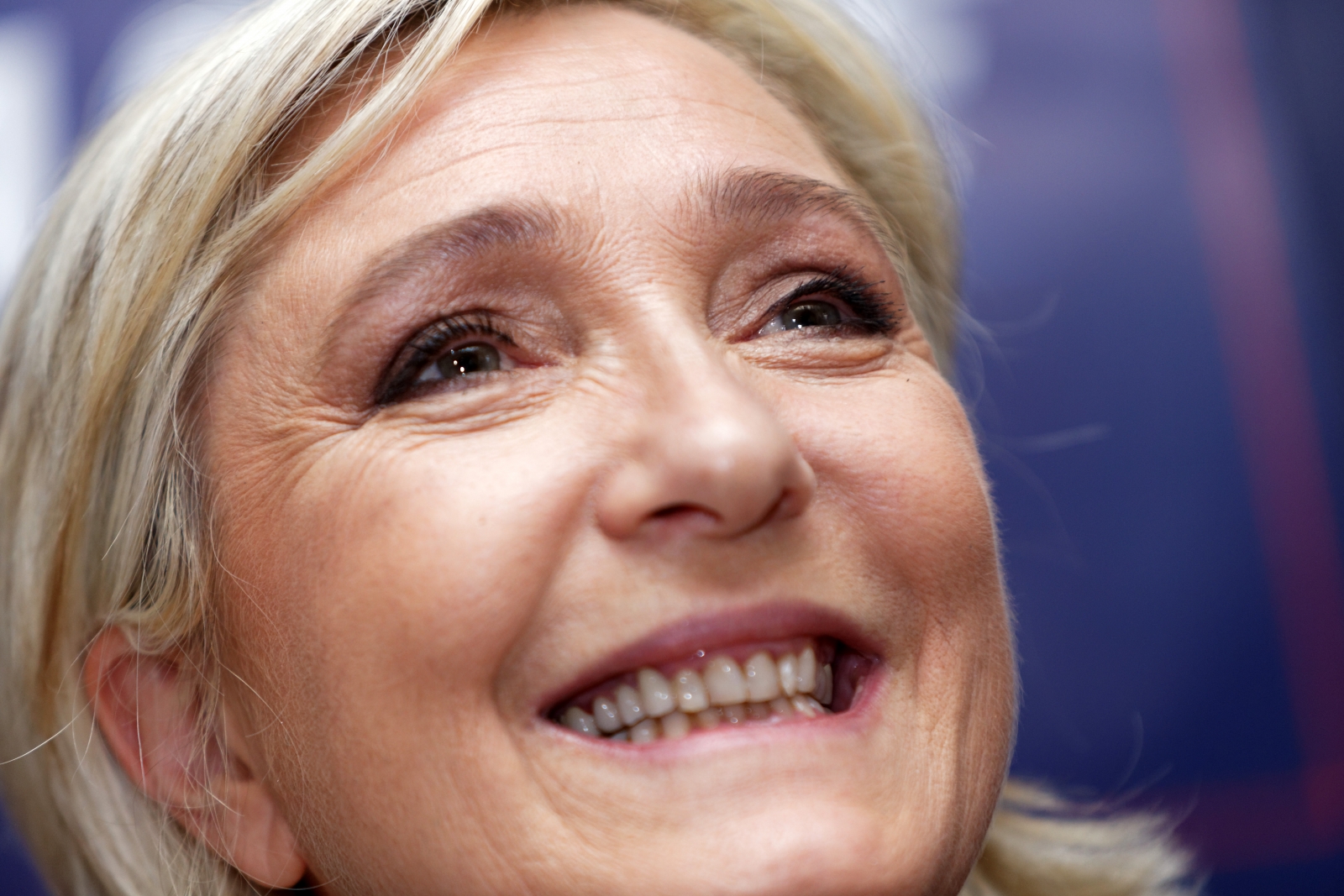 What a stupid whore.
The French far-right leader Marine Le Pen's support of Israel in the wake of the Hamas attacks is being seen as part of a long-running drive to move her National Rally party away from its toxic, antisemitic past before a run for the presidency in 2027.

National Rally, which is the biggest opposition party in the French parliament and is polling ahead of Emmanuel Macron's centrists for next year's European elections, has firmly supported Israel's right to defend itself since the Hamas attacks on 7 October and the ensuing bombardment of Gaza.

In a speech in parliament condemning what she called the "pogroms on Israeli soil" and attacking Jean-Luc Mélenchon's leftwing La France Insoumise party for its "intolerable" stance in not classifying Hamas as a terror group, Le Pen was met with applause from parliamentarians from the traditional right and centre.
"Israel must be allowed to eradicate Hamas"
As she prepares to run for a fourth time for president in 2027, her anti-immigration party is promising to protect French Jews from what it calls the biggest danger: Islamism. Jordan Bardella, her party president, told French radio: "For lots of French Jews, the National Rally is a shield against Islamist ideology."
France is highly sensitive to the Middle East conflict, with a community of about half a million Jews – the largest outside Israel or the US – and more than 800 antisemitic incidents recorded by police since October. France also has the biggest Muslim community in Europe.
Who brought all those Moslems there?
Who?
Marine Le Pen's support of Israel has been seen by some commentators as a certain political opportunism. She has long sought to "normalise" her party and move it away from its jack-booted, antisemitic past, which was seen as a brake on the party's new political ambitions. In 2015, Le Pen expelled her father, Jean-Marie Le Pen, the party founder, after he reiterated comments belittling the Holocaust, for which he has several convictions. She later changed the party name from the National Front to National Rally.
This didn't help at all
In a highly symbolic move, several of Le Pen's parliamentarians attended a march in Paris in October led by Jewish groups in support of Israel. This was a radical change from previous years. In 2018, Le Pen attempted to take part in a march commemorating Mireille Knoll, a Jewish pensioner killed in an antisemitic murder, but had to move aside amid comments by some of "Fascists out".

Although Le Pen did not personally attend the Israel march, several National Rally politicians who are members of the parliament's France-Israel friendship group quietly took part. Yonathan Arfi, head of the Crif, France's umbrella group of Jewish organsiations, told Le Monde he would fight National Rally in the 2027 presidential election and had clearly not invited them or exchanged with them in a way that would legitimise them, but the street was open to everyone.

Jewish groups continue to express concerns about the anti-immigration, far-right party, including on policy questions such as a potential ban on ritual slaughter, including for kosher food, and whether or not Jewish people should be allowed to wear kippas in public.

…

Cécile Alduy, a professor at Stanford University and a specialist on Le Pen's party said: "The Front National has a long history of antisemitism: one of its founders was a Waffen SS [member] and Jean-Marie Le Pen has been convicted several times for denying or minimising the Holocaust, or for antisemitic slurs. Jean-Marie Le Pen also expressed sympathy for the Palestinian people in the 90s, and was against any alignment on the US's politics in the Middle East.

"But the party has always supported the existence of Israel – the young Jean-Marie Le Pen was an admirer of the Suez operation in 1956, and after September 11, 2001, the far right started to see Israel as an enclave of the west within the Arab world, in a war of civilisations."

Alduy said Marine Le Pen had tried several times in recent years to go to Israel and meet officials, which had been denied. Louis Aliot, the National Rally mayor of Perpignan, whose mother's family has Jewish heritage, had particularly tried to build bridges with French-Israelis.

"The National Rally has started to target the supposed entrenched antisemitism of immigrants of Muslim heritage, and tried to buy a new virginity on that front by pretending to protect the Jewish community from them," she said.

Alduy said: "Marine Le Pen is against a ceasefire, does not seem to support a humanitarian corridor, and her [MPs] have called Palestinian victims "collateral damage" necessary to entirely eliminate Hamas. This clearly signals a desire to contrast the National Rally's absolute support for Israel against Islamists, [and] against the ambiguous position of some on the far left. It certainly plays into the National Rally's narrative of normalisation."
This isn't even a good strategy.
Jews are never going to forgive her for being born of the seed of the best anti-Semite in Europe since Hitler. She's not going to appeal to the Jews based on hating Moslems.
I understand that the centerpiece is anti-immigration, and that the immigrants are Moslems, but that really shouldn't even be related. These are two totally separate issues.
Well, the link between them is that it is Israel that is responsible for the refugee crisis (although the core population of France's Moslem bloc are not refugees at all), and the fact that the Jews are the ones who pushed for immigration.
The Jews are already leaving anyway. How many Jew voters are there?
Where are the French gonna emigrate to?
The real electoral strategy is to target what the French people are sympathetic to. You don't even have to call for arming Hamas, but just don't go out and say you support Israel.
It doesn't make any sense.
Women are so retarded.
France is doomed because Marine, instead of a male sperm, won the sperm race – probably because Old Man Le Pen wasn't eating enough fatty fish.
It's the butterfly effect.