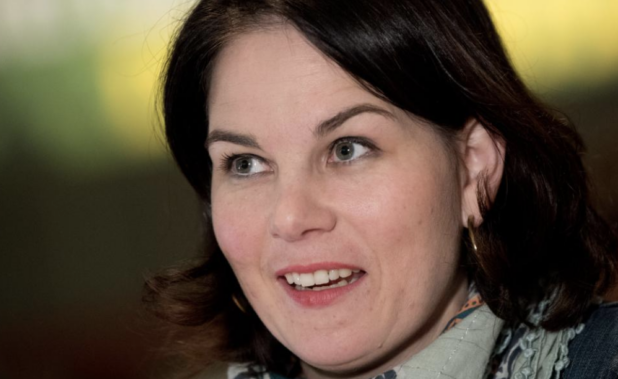 There are two things that really get women hot: black guys and mass death.
Annalena Baerbock is like "I came here to start a nuclear war and fuck black guys – and I already fucked all the black guys in Der Nigger Town."
She then raided the cookie stash and ate a whole jar of cookies before crying and passing out drunk.
What a creepy-ass cracker.
RT:
German Chancellor Olaf Scholz must "stop" Foreign Minister Annalena Baerbock before she becomes a "security risk" and pushes Berlin towards a conflict with Moscow with her "thoughtless statements," Bavaria's Prime Minister Markus Soeder said on Wednesday during a German political festival.

The foreign minister and her party – Alliance 90/The Greens – are talking themselves into a "war frenzy" amid the conflict between Russia and Ukraine, Soeder told a crowd of cheering supporters during what is known in Germany as Political Ash Wednesday. Originating in Bavaria, the 100-year-old event allows German politicians to vent and pull no punches about the perceived shortcomings of their political rivals.

Soeder referred in particular to when Baerbock told the European Council in January that the EU was "fighting a war against Russia," words that sparked uproar at the time. In mid-February, Baerbock herself conceded that the remark was a mistake.

"A foreign minister has to be careful what she says," Soeder warned during the event in Passau, Bavaria, adding that "an escalation of words can quickly lead to the escalation of violence." Germany is helping Ukraine but is not at war with Russia, he maintained.

…

Baerbock has emerged as one of the most hardline supporters of Kiev in the German government, repeatedly arguing for increased military aid to Ukraine and criticizing Chancellor Scholz for supposedly not doing enough. She has also supported tougher sanctions on Russia and opposed any compromises.

In October 2022, she said that any concessions to Russia in the conflict would be "naïve." The minister also maintained that the West should not settle for a peace agreement that would result in Ukraine losing any territory.
You people think I'm joking about war getting these sluts hot.
I'm not joking in any way at all.
I might say it in a silly way, to highlight the silliness of the thing, but it is just a fact: women are turned on by the idea of mass war. Go look at the supporters of this insane Ukraine war, which literally has no point that a man could ever process as being logical or reasonable. It is just all women going nuts, saying they want to have sex with Zelensky, and calling for a land invasion of Russia.
Women as a group are a security risk.
Jews couldn't find men to support this insane Jew agenda, so they released the sluts as a standing army suppressing and oppressing men.
They need to be locked up in cages.
They are making a complete mess of everything that men spent millennia building and they think it's funny.