At an event about current National Security threats—

I asked @AmbJohnBolton why he lied about WMD's in Iraq, covered up war crimes in Afghanistan, and celebrated when Julian Assange was arrested.

I was immediately detained and removed from the event. pic.twitter.com/zctfbORghW

— Tayler Hansen (@TaylerUSA) November 10, 2022
The people who run our country have zero respect for our traditional, established norms and institutions. They view America as a machine to accomplish their weird goals of global anal supremacy – not a place that is a lot of people's home, where we have beliefs and values that we hold dear.
They think our identity as Americans is a joke.
RT:
Former US national security advisor John Bolton joked about the First Amendment as a protesting journalist was detained for accusing him of lying about weapons of mass destruction and "covering up war crimes in Afghanistan."

Bolton's speech at an Institute for Policy Innovation conference in Texas on Thursday was interrupted by journalist Tayler Hansen, who stood up and accused the long-time war-hawk of lying about Iraq possessing weapons of mass destruction prior to the 2003 US invasion.

"You essentially genocided the Iraqi people," Hansen shouted at Bolton. "And you covered up war crimes in Afghanistan, sir."

"Why did you celebrate the arrest of Julian Assange?" Hansen continued. "Why do you think that's acceptable, sir? Is celebrating war crimes acceptable?"

Hansen was detained by security and removed from the conference. As he was led away, Bolton drew applause from the crowd when he remarked "that's another example of the First Amendment at work," referring to the US Constitution's guarantee of free speech.

Bolton served in numerous positions in the Reagan, Bush Sr., and Bush Jr. administrations, before a stint as Donald Trump's national security adviser in 2018 and 2019. He was sacked by Trump after advocating regime change in Iran and apparently scuppering peace talks with North Korea, with the then-president claiming that "we would be in World War Six by now" if he listened to Bolton's advice.
That line alone is funnier than every single joke Rodent in Ass has made in his entire life.
Of course, Trump did hire this guy. He hired a lot of bad people because he was being pressured by that Jew rat Jared Kushner.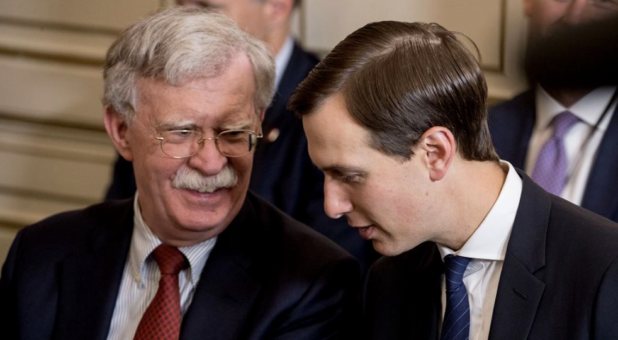 It's good to see these regime leaders being harassed in public again. AOC has recently been harassed several times about her support for a nuclear war with Russia.
We need America First. We need people in our government who believe the things that normal people believe, and have the goals that the people have. Being led by people who mock everything we hold dear is an interesting experiment, but we've spent decades trying it out, and the results are not good at all.