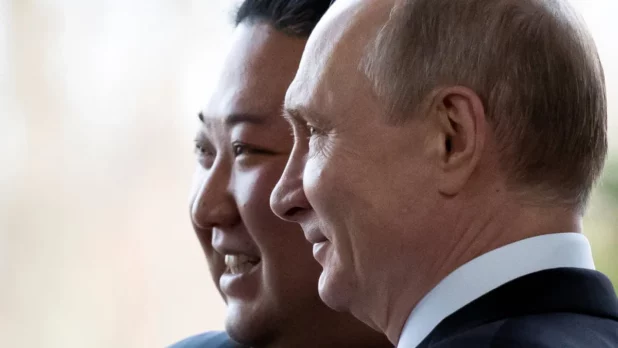 The world is just good guys v. bad guys now.
It is all just totally "anal v. non-anal" countries.
Depending on your views on anal, you are going to see it as pure good v. pure evil.
Unless you're a boomer conservative. Boomer conservatives believe that it is all about what types of man-on-man anal you're involved in, and the "age of consent."
That's why you have some boomer conservatives still supporting the Ukraine – "well, I do think Russia needs a bit more man-on-man anal. They can stay away from child trannies, but we need to be reasonable, and allow a reasonable amount of anal."
North Korean leader Kim Jong Un has vowed to "hold hands" with Russian President Vladimir Putin and bolster strategic cooperation on their shared goal of building a powerful country, state media KCNA reported on Monday.

Kim made the pledge in a message to Putin marking Russia's National Day, defending his decision to invade Ukraine and displaying "full support and solidarity."

"Justice is sure to win and the Russian people will continue to add glory to the history of victory," Kim said in the message published by KCNA.
So true.
What a Boss.