Remember when the government flipped out over testosterone-increasing and intelligence-enhancing flavored nicotine vape juice, saying it targeted kids and claiming that was bad?
They're taking a different tact on kiddie weed.
AP:
When New York's first licensed recreational marijuana outlet opened last month, the chief of the state's Office of Cannabis Management, Chris Alexander, proudly hoisted a tin of watermelon-flavored gummies above the crowd.

Outside the Manhattan shop, he displayed another purchase — a jar containing dried flowers of a cannabis strain called Banana Runtz, which some aficionados say has overtones of "fresh, fruity banana and sour candy."

Inside the store run by the nonprofit Housing Works, shelves brimmed with vape cartridges suggesting flavors of pineapple, grapefruit and "cereal milk," written in rainbow bubble letter print.

For decades, health advocates have chided the tobacco industry for marketing harmful nicotine products to children, resulting in more cities and states, like New York, outlawing flavored tobacco products, including e-cigarettes.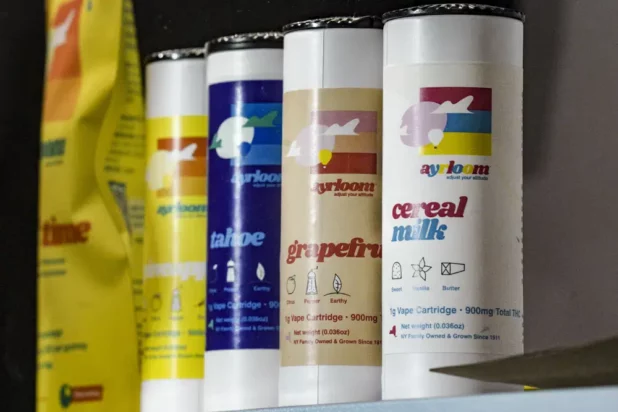 Now as cannabis shops proliferate across the country, the same concerns are growing over the packaging and marketing of flavored cannabis that critics say could entice children to partake of products labeled "mad mango," "loud lemon" and "peach dream."

…
New York, which legalized recreational marijuana in March 2021, forbids marketing and advertising that "is designed in any way to appeal to children or other minors."
Oh?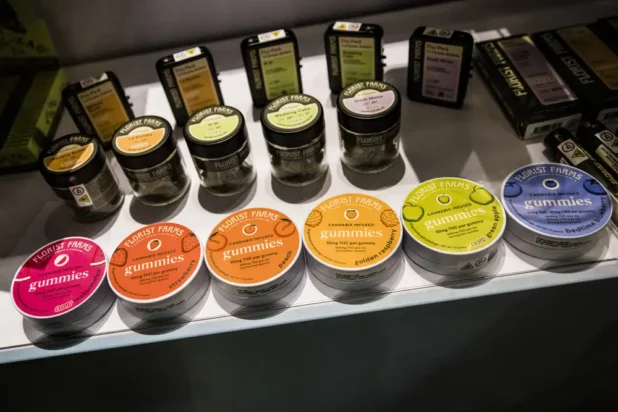 But hey – I guess the difference between a child and a pot-smoking adult is nigh undetectable.
They sell these drugs as candy then act shocked when kids eat them.
A study released earlier this month documented the steep rise in poisonings among young children, especially toddlers, who accidentally ate marijuana-laced treats.

The uptick in cases coincides with the rise in the number of states allowing the use of marijuana for medicine or recreation. Medical use of cannabis is currently allowed in 37 U.S. states, while 21 states allow recreational use.

"When you're talking about strawberry-cheesecake, or mango, or cookies-and-cream flavors, it's very difficult to argue that those are for older adults," said Dr. Pamela Ling, the director for the Center for Tobacco Control Research and Education at the University of California in San Francisco.
We are already in a situation where nicotine is more demonized than marijuana.
Why is that, I wonder? Smoking cigarettes or vaping is a personal choice that really doesn't affect anyone else. Smoking weed turns the whole population into zombies.
There is still no discussion of legalizing cocaine, by the way, despite the fact that it is safer and healthier than weed.
The rewards of early cannabis legalization https://t.co/E4HEzrUEfZ

— Alex Berenson (@AlexBerenson) January 15, 2023
Alex Berenson has a lot of good information on the modern weed industry, and the amount that the drug has changed since it was legalized.
1/ Prepping for my Senate Judiciary subcommittee testimony today by looking at papers on cannabis and psychosis that have come out since the paperback of Tell Your Children. So many! This one from March says ~half of new young patients with psychosis had a cannabis use disorder… pic.twitter.com/QlXSZM3YRn

— Alex Berenson (@AlexBerenson) July 26, 2022
2/ This one from Scotland last year says cannabis-related hospital admissions rose 8x in 20 years and are particularly prevalent among young people… pic.twitter.com/zyyC01ni3e

— Alex Berenson (@AlexBerenson) July 26, 2022
3/ This one just came out last month and says regular teen cannabis users are more than FIVE times as likely to have psychotic-like symptoms as non-users, even after adjusting for other factors.

Sure seems like a drug we should be legalizing as fast as possible! pic.twitter.com/HHRaFcKGC1

— Alex Berenson (@AlexBerenson) July 26, 2022
The @JAMAPsych paper on cannabis use in pregnancy is devastating. The gaps between non-exposed and exposed kids were huge even after the researchers corrected for many different variables.

Cannabis use in pregnancy should be STRONGLY discouraged, if not outright banned pic.twitter.com/p6t4bnqFQQ

— Alex Berenson (@AlexBerenson) September 12, 2022
Oh.

Lemme translate: at the equivalent of one 20-mg edible for a pregnant woman a day, the monkey fetuses had

Smaller testicles
Less oxygen
Major genetic changes

Aside from that everything is fine.

TELLING PREGNANT WOMEN TO USE CANNABIS IS BEYOND BAD ADVICE. IT IS CRIMINAL. pic.twitter.com/RgL0etTVY1

— Alex Berenson (@AlexBerenson) November 26, 2022