The easiest solution to dealing with the loneliness and soul-crushing alienation caused by modern utopian society is to die of a fentanyl overdose.
Dying from a drug overdose is a solution to the biggest challenges we face every day as a result of living in a utopia.
When you're dead, you don't have to listen to trannies screaming in public. You don't have to spend every second you are in public trying not to scream the n-word. When you're dead, all you have to do is lay there. It's very peaceful.
(Seriously though, I don't know how the West, which is promoting euthanasia as a solution to depression, can also somehow be against people dying of drug overdoses.)
The overdose crisis has reached historic levels in New York City, according to new data from the city's Department of Health and Mental Hygiene.

Provisional data shows there were 3,026 overdose deaths in New York City in 2022, the highest total since the department began recording such incidents in 2000.

Newly released data shows that overdose deaths increased by 12% from 2021 to 2022. Fentanyl was detected in 81% of drug overdose deaths in New York City, according to the data. Fentanyl is an opioid that is 50 to 100 times stronger than morphine, the department states.

The report found that Black and Latino New Yorkers had the highest rates of overdose death and the largest increases in rate from 2021 to 2022.

Adults ages 55 to 64 continued to have the highest rate of overdose, followed by adults ages 45 to 54, according to the report.
Across the country, officials are battling deadly drug abuse. The Centers for Disease Control and Prevention predicts that 28 states, including New York, Texas, California, Alabama, Washington, and Oregon, are expected to see a rise in overdose deaths from 2022 to 2023.

NYC Mayor Eric Adams and the Department of Health and Mental Hygiene have said they aim to reduce overdose deaths by 15% by 2025 as part of the "Care, Community, Action: A Mental Health Plan for New York City."
The city recently launched its first public health vending machine, which stocks health and wellness supplies, including naloxone — a safe medication that can reverse the effects of an opioid overdose — hygiene kits, and safer sex kits.

New York City has also expanded hours and services at the country's first two recognized overdose prevention centers (OPCs) that opened in late 2021. The centers have intervened in over 1,000 overdoses that could have been fatal.

…

The city has also given out more than 77,000 naloxone kits and hosted 38 naloxone trainings, as well as providing approximately 30,000 fentanyl test strips.

In response to the fatal overdose total, the New York City Health Department issued a Commissioner's Advisory and is recommending that New Yorkers carry naloxone and know how to use it, talk to their loved ones about substance abuse and the risk, avoid using drugs alone, and keep all medication safely stored.

"This crisis is killing a New Yorker every three hours and is impacting every individual and family in our city and in our nation," said Health Commissioner Dr. Ashwin Vasan in a statement. "No one is spared, even if you think otherwise."
HAHAHAHAHA!
THE FAT INDIAN HEALTH CHIEF SAYS EVERYONE IN THE CITY SHOULD CARRY AROUND NARCAN AND ADMINISTER IT TO RANDOM STRANGERS THEY SEE DYING OF FENTANYL OVERDOSES ON THE STREET!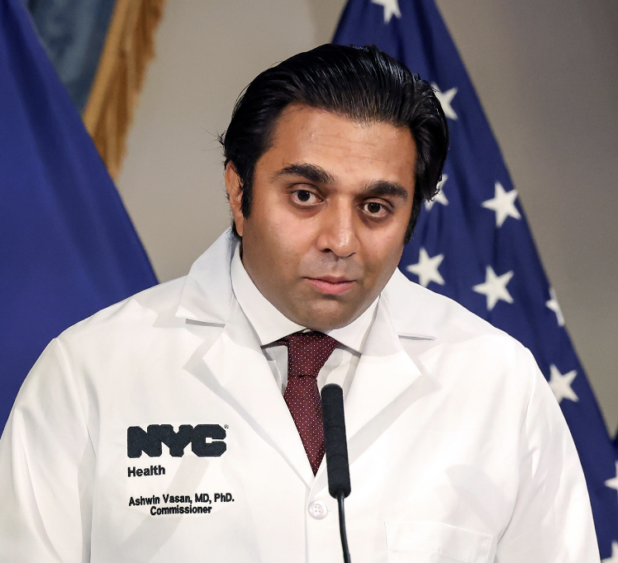 HAHAHAHAHAHAHAHAHAHAHAHAHAHAHAHAHAHAHAHAHAHA!
WELCOME TO UTOPIA!
HAHAHAHAHAHAHAHAHAHAHAHA!
Not even yo nigglet is safe