Andrew Anglin
Daily Stormer
September 12, 2019
I am not aware of any better feeling than that I was genuinely trolled by someone.
PewDiePie is one of the few people who has ever given me this feeling. He just did that by saying he was going to give money to the Anti-Defamation League, then saying that he looked into them and wouldn't be giving them anything.
The sickening kikes of The Verge are framing this as a response to a fan "backlash":
Felix "PewDiePie" Kjellberg is pulling his $50,000 pledge to the Anti-Defamation League (ADL) after his initial announcement drew backlash from parts of his fan base.

In a video uploaded today, Kjellberg said that he didn't know much about the ADL when he made the pledge. It was only after uploading the video and seeing feedback about the organization that he admitted he "didn't know a lot of things that surfaced throughout this whole thing about the charity." He made the original announcement during an unboxing of a special YouTube Play button to celebrate surpassing 100 million subscribers.

"I made the mistake of picking a charity that I was advised to instead of picking a charity that I'm personally passionate about," Kjellberg said in the video. "Which is 100 percent my fault."

Kjellberg previously addressed the criticism against his donation in a recently deleted tweet, acknowledging that "making a donation to the ADL doesn't make sense to everyone, especially since they've outright spoken against me." A spokesperson for the ADL told The Verge at the time that they learned about the "potential donation when everyone else did: when he made the announcement on his channel yesterday."
In fact – no such dice, kikes.
The entire thing was a TROOOOOOL.
The ADL says that they never heard anything about him giving them money!
What PewDiePie did was the brilliance of ALL TROLLING, EVER – COMBINED.
He told people he was going to give the Jews money, so that everyone would flip out and tell everyone what the ADL is!
This was the word on the street:
YEAH HE'S GOING TO GIVE MONEY TO THIS ISRAELI JEW GROUP THAT SHAKES YOU DOWN AND MAKES YOU PAY THEM IF YOU DON'T WANT TO GET BANNED FROM YOUTUBE! THE JEWS ARE SO POWERFUL, THEY CONTROL ALL MEDIA INCLUDING YOUTUBE AND YOU HAVE TO BOW DOWN BEFORE THEM OR THEY DESTROY YOU!
Pewds started that conversation on purpose!
There was never any intention to give money to these kikes!
PewDiePie will never cuck!
PewDiePie will never betray the people!
PewDiePie will DESTROY THE KIKES!
PewDiePie is the HOLY SAVIOR OF THE INTERNET!
CHECK THE CROSS ON THE COLLAR, KIKES!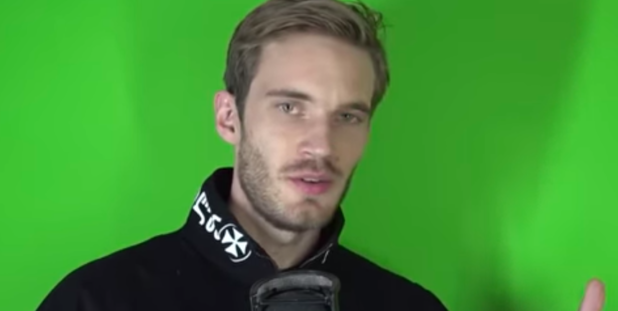 AND REMEMBER THAT FACE!
IT'S THE FACE YOU'RE GOING TO BE SEEING ON GIGANTIC POSTERS EVERYWHERE WHEN YOU'RE GETTING STUFFED IN GAS CHAMBERS!