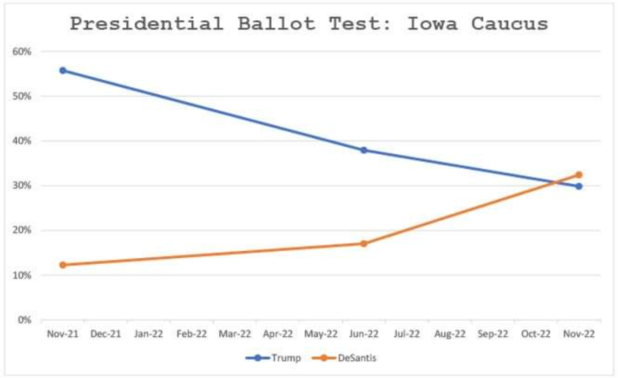 Maybe it's a fake poll, but I doubt it's far off. Trump has no real advantage in this race, and the media is all in the bag for DeSantis.
Iowa Republicans are turning away from former President Donald Trump in favor of rising star Ron DeSantis, according to a new survey.

A poll released Monday by Neighborhood Research and Media indicated that 32% of likely caucus-goers would make the 44-year-old Florida governor their first choice. Another 30% said their top pick would be the 76-year-old former president.

The result represents a 23-point swing in the poll from June, when Trump led DeSantis by 38% to 17% — and a 46-point swing from November of last year, when the 45th president led 56% to 12%.

"With support barely half what it was a year ago in a time when DeSantis's vote has nearly tripled, Trump becomes a severe underdog in the race," Rick Shaftan of Neighborhood Research and Media wrote in his analysis.

Another 30% of respondents said they were undecided about who their first choice would be, while no other potential candidate topped double-digit support. Former Vice President Mike Pence would be the first choice of 3% of respondents, while former Ambassador to the United Nations Nikki Haley, Iowa Gov. Kim Reynolds, South Dakota Gov. Kristi Noem, and former Housing and Urban Development Secretary Ben Carson each got 1% support.
This could obviously all change pretty quickly. If Trump did the right things and got back on Twitter promptly, that might go a long way. DeSantis is not a strong figure at all. He's not even likable, and he's very fat. He is totally unremarkable, in that he's done literally nothing in Florida that was not done by other governors across the country. All the things he's celebrated for doing other governors did, and many did it better.
But things are very, very bad in this country, and if people can be convinced that DeSantis is the only way to fix it, they will pick him over Trump even if they prefer Trump.
It doesn't really matter either way, because the Democrats will just hoax the election. However, it kind of does matter, because Trump will say the election was fake whereas DeSantis will accept the fake results (which is why the Jews are pushing DeSantis so hard).