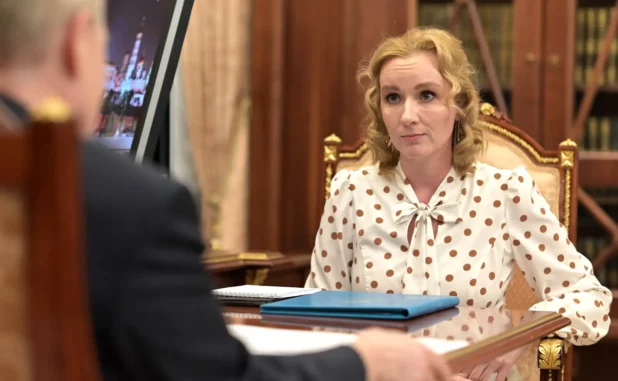 Children's Commissioner Maria Lvova-Belova
The Jews in the Ukraine are literally kidnapping kids and selling them into sex slavery with the Jews.
The ICC is claiming that denying the Jews cheap sex slaves is a crime.
That's what's actually going on here.
Russia's commissioner for children's rights on Tuesday dismissed International Criminal Court (ICC) allegations that she was responsible for unlawfully deporting children from Ukraine as false.

The Hague-based ICC on March 17 issued arrest warrants for President Vladimir Putin and Children's Commissioner Maria Lvova-Belova for the war crime of unlawfully deporting children from areas of Ukraine occupied by Russian forces.

The ICC said it had information that hundreds of children had been taken from orphanages and children's care homes in areas of Ukraine claimed by Russia. Some of those children, the ICC said, had been given up for adoption in Russia.
Russia has accepted more than 5 million refugees from Ukraine since the beginning of the NWO – children's ombudsman Maria Lvova-Belova. pic.twitter.com/mGJYUei7pp

— Vladimir Putin 🇳🇬🇷🇺😍 (@rabiusambo7) April 4, 2023
Lvova-Belova told a news conference her commission acted on humanitarian grounds to protect the interests of children in an area where military action was taking place and had not moved anyone against their will or that of their parents or legal guardians, whose consent was always sought unless they were missing.

Nor were children given up for adoption, she said, saying they were placed with temporary legal guardians in foster homes.

"As far as the ICC's accusations are concerned, we don't understand what we are accused of. Give us the facts and we will look into it. So far, it all looks like a farce without specifics and is incomprehensible," she said.

The ICC had not submitted any documents to her office, she complained, noting that Russia did not recognise the court's jurisdiction anyway. Nor, she said, had Ukraine sent any official requests regarding children allegedly separated from their parents.

Ukraine says it is investigating the deportation of over 16,000 children, many of them taken from parents at "filtration points" as they tried to leave newly captured territory, removed from care institutions, or taken from people who were caring for them after their parents were killed in the war.

"Give us lists of parents who are looking for their children and we will find them. If mothers, fathers…are looking and need help we are open to giving it," said Lvova-Belova.
Russia is a Christian, heterosexual country.
The Ukraine is a satanic cesspit fighting a war to force gay anal fisting on the people of the Donbass.
People wonder why it is so important to the hohols that they control the Donbass – why they are willing to lose hundreds of thousands of men in order to conquer this territory – and it is because Zelensky told them the anuses of the young boys who live there are "extra juicy."
Seriously – why else would they care? It makes no sense unless you consider that the Ukraine is an anal country, totally obsessed with ass.
Look into Azov. This is a satanic death cult that is completely fixated on gay anal.
Also, go look at the Ukraine flag on Twitter – they are always coupled with the homosexual pedophile "rainbow" flag.
It is child abuse to allow children to stay in the Ukraine. Russia should be kidnapping children directly from their parents and sending them to Russia, but instead they only take ones without parents, and the ICC says they should just leave them to die or get analized.
It's sick.
🔴 #LIVE: News conference by Russian Presidential Commissioner for Children's Rights Maria Lvova-Belova on the main activities of the Russian commissioners for children's rights, current pressing challenges, including those in the new regions

— MFA Russia 🇷🇺 (@mfa_russia) April 4, 2023