After Ukraine deployed drones to successfully offset Russia's advantages on the battlefield, Taiwan's leaders took note. But an internal report prepared for its leaders had a stark finding: In drones, Taiwan lagged far behind its powerful adversary – China https://t.co/qJ45XURLoZ pic.twitter.com/5mv4BE5nUd

— Reuters (@Reuters) July 21, 2023
The Ukraine war alerted Taiwan's leaders to the fact that they lagged far behind their main adversary China in drone capability. Now, Taiwan is recruiting the island's commercial drone makers in a fast-track effort to catch up https://t.co/pGIOy9Eg1S pic.twitter.com/3uzSGwb80i

— Reuters (@Reuters) July 21, 2023

There are women in Taiwan who think it would be a good idea to start a war with China.
It would get them a lot of attention. Zelensky-tier attention.
Basically, the West's plan with Taiwan is just the exact same plan as with the Ukraine – start a war, then blame it on the victim, then drum up a whole international fiasco.
After Ukraine deployed drones to successfully offset Russia's advantages on the battlefield, Taiwan's leaders took note. But an internal report presented to President Tsai Ing-wen contained an alarming finding: In drones, Taiwan lagged far behind its much more powerful adversary – China. Now, the island has enlisted commercial drone companies in a bid to catch up.

In the summer of 2022, just months after Russia invaded Ukraine, Taiwan's president gathered senior officials from her ruling party in downtown Taipei. On the agenda: How was Ukraine, in its war with Russia, successfully offsetting the advantages of a much more powerful foe?

President Tsai Ing-wen was given an internal 77-page briefing report via PowerPoint. It had a clear answer: drones.
Disgusting used up old hag, by the way.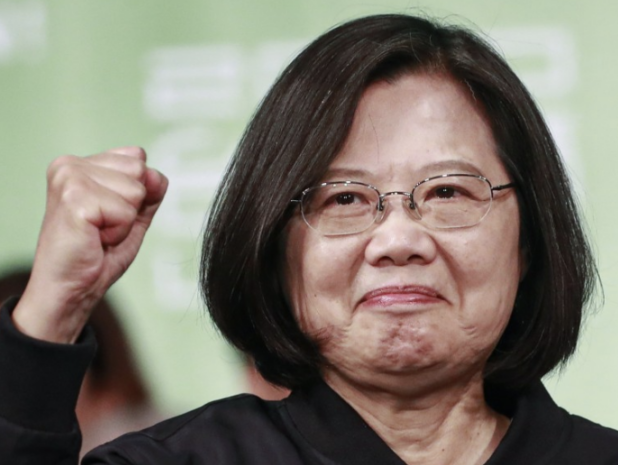 Many such cases.
"Since the war began, Ukraine, which was previously considered as lacking air supremacy, cleverly used drones to create its own partial air supremacy," the presentation stated.

For Taiwan, though, the report painted a darker picture: The island lagged dangerously behind its far more powerful rival, China, in arming itself with aerial drones – and needed a crash program to close the gap.

"We are far outnumbered," said the report, a copy of which was reviewed by Reuters.
Yeah, well.
China has a billion and a half people.
So, yeah.
You're outnumbered.
The drone gap is stark. Taiwan currently has four drone types at its disposal and a fleet size of just "hundreds," according to two people with direct knowledge of the matter and a separate internal security report.

Across the narrow Taiwan Strait, China's military, the People's Liberation Army, has an arsenal of more than 50 different drone types that is estimated to run into the tens of thousands, according to defense analysts and a Reuters examination of Chinese military manufacturers and reports in Chinese state media. These drones range from jet-powered, long range surveillance aircraft to small quadcopters deployed by ground troops.
Is no one in Taiwan asking why we are even having this conversation?
China showed zero aggression towards Taiwan – before Joe Biden went out there and started promoting the idea of a war where he would turn Taiwan into "the next Ukraine."
Clearly outmatched, Tsai "pressed the button" on the creation of a strategic plan to close the gap, said a person who attended a series of meetings in which the drone strategy was forged. Under the "Drone National Team" program, Taiwan is recruiting the island's commercial drone makers and aviation and aerospace firms in a joint effort with the military to fast-track the building of a self-sufficient drone supply chain.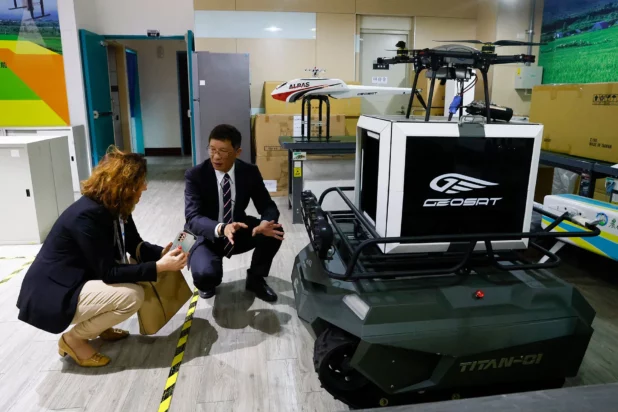 Max Lo, the coordinator of Taiwan's drone initiative
"We need to quickly catch up, with thousands of drones," aerospace entrepreneur Max Lo, the coordinator of the drone effort, told Reuters in an interview. "We are trying our best to develop drones with commercial specifications for military use. We hope to quickly build up our capacity based on our existing technology so that we can be like Ukraine."
Related: The Ukraine's Population in Freefall as Refugee Women Hooking Up with Men in Rest of Europe
The aim, according to a government planning document reviewed by Reuters, is to build more than 3,200 military drones by mid-2024. These will include mini-drones that weigh less than two kilograms as well as larger surveillance craft with a range of 150 kilometers.

To accelerate production, the government is for the first time enlisting private companies in the research and development phase of a weapons program. At least nine private firms have joined the effort.

Thunder Tiger Group, best known for making radio-controlled model aircraft for leisure and commercial use, is typical of the type of companies recruited by the government. Participants have expertise ranging from aviation to telecommunications to the production of electronic components for applications like GPS positioning. Hawk Yang, the head of Thunder Tiger's R&D department, told Reuters his firm is now developing drones for Taiwan's military, including pilotless ship- or land-based surveillance helicopters with four-meter-long rotors that have a range of 400 kilometers and can stay airborne for up to six hours.
Nigga's name is "Hawk Yang."
Best surrender, Xi.
This nigga serious.
His company, Yang said, was recruited by defense ministry officials last year to turn commercial drones into craft that also have a military use.

"One small drone could blow up a tank that is worth tens of millions," he said, underscoring how rapidly modern warfare is changing with the rise of asymmetrical weapons – cheap, small arms that can offset big, expensive systems.

…

In response to questions for this report, China's foreign ministry said the "Taiwan authorities' attempts to 'reject reunification with force' and 'seek independence with foreigners' is certain to fail." China's defense ministry and Taiwan Affairs Office did not respond to questions.
There is no reason that anyone who went along with the Ukraine hoax would not go along with this Taiwan hoax.
The US is out of options. They've exhausted themselves economically.
Their only option is total war.
They have no problem dragging the whole world down with them.