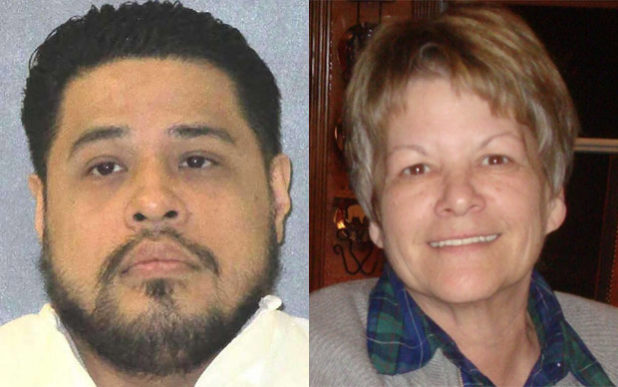 Mark Anthony Soliz and victim Nancy Weatherly.
Once again, Texas shows the nation how it's done.
A Texas death row inmate was executed Tuesday for fatally shooting a 61-year-old grandmother at her North Texas home nearly a decade ago during an eight-day spate of crimes that included thefts and another killing.

Mark Anthony Soliz, 37, received a lethal injection at the state penitentiary in Huntsville for the June 2010 slaying of Nancy Weatherly during a robbery at her rural home near Godley, located 30 miles (48 kilometers) southwest of Fort Worth.

Soliz was the 15th inmate put to death this year in the U.S. It was the sixth execution in Texas and the second in as many weeks in the state. Nine more executions are scheduled this year in Texas, the nation's busiest capital punishment state.

"I have represented Mr. Soliz for many years. Every legal tool in my kit was deployed to prevent this execution. The hope endures, the fight goes on, and the cause never dies," Seth Kretzer, one of Soliz's appellate attorneys, said in a statement.

…

Kretzer had argued in court documents that heavy drinking by Soliz's mother during her pregnancy resulted in numerous problems for the inmate, including impulsivity, learning difficulties, and an IQ of 75 that is "considered borderline impaired." An IQ of 70 or below is generally considered to be intellectually disabled.
In other words, he was just a typical beaner. Got it.
Nice try Mr. Kretzer, you little Yiddish rodent.
Funny how the only time Jews bring up colored people's IQs is when they're trying to get them off in court.