Zelensky is in the US Capitol begging for scraps after he put American journalists on a hit list

Any GOP Rep giving him money is directly funding the targeting of US journalists

Not 1 more penny to this fascist little dictatorpic.twitter.com/zOQuMEYHJt

— DC_Draino (@DC_Draino) September 21, 2023
Zelensky makes brief remarks at the Capitol flanked by Schumer and McConnell pic.twitter.com/CeOP3GOZz6

— Aaron Rupar (@atrupar) September 21, 2023
That little kike rat bloodsucking Nazi yid parasite Zelenskkky doesn't deserve another dime from America.
Volodymyr Zelenskiy is finding his latest visit to Washington a much tougher occasion than the hero's welcome he was given nine months ago.

Zelenskiy was given a standing ovation when he delivered an address to a joint sitting of Congress in December. This time, he addressed the Senate in a closed session, but House Republicans turned down a request to address both chambers again. They are also reported to have turned down an administration briefing on Ukraine.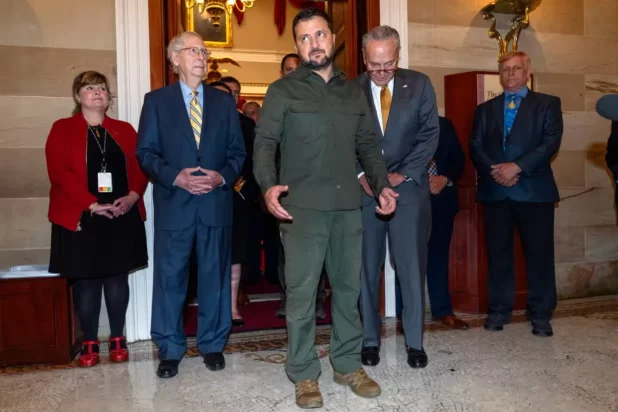 Zelenskiy arrived on Capitol Hill in the midst of a bitter spending battle that could trigger a government shutdown, and he faced difficult conversations when he met congressional leaders behind closed doors. Republicans have proposed a stopgap bill that does not include funding for Ukraine, an omission that the Senate majority leader, Chuck Schumer, called "an insult to Ukraine and a gift to Putin".

"I cannot think of a worse welcome for Zelenskiy," Schumer said.
Chuck Schumer is Jewish (Zelensky and everyone who runs the Ukraine government is also Jewish).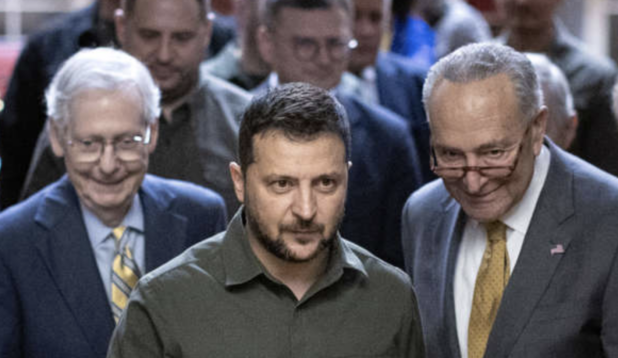 I don't know if you knew that, but these people are all Jewish.
"Mr. Zelensky said: If we don't get the aid we'll lose the war." said Charles Schumer, Senator of the United States of America.

Well thanks Chuck! To the last Ukrainian! pic.twitter.com/2HDbtJwM7C

— DD Geopolitics (@DD_Geopolitics) September 21, 2023
The official media explanation is that this is a coincidence, and if you even mention it, you're metaphysically evil.
The Republican leadership in the Senate is broadly pro-Ukrainian, but the party is more divided in the House, where the speaker, Kevin McCarthy, faces a restive group on the right hostile to military support for Kyiv. McCarthy made clear to his party that he would approach Biden's pending request for an additional $24bn in support for Ukraine with considerable scepticism.

"Is Zelenskiy elected to Congress? Is he our president? I don't think I have to commit anything and I think I have questions for him," McCarthy told ABC News.

"Where's the accountability on the money we've already spent? What is the plan for victory? I think that's what the American public wants to know," McCarthy added.
McCarthy, who is a moron who couldn't run a used car dealership, has spent his life serving Jews in the most humiliating ways imaginable. He said all these things, and then he also met with Zelensky and took degrading photos with him.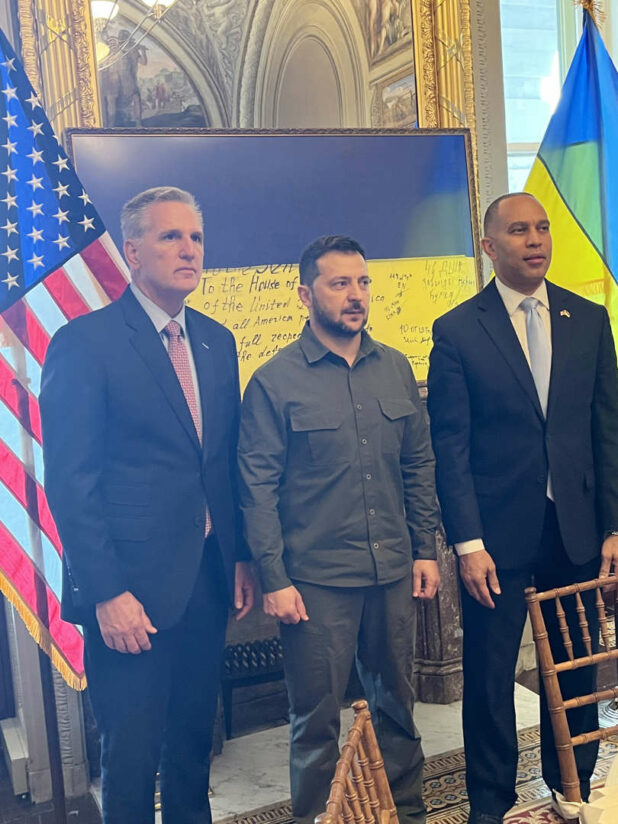 Again, we're supposed to believe – we are still supposed to believe – that Zelensky flew in directly from the front lines of a war, where he is serving as some kind of general or maybe a machine-gunner or fighter pilot, and he didn't have time to put on a suit or even just a shirt during the flight over to America.
Zelensky went on to meet with Joe Biden and do a photo-op.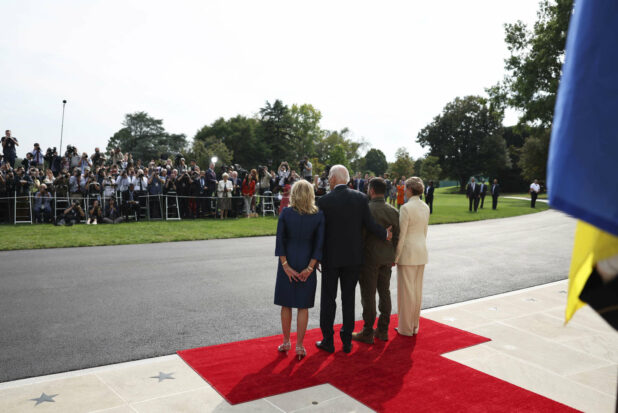 They did a sad little press conference, where Biden was very confused as no one bothered to get Zelensky a chair that fit him.
Poor guy is forced to sit in these really big chairs. Not a very warm environment for such a little guy.
Biden announced "never-ending support for endless war," once more.
UPI:
Ukrainian President Volodymyr Zelensky arrived in Washington on Thursday to meet with congressional leaders before holding talks with U.S. President Joe Biden, who announced a new $128 million arms-assistance deal for Kiev.

The assistance will provide $128 million worth of U.S. weapons and equipment from Department of Defense stocks. Additionally, Biden said the Department of Defense will provide $197 million in arms and equipment to Ukraine under previously directed drawdowns.

After arriving in D.C. in the morning, Zelensky and first lady Olena Zelenska arrived at the White House by mid-afternoon, where Biden and first lady Jill Biden greeted them at the South Portico.

During the meeting with Zelensky, Biden reiterated continued U.S. support for Ukraine in its war against invading Russia, saying American support would continue as long as it takes and that Russia will be held accountable for human rights abuses and war crimes.

A statement from the White House said Zelensky and Biden also discussed Ukraine's ongoing counteroffensive.
It goes without saying that there is no such thing as a "never-ending war." All wars eventually end, and there is always a winner and a loser.
I've read fantasy novels about wars that never end, because they are happening in a different dimension (such as hell), and whenever anyone dies, they wake up again to continue fighting. However, unless there is some magic way to reanimate Ukraine corpses, the Ukraine is going to lose the war pretty soon, because they do not have enough bodies to throw at this problem.
Elon Musk is joining in.
Zelensky, I won't be giving you money, I'm not Biden. pic.twitter.com/s0uHwfpBGL

— Elon Musk (Parody) (@ElonMuskAOC) September 22, 2023
That's actually a bad sign.
When Elon Musk is posting memes about something, you know the issue is so dead that the opposite of the thing might become cool soon. The guy is so lame and out of touch, that he's really a barometer for "not cool things."