JUST IN: New York City is gearing up to pay over $1,000,000,000 on just hotels over the next 3 years to house illegal immigrants.

Good! That's what happens when you call yourself a "Sanctuary City."

But that's just the hotel costs. NYC Mayor Eric Adams estimates the total cost… pic.twitter.com/SOE4MJoqP1

— Collin Rugg (@CollinRugg) September 26, 2023
WHOOPS!
WHOOPSIE!
Scores of migrants have been sleeping on the floor of an old bar at the Big Apple's Roosevelt Hotel shelter "for days" — as the first wave of asylum seekers were being booted from city sites under its stay-limit rule.

Sobering Post photos show the asylum seekers sprawled out side by side in the middle of the once-iconic hotel's former Vander Bar in Midtown Manhattan early Monday.

Nearly a dozen other migrants also could be seen sleeping upright in chairs or hunched over their few belongings as they tried to doze.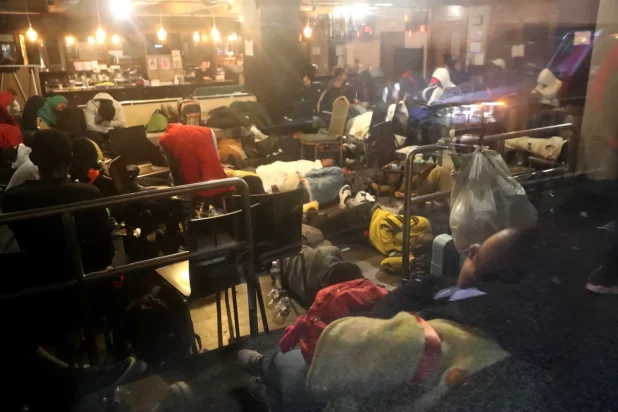 "It depends on their situation — they could be there for hours — but most times they could be there for days," a shelter worker, who didn't want to be named, told The Post on Monday.

"That's where the singles are processed, so it just depends on their situation," they said.

The harrowing scene came as the city's eviction-notice deadline passed over the weekend for the first of 13,000 single adult migrants who have been staying in one of its shelter sites for the past 60 days.
No one has explained what the point of this is.
Vaguely, it is some kind of moral crusade.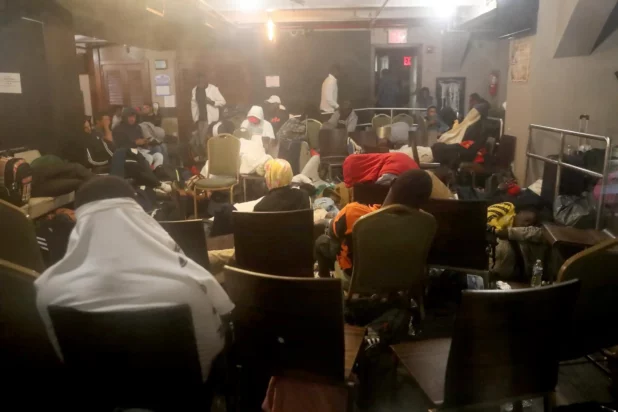 Vague morality is useless.
New York City is preparing for the worst — extending its contract with local hotels to help house migrants for up to three more years at a staggering added cost of more than $1 billion.

And the revised contract's projected new total $1.365 billion price tag — nearly five times what the original deal called for — would just pay the rental fees to more than 100 hotels converted into emergency migrant shelters.

It doesn't include the cost of city facilities and other rented sites housing homeless asylum seekers pouring into the Big Apple by the thousands every week.

Critics — including even some Democrats — raged that the Adams administration's contract with the New York City Hotel Assocation, which is set to be extended from this year through August 2026, reeked of a taxpayer giveaway.

"Why are we extending this contract for three years? It sends the message of not wanting to reduce this migrant population," said Nicole Gelinas, a senior fellow with The Manhattan Institute.
The good news is: at some point, all of the poor people who want to leave the third world will be in America/Europe. Then, the third world will be very nice (Mexico is already fantastic, a much better country than America), and whites can just go live there.
That's what I think now: the Western countries should be a trap for the dumbest and most criminal brown people. We lure them all here, then escape to their countries, where only the high functioning locals remain, and lobby to prevent the migrants from ever returning. Then they will just starve to death/kill each other in America and Europe, and then later we can move back.
Does that seem like a good plan?
Yesterday, NYC took on around 600 to 700 migrants.
.
Over 6 busses full of migrants showed up at the Port Authority.
.
The Roosevelt Hotel staff have had enough and are burt out .
.
Waiting rooms at the Roosevelt are at full capacity
.
Random drops off of migrants are… pic.twitter.com/q4wYzHeA0F

— Viral News NYC (@ViralNewsNYC) September 24, 2023
New York City:

NYC homeless sleep on concrete in filth with rats during the last few rainy cold nights as hundreds of migrants – mostly men – continue to arrive on busses – housed up in hotels, fed and supported. pic.twitter.com/PyHd18rllg

— Rebecca Brannon (@RebsBrannon) September 25, 2023