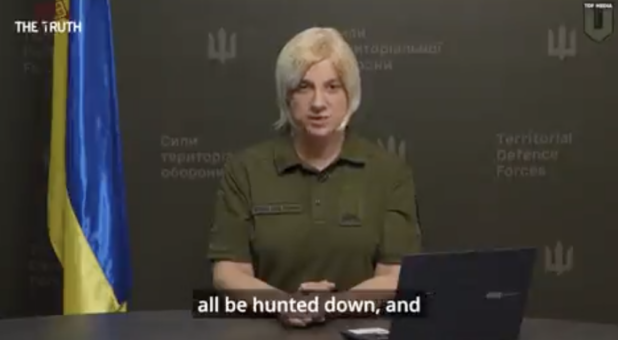 Previously: American Tranny Ukraine Spokesperson Issues Threat to Assassinate Pro-Russian Journalists
This seems to demonstrate that the Ukraine propaganda agenda is on the backfoot.
After the murder of Alexander Dugin's daughter, and the bombing of a journalist, Vladlen Tatarsky, at a coffee shop in Saint Petersburg, the Ukraine state made these exact same threats, saying they were going to kill more and more journalists and writers who say things against them.
Obviously, the goal of murdering journalists is to create a chilling effect, where people are scared to criticize you. When I was on Twitter, a lot of people were saying they were going to hunt me down and kill me for criticizing the war. I'm like "lol, ok." But I could see even that situation – just internet death threats – causing a lot of people to stop speaking out against the war.
It's really gross behavior, and not the mark of a winner. But it's something Ukraine has done consistently, so the fact that they are punishing this tranny and doing damage control shows that they're feeling the heat.
(Note: it's also possible that some Ukrainians were becoming uncomfortable with the fact that their international spokesperson is a tranny, though it's not clear how many of them even knew this was going on.)
RT:
The Ukrainian Territorial Defense Forces has fired its transender American spokesperson for threatening a wave of assassinations against "Kremlin propagandists" around the world. Sarah Ashton-Cirillo's dramatic threat drew the attention of US Senator JD Vance, who asked the administration of President Joe Biden to explain if it was funding this content.

"The statements of [Junior Sergeant] Ashton-Cirillo in recent days were not approved by the command of the [Territorial Defense Forces] or the command of the [Armed Forces of Ukraine]," the Ukrainian Territorial Defense Forces said in a post on X (formerly Twitter) on Wednesday.
I don't know why he would need approval when the government has repeatedly made these statements. The government mocked a rando Russian who was eaten by a shark in front of his family while on vacation in Egypt, and laughed at a girl who was orphaned by a missile strike on a civilian bridge.
They haven't really been worried about optics. I can see why the tranny thought these statements would be fine.
"Sergeant Sarah Ashton-Cirillo will be suspended immediately," the statement continued, adding that an official investigation would be launched into Ashton-Cirillo's conduct.

Ashton-Cirillo is a biological man who worked as a Democratic Party activist in the US before moving to Ukraine following the start of Russia's military operation last year. He/she was hired as the Territorial Defense Forces' English-language spokesperson in August, a decision that critics say was intended to curry favor with pro-LGBTQ Western audiences.
Yeah, well – faggots are the only Westerners supporting this war. Maybe some boomers still are, I don't know, but they love trannies anyway.
(Good on RT for not doing pronouns, by the way. They're the only major outlet that doesn't. Fox News and the New York Post use pronouns now, and have for years.)
Last week, Ashton-Cirillo warned that "a favorite Kremlin propagandist" would "pay for their crimes," before declaring that "Russia's war criminal propagandists will all be hunted down, and justice will be served." Ashton-Cirillo did not name any specific targets or detail what manner of "justice" would be meted out.

The bizarre tirade drew condemnation from Moscow, and was publicized in the US by conservative pundit Jack Posobiec. After tweeting about Ashton-Cirillo's video, Posobiec was added to Ukraine's notorious 'Mirotvorets' kill list. 
Haha.
Poor Jack.
The nigga is just trying to get paid.
Republican Senator JD Vance took notice of the video last Friday, and wrote a letter to US Secretary of State Antony Blinken, Defense Secretary Lloyd Austin, and Director of National Intelligence Avril Haines, asking the three officials to explain whether Ashton-Cirillo was being "compensated with US resources," or previously worked for US intelligence.

"I worry American resources could be supporting violence or the threat of violence against people for speaking their mind," Vance wrote, pointing out that "any critic of America's incoherent policy in Ukraine has been slandered as a propagandist, including multiple presidential candidates and American journalists."

Ashton-Cirillo responded on Monday, stating: "I only answer to three groups of people: my Ukrainian commanders, the Ukrainian people, and the American taxpayer."
Well.
That's true, at least.
I Don't Know, Breh
I don't understand anything that is happening with this war. The Ukraine is losing in a Looney Tunes type manner, and a lot of Western power centers are speaking out against it, while others continue to say they are going to continue to pour infinity billions into the war and then figure out what to do next when every last Ukrainian capable of fighting is dead.
Meanwhile, Poland appears to be getting bored and angry.
Anyone who's making predictions about this is dumb. No one has any idea what is going to happen next – and that includes the people making the decisions.