Reporter: Do you think Elon Musk is a threat National Security?
Biden: *laughs* I think that Elon Musk's cooperation with other countries is worthy of being looked at pic.twitter.com/HrFKWPZFmi

— Acyn (@Acyn) November 9, 2022
As predicted, following that midterms hoax on Tuesday, you're going to witness the situation in America degrade rapidly.
These people are going to do whatever they want to do.
Elon Musk endorsed Republicans. Now the Democrat government wants to bring him in to get probed.
RT:
It is worth looking into whether Elon Musk's takeover of Twitter is a threat to US national security, President Joe Biden said at a press conference on Wednesday.

As Biden discussed midterm election results, Bloomberg's Jenny Leonard asked him if he thought Musk was a "threat to US national security" and if the federal government should "investigate his joint acquisition of Twitter with foreign governments, which include the Saudis."
It's only the Saudis.
"I think that… Elon Musk's… cooperation and or… technical relationships with other countries, uh, is worthy of being looked at," Biden replied. "Whether or not he is doing anything inappropriate, I'm not suggesting that. I'm suggesting it's worth being looked at, and uh, um, and that's all I'll say."

Asked "how?" Biden laughed and said, "There's a lot of ways."
He laughed more than once.
He thinks this is all a big joke?
The Tesla and SpaceX executive acquired the social media platform for a reported $44 billion, officially taking over on October 27 and firing thousands of employees. Bloomberg has reported that Musk's takeover of Twitter was financed in part by the government funds of Saudi Arabia and Qatar, which obtained stakes in the new private company.

In short order, activists pressured numerous advertisers to boycott Twitter, while dozens of prominent Democrats and journalists announced they would leave Twitter for other platforms. Ahead of the midterms, Musk endorsed a Republican takeover of Congress, arguing that "shared power curbs the worst excesses of both parties."
Saudi was not involved in the purchase. This whole narrative is out of control. All Saudi did was decline to sell their shares, saying instead they would hold the 3% they held when Twitter was a public company.
Saudi owning part of Twitter was not a problem before Musk took over. Saudi owns part of dozens or hundreds of relevant tech companies, and is constantly involved in start-up funding. If Saudi owning shares in a company is a national security threat, then basically every company in America is going to have to be investigated.
Check this story from Reuters, August 16 of this year:
Saudi Arabia's Public Investment Fund (PIF) bought shares in Alphabet (GOOGL.O), Zoom Video (ZM.O) and Microsoft (MSFT.O) as part of a wider pick of U.S. stocks, bringing the market value of the sovereign wealth fund's investment portfolio to about $40.8 billion at the end of the second quarter.

The PIF acquired 213,000 class A shares in Alphabet, 4.7 million class A shares in Zoom and 1.8 million shares in Microsoft, a U.S. Securities and Exchange Commission filing showed.

It also acquired shares in JPMorgan (JPM.N) and BlackRock (BLK.N), buying 3.9 million shares and 741,693 shares respectively.

The fund bought 6.3 million shares in Starbucks (SBUX.O), and added other stocks including Adobe Systems (ADBE.O), Advanced Micro Devices (AMD.O), Salesforce (CRM.N), Home Depot (HD.N), Costco (COST.O), Freeport-McMoRan (FCX.N), Datadog (DDOG.O) and NextEra Energy (NEE.N).
Are all those companies going to be probed by Joe Biden because Saudi ownership is a threat?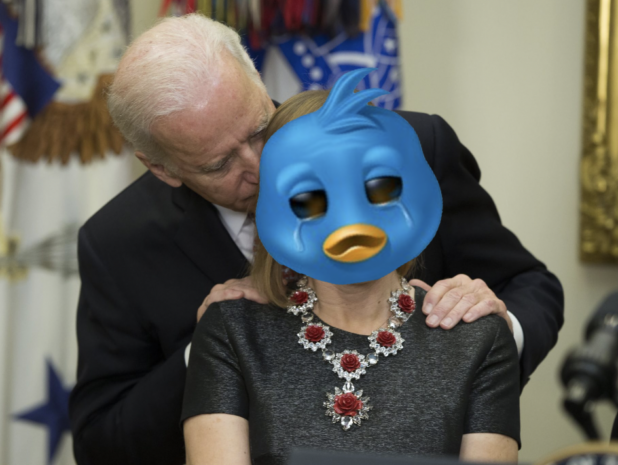 It does not even make sense!
But this is how they do you. They invent some kind of outrageous narrative that is totally disconnected from basic facts, they build a fake narrative on their fake narrative, and then they go after you. This happens all the time and it is getting sloppier and sloppier.
You're going to see a whole lot of sloppy action coming in now. We've reached the part of the story where the Jews begin purging their political enemies. If you push back against these people, at all, you are going to be targeted by the government.
You can rally around Ron DeSantis 2024. That's all you can do. If you do anything else, you are going to be targeted by the US government as a threat to "democracy" or "national security" or whatever other stupid abstraction no one can define.
They are hanging this threat over Musk, telling him to get back in line, to toe the line, or he's going to have problems.
Musk has proved he doesn't have any nerve, and has thus far refused to reinstate free speech on Twitter. He is instead trying to negotiate with the ADL, somehow.