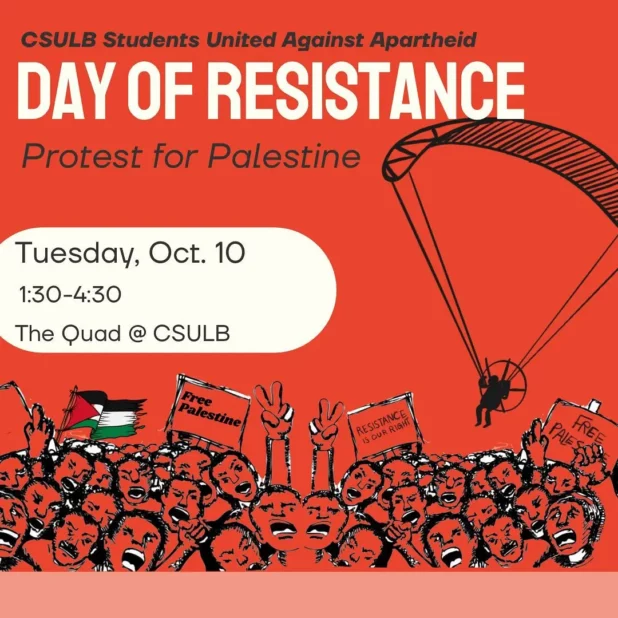 Related: 31 Harvard Organizations Issue Joint Statement Blaming Israel for Hamas Attack
The Jews are already having a very hard time defending the war on Palestine to the believers of the Jew agenda.
This is one thing that will not get easier for them.
Student groups at California State University in Long Beach are facing backlash for a "sickening" pro-Palestine rally poster featuring a paraglider after Hamas terrorists used the aircraft to launch their deadly ground invasion in Israel.

The La Fuerza Student Association shared a poster for the "Day of Resistance: Protest for Palestine" event featuring a drawing of protesters carrying a Palestinian flag, with a paraglider in the corner.

"Join us and CSU Students United Against Apartheid tomorrow at the Central Quad from 1:30 – 4:30," La Fuerza wrote in a caption of the Tuesday event.

"We will be rallying and marching in support of the Palestinian liberation and against Zionist occupation in Palestine," the group said.
This is the "backlash":

It's not a big lash.
It's more of a lashy little nub.
Palestinian landing in Israel using paraglider#Israel #Palestine #Hamas #طوفان_الأقصى #Hezbollah #حماس #طوفان_القدس #Lebanon #KylieJenner #Jerusalem #Russia #Egypt pic.twitter.com/J61wFpTFV0

— Tom Crypto (@tomandjerrry4) October 8, 2023
Media coverage: "Al-Qassam Brigades, the military wing of Hamas, has published a video showing its Palestinian fighters taking off from Gaza in paragliders and descending onto Israeli colonies. This morning, the Palestinian resistance movement launched a surprise military… pic.twitter.com/WoSDUKXQbZ

— Quds News Network (@QudsNen) October 7, 2023
Unsuspecting Israelis enjoying their degenerate, drug induced rave when the camera catches a rare glimpse of the Ghost of Akbar and his paraglider squadron
What are they worshipping tho?#Israel #IronDome #Palestine pic.twitter.com/tE6ihLbMoK

— LOAN :O (@Loan_0_0) October 8, 2023