Putin gave an interview to the China Media Group before his trip to Beijing. Key statements:

— Xi Jinping is a recognized world leader, unlike the "temporaries" who come to the international platform "for five minutes." Putin described the Chinese leader as a thorough, calm, but… pic.twitter.com/Ks440tt6TS

— yalnız kurt (@MApodogan) October 15, 2023

The best friendship ever continues to get better and better!
CNN:
When Russian President Vladimir Putin and Chinese leader Xi Jinping met in Beijing for the opening of the 2022 Winter Olympics, they confidently outlined their vision for a new international order no longer dominated by the United States and its democratic allies.

Now, nearly two years on, and with geopolitical fault lines hardening globally, the world's two most powerful autocrats are preparing to see each other again in the Chinese capital.

The meeting comes under the shadow of conflict, with Russia's grinding invasion of Ukraine – launched just three weeks after the leaders' last get-together in Beijing – and Israel's war against Hamas, which now threatens to escalate regionally.

Both Beijing and Moscow have criticized Israel's actions in response to a shock attack by Palestinian militant group Hamas last week and called for a ceasefire, in the latest showing of the two powers' efforts to step up their alternative leadership to that of the United States, which affirms Israel's on-going right to retaliate.

Xi and Putin are likely to discuss the situation during a meeting this week as Putin arrives as a guest of honor at the Belt and Road Forum in Beijing – an exceptionally rare foreign trip for the diplomatically isolated leader.

Heads of state, representatives and delegations from more than 140 countries are expected to attend China's landmark, two-day diplomatic event beginning Tuesday, which marks 10 years since the start of Xi's global infrastructure funding drive, and presents the Chinese leader with an opportunity to project Beijing's growing global ambitions.

Putin, who has seldom left the bloc of former Soviet nations since launching his war, is shunned by the West and wanted by an international court for alleged war crimes. Experts say he is also unwilling to travel anywhere he feels his personal security can't be absolutely assured. He made his first known trip of the year outside of Russian-controlled territory last week, with a visit to Kyrgyzstan.

But despite Putin's changing circumstances since his last time in Beijing, the two leaders have become increasingly aligned in presenting an alternative world view to the one offered by the West – as they seek to bring more countries alongside their efforts to shift a global balance of power they feel is stacked against them.

In an interview with China's state broadcaster ahead of the event, Putin lavished praise on Xi, calling the Chinese president "steady, calm, pragmatic and reliable – a true world leader," and hailing his "unique approach of dealing with other countries" that has shown no imposition or coercion, but rather provided others with opportunities.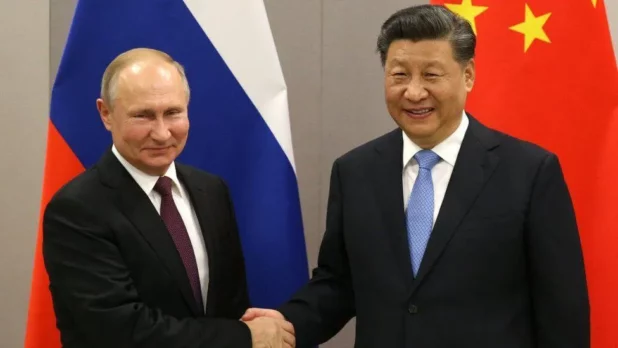 The timing of the Beijing hosted forum, coming as Israel signals it may launch a ground invasion of the Hamas-governed Gaza strip, presents Putin with opportunity to shift the global spotlight away from his war in Ukraine, analysts say.

Moscow is expected to table a United Nations Security Council resolution calling for a ceasefire, without naming Hamas, with its UN envoy on Friday comparing the day-after-day shelling of Hamas-controlled Gaza by Israel to the brutal siege of Leningrad during World War II.

At the other end of the historical spectrum, US President Joe Biden this weekend described Hamas' attack as the worst massacre of Jews since the Holocaust.

China has said it will send its envoy to the Middle East to encourage talks and condemned "all acts that harm civilians," but it has not explicitly targeted that condemnation at Hamas, nor named the group in its statements.

During a flurry of diplomatic calls in recent days, Chinese Foreign Minister Wang Yi said Israel's actions have "gone beyond the scope of self-defense."
Oh, they've gone beyond the scope of self-defense alright.
They've actually gone beyond the scope of revenge.
These Jews are mad dogs and someone needs to put them down.
Wang Yi: China Stands on the Side of Peace and Human Conscience on the Question of Palestine
🔗https://t.co/EVy8TCTNre pic.twitter.com/qZQmZ2sXBM

— Hua Chunying 华春莹 (@SpokespersonCHN) October 14, 2023