Andrew Anglin
Daily Stormer
October 23, 2019
From the most recent TPUSA event, a perfectly reasonable question is asked to Charlie Kirk about how the right can be simultaneously be america first and give $3.8 billion a year to Israel. Kirk goes on to deny the USS Liberty Incident… pic.twitter.com/MmLMSOntPQ

— Catholic Groyper ?? ✝️ (@catholic_goy) October 23, 2019
At the same Colorado event where Charlie Kirk was asked about why he is flooding us with all of these niggers, the Turning Point USA chief was also asked about why we are giving all of these billions of dollars in US taxpayer money to Israel.
How does this benefit America? And why are we giving money to a country that attacked the USS Liberty and never apologized?
Charlie Kirk predictably flipped his lid and started spewing his typical cliches.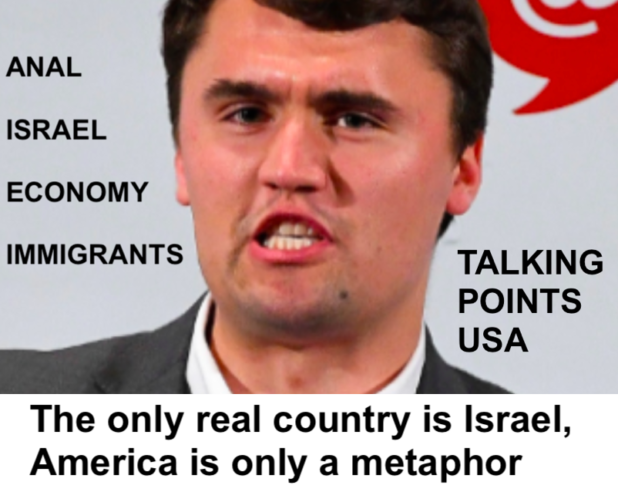 He literally said "Israel is the only democracy in the Middle East," just like he literally said "America is a nation of immigrants."
Then of course he went into a long tirade about how Israel is an anal paradise, where everyone is just fucking each other up the ass all day. This guy is really, really into ass fucking.
He never explained how it benefits America to give what is literally a terrorist state all of these billions. He just said we do it for the ass fucking, basically.
The retarded-looking sonovabitch also had the nerve to claim that the Israeli attack on the USS Liberty is a "conspiracy theory." I've never heard anyone say that before.
The USS Liberty incident was an attack on a United States Navy technical research ship, USS Liberty, by Israeli Air Force jet fighter aircraft and Israeli Navy motor torpedo boats, on 8 June 1967, during the Six-Day War. The combined air and sea attack killed 34 crew members (naval officers, seamen, two marines, and one civilian), wounded 171 crew members, and severely damaged the ship. At the time, the ship was in international waters north of the Sinai Peninsula, about 25.5 nmi (29.3 mi; 47.2 km) northwest from the Egyptian city of Arish.
I guess the "conspiracy theory" is that it wasn't an accident?
No one serious actually makes that argument, but that must have been what he meant. He couldn't have meant the attack itself was a theory.
I mean, the entire surviving crew has spent their lives telling the story of how these brutal Jews attacked them.
The plan was to sink the ship and blame it on Egypt in order to get the US to fight for Israel in the Six-Day War. A typical Jewish false flag hoax, like they always do.
But that really triggered him.
Anyway, all of you kids out there need to show up at these events and ask the questions.
Don't be weird.
Just hit the topics that trigger him, and keep it simple:
Ask him why we need more immigrants when 70% vote democrat
Ask him why he cares so much about economics, when the average person is not benefiting from GDP
Ask him why we give all this money to Israel when they do nothing for us
Ask him if it is a good thing that white people will be a minority in a couple decades
Ask him why he is so obsessed with pushing homosexuality into the conservative movement when America is a Christian country based on family values
That last one might really get him, because he really is pushing against the grain of zoomer right-wing culture by pushing all this butt stuff.
But the USS Liberty thing clearly made him snap.
On the immigration thing, he seems to know how to handle it, and just starts talking about money and GDP, and nation of immigrants, and legal not illegal. So it is probably better to hit the issue of white demographics.
But continuing to say "they vote 70/30 Democrat" is a good thing that everyone can understand no matter how he responds.
Anyway – you all need to do this.
I'm serious.
I demand it.
Do it right now.
University of Iowa is tonight, and then these are coming up soon:
We want every question to be calling this gay bastard out.
These people who have astroturfed the right wing are a bigger threat to us than the leftists. We need our people on our own side, not following this asshole's plan to flood us with niggers and give all our money to Jews.
If we can get our people to understand what the fight actually is, then we can win it.