Pomidor Quixote
Daily Stormer
October 13, 2019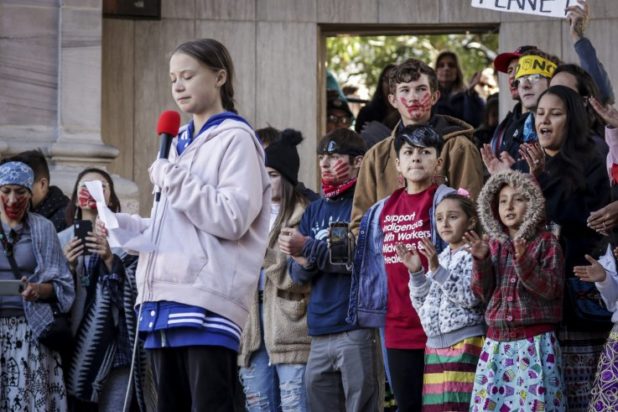 Are her clothes oversized, is she undersized, or a combination of both?
The international "school strike for the climate" movement will continue every Friday for "as long as it takes" to stir world leaders into action, Swedish teen activist Greta Thunberg told a rally of thousands near Denver's state capitol building in Colorado, on Friday.

She said the next big global strike would take place on November 29, and that the movement would unfortunately have to prepare itself to go on for a "very long time."

"But that will not stop us. We are rising and we will not back down," the 16-year-old said to cheers from the crowd. "We will not beg the people in power to care and to act because they have ignored us in the past and they will ignore us again."

"We will instead tell them, that if they won't do it, then we will. The world is waking up and we are the change. And change is coming whether you like it or not," she added.
She just keeps repeating the same lines in every speech.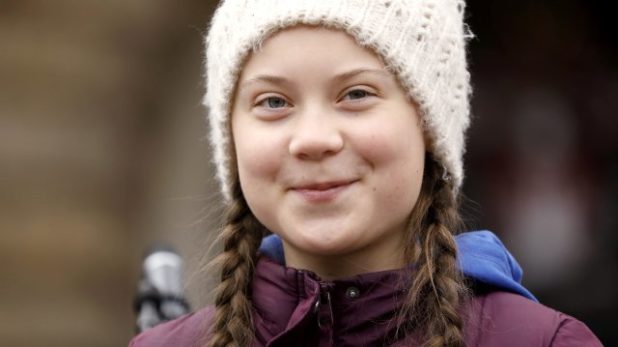 Not her brightest choice of words. Someone could just tell her the same: "Greta, climate change is coming whether you like it or not."
How is she planning to "do it" if world leaders don't "do it" though? She never had to figure out anything on her own. When she wanted to come to America, European royalty put her into a racing yacht. When she wanted to move around the city, someone set her up with a Tesla car.
Is Greta planning to give everyone Tesla cars and personal racing yachts as a gift or something?
Someone should sit down with her in an interview and tell her, "Okay Greta, you now have the world's attention. What's the plan, your highness?"
Because the only other thing I can imagine that she is planning is to become some kind of terrorist leader, which definitely fits in with her aggressive language, as well as the behavior of the "Extinction Rebellion" group of which she is the leader.
Thunberg began taking time off school on Fridays to protest outside the Swedish parliament in August 2018. These solitary strikes sparked a global movement, which now involves millions of people around the world calling for climate action.

"For well over a year, young people from all around the world have been striking from school every Friday demanding world leaders to take responsibility and to unite behind the science," Thunberg said. "They have not done that. The people in power continue to ignore us and to ignore the current best available science."

"How dare they," she said with several people in the crowd repeating the line back. "How dare they leave this for their own children to clean up the mess and solve. How dare they pretend that they are doing enough, but the politics needed are nowhere in sight. How dare they ignore the countless people all around the world who are suffering and dying today because of the climate and ecological crisis."
Thunberg noted that it was young people and future generations who would suffer most from the climate crisis and ecological breakdown. But she noted that political leaders were failing the world's youth because they were not mature enough to "tell it like it is."

…

"We didn't start school striking because we wanted to. We didn't do it because we wanted to gain attention or because it was fun. We did it because someone needs to do something. And that someone could be me or you or anyone in this crowd," she said. "You don't have to wait for someone else to do something. No one is too small to make a difference, never forget that."
But Greta isn't really doing anything but complaining. Her army is not doing anything but following her on her complaining journey.
Are they figuring out new technology to solve problems in a way that is more sustainable long-term?
No?
Are they at least funding people who are doing that?
No?
Are they laying out a detailed plan that everyday people can understand or are they just mumbling incoherently about uniting behind the science?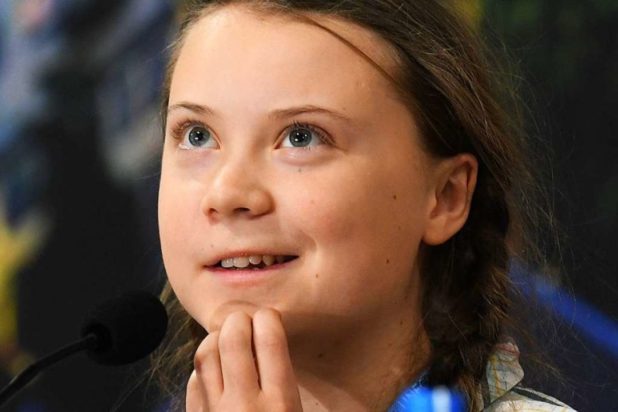 It's time someone tells these creeps that "Friday protests" is weak and low-energy.
If they really want to fight for their future, they should just stop going to school altogether and MARCH EVERY DAY OF THE WEEK. It makes zero sense for them to have this end of days speech while just skipping ONE DAY of school.
Kick it up a notch, Greta. Tell your army to stop attending school until the climate is fixed.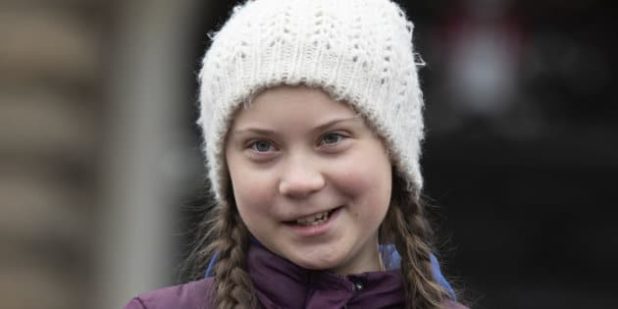 While you're at it, follow Justin Bieber's example and start talking about plastic and demand that black and brown shitholes stop contaminating the environment with it.
A British photographer has captured a wild jaguar playing with a discarded plastic bottle in a set of poignant pictures following the ongoing war on plastic.

Wildlife guide and photographer, Paul Goldstein, witnessed the disturbing scenes in the Pantanal, the world's largest tropical wetland, Brazil, this week.

The photographs shows a three-year-old male jaguar toying with the green plastic bottle before retrieving it from the stream using his jaw.

The photographer said the scene was 'distressing' but hopes the photographs become a 'poster child for plastic abuse and its hideous worldwide proliferation. '
Sigh.