Andrew Anglin
Daily Stormer
September 2, 2019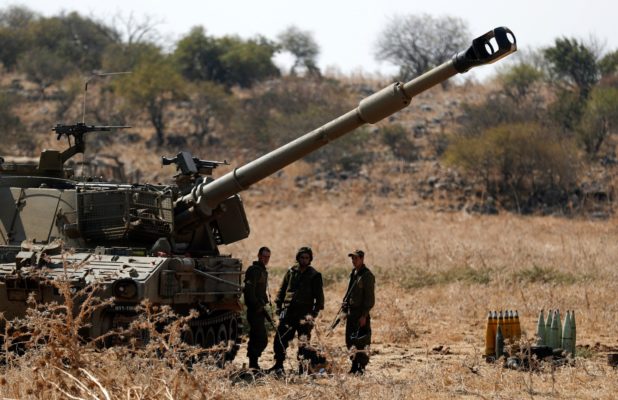 If you find yourself asking why the US is allied with this barbaric Middle Eastern tribe that just randomly attacks all its neighbors like a homeless schizophrenic attacking Walmart shoppers, just remember the truth: they're the only democracy in the Middle East.
And it's really, really important to be a democracy in the Middle East because… well, because democracy is magic.
The Lebanese militia Hezbollah fired missiles at an Israeli military border post on Sunday in what it called payback for an Israeli airstrike a week earlier that killed two Lebanese operatives in Syria and a drone strike that damaged Hezbollah infrastructure in the Beirut suburbs.

Prime Minister Benjamin Netanyahu said Israel suffered no casualties — "not an injury, not even a scratch." And while Israel returned fire with attack helicopters and about 100 artillery shells, both sides appeared eager to let the hostilities subside just as quickly as they had begun.

Sunday's abbreviated fighting between Israel and Hezbollah, the Iran-backed military force that dominates politics in Lebanon, comes as Israel is pushing back more assertively, and often openly, against what it sees as Iranian aggression throughout the Middle East.

Neither Israel nor Hezbollah has shown much appetite for sustained conflict, but each skirmish contains the potential for escalation.

Israeli said a squad of Hezbollah fighters fired two or three anti-tank missiles after 4 p.m. at a military post located just outside the small Upper Galilee town of Avivim, which sits up against the United Nations-demarcated Blue Line opposite the Lebanese village of Marun al Ras.

Hezbollah not only claimed responsibility for the attack, it also named the unit that launched it after Hasan Zbeeb and Yasser Daher, the two Lebanese fighters killed Aug. 24 in an airstrike by Israel. The Israelis said the two were preparing to use an explosive-laden drone to attack northern Israel at the time.

Hezbollah has sent forces to fight on the side of Syrian President Bashar al-Assad's regime in Syria, which is also backed by Iran.

The airstrike, in the town of Aqraba near the Damascus airport, was followed hours later by an explosion set off by a drone near a Hezbollah office in Beirut's southern suburbs — an area dominated by supporters of the militia.

According to Israeli officials, that blast destroyed a piece of machinery vital to what Israel contends is Hezbollah's strategic effort to produce precision-guided missiles in Lebanon that can accurately strike targets across Israel.

On Sunday, Hezbollah said that Israeli soldiers were in the vehicle its missile struck and that they were all killed or wounded.

Israel waited more than two hours after the Hezbollah attack before contradicting that claim, an unusual delay, military analysts said.

Lt. Col. Jonathan Conricus, an Israeli army spokesman, confirmed that one missile "penetrated" a military jeep, but said no one was harmed.

"On the one hand, Hezbollah attacked; however, on the other hand, this is somewhat of a desired outcome," he said.

United Nations peacekeepers called the exchange of fire a "serious violation" of Resolution 1701, the cease-fire agreement that ended the 2006 Israel-Lebanon conflict, and they urged both Israel and Lebanon to exercise "maximum restraint."

The post struck was a battalion headquarters outside Avivim, a community of fewer than 500 residents. Sunday was the first day of school in Israel.

With Hezbollah threatening retaliation all week, Israel had pulled many of its troops along the border back from the Lebanese frontier and positioned mannequins as decoys in some army vehicles.

Israel's deceptions apparently extended to the aftermath of Hezbollah's attack.
Yes, Israel's motto: "By deception, thou shalt make democracy."
You see – this whole thing is part of what I like to call "preemptive self-defense."
And that's what democracy is all about.
This is why God chose these people in the first place: they understand the real meat of the matter when it comes to doing proper democracy.
Furthermore, they're a truly handsome people.