MSNBC Shocks the World and Slams Kathy Hochul on Crime: "We Don't Feel Safe" pic.twitter.com/leFhI4ZDkI

— Jack Posobiec 🇺🇸 (@JackPosobiec) November 6, 2022
Kathy Hochul is an extremely flawed candidate and Lee Zeldin is Jewish. It's not exactly as if New York is voting for Donald Trump.
It's still pretty wild that a Republican of any stripe could win this state, and the fact that we're even talking about it really shows just how upset the people of this country are with the direction Democrats have taken us.
New York's neck-and-neck race for governor has suddenly gotten the attention of prominent national democrats — for all the wrong reasons.

Party bigwigs appear to be in panic mode, critics note, flooding the 2-to-1 Democratic enrollment Empire State with big names like Bill, Hillary, Joe and Kamala in the final stretch to Tuesday's election as Gov. Kathy Hochul has rapidly lost ground to Republican challenger Rep. Lee Zeldin.
These "big names" – excluding Bill Clinton – were all considered more of a hinderance than a help. Joe and Kamala have stayed out of virtually every race because people don't want to be associated with this administration, and Hillary is just generally disliked.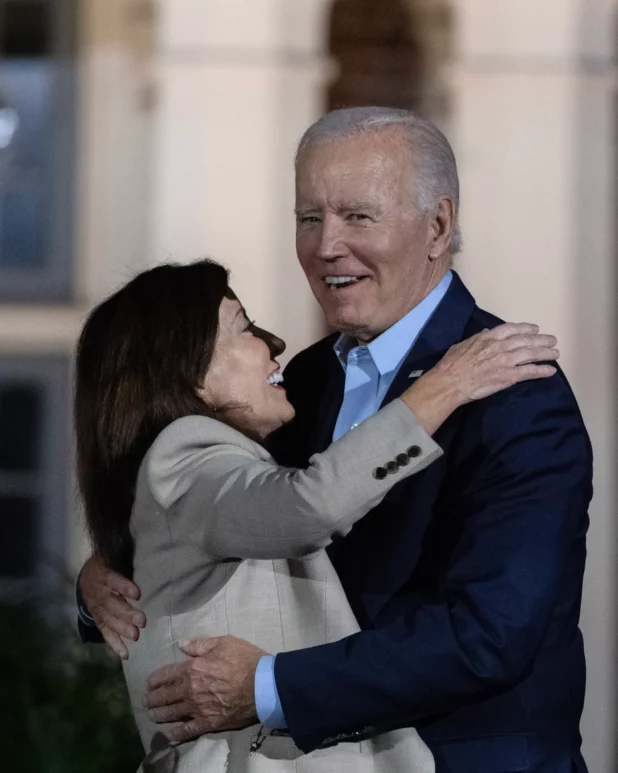 Rolling in this freak show definitely indicates that they feel they have nothing left to lose.
"New York Democrats are smashing the glass and pulling the fire alarm," state Republican Party Chair Nick Langworthy said Friday.

"These are all terrible signs for the Democrats," political consultant Bradley Tusk added.

But pundits also note the call for big guns is a double-edged sword for Hochul and the Democrats, citing Biden's high unpopularity amid rising crime and historic inflation rates.

"A New York loss would a national, overwhelming Democratic Party embarrassment. It has – for the Democrats – to be avoided at any campaign cost," political consultant Hank Sheinkopf said of bigwig Democrats campaigning in New York rather than other battlegrounds across the nation.

Biden and Bill Clinton remain popular among key Democratic groups like black voters, Sheinkopf noted, even with the baggage they bring, including the #MeToo taint of Clinton's Monica Lewinsky affair and connections to wealthy convicted perv Jeffrey Epstein, who killed himself behind bars.
He didn't actually kill himself, frankly, and it is very irresponsible journalism to make these kinds of claims without evidence.
It's unlikely that Zeldin will actually win, as in "be declared the winner." New York is an absolute cesspit, and they can very easily do massive fraud in the state.
It's possible they'll let him win. Who the hell even knows what the game is with these people at this point. The strategy is opaque, to say the least. It is just obvious that if they want to do fraud, they can do as much as they want in New York without anyone trying to stop them.